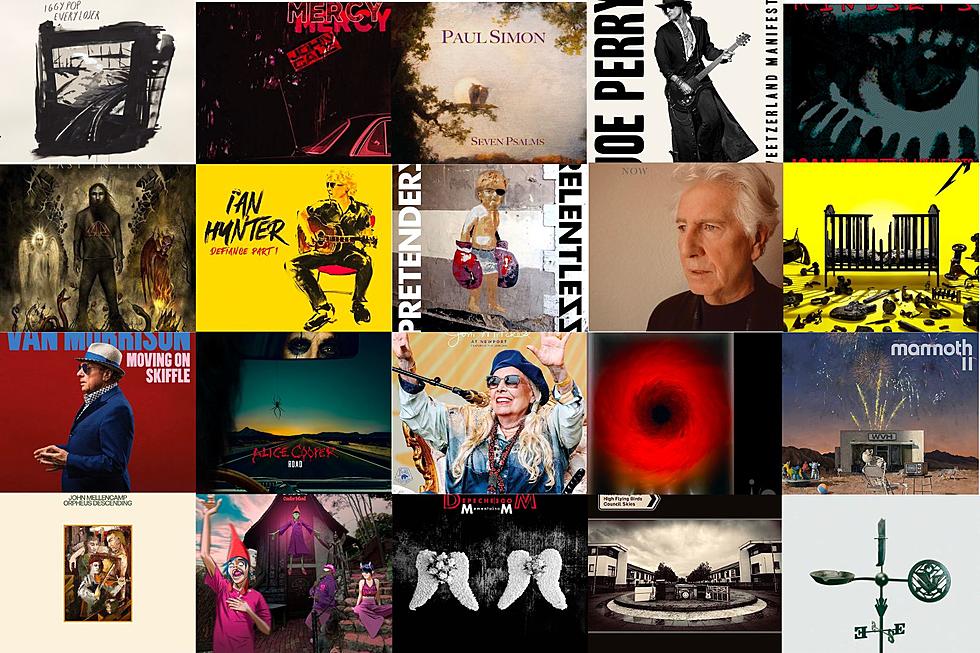 Top 20 Rock Songs of 2023 (So Far)
UCR
As we reach the halfway point of 2023, it's time to reflect on the smattering of new rock music that's come out over the past several months.
There's been a mix of new music, including several fresh beginnings for veteran artists. Foo Fighters released But Here We Are, their first album since the death of drummer Taylor Hawkins in 2022. Similarly, Depeche Mode's latest LP, Memento Mori, arrived following the death of band co-founder Andy Fletcher in 2022.
Distinct collaborations have also marked 2023. Hawkins appears on both Iggy Pop's most recent album, Every Loser, as well as Ian Hunter's Defiance Part 1, which also includes rock royalty like Ringo Starr, Slash, Jeff Tweedy and the late Jeff Beck.
You'll find tracks by all these artists and more in the below list of the Top 20 Rock Songs of 2023 (So Far).
20. Last in Line, "Dark Days"
Last in Line — comprising former Dio guitarist Vivian Campbell and drummer Vinny Appice, ex-Ozzy Osbourne bassist Phil Soussan and ex-Lynch Mob singer Andrew Freeman — kicks up a ferocious hard-rock storm on Jericho, delivering lean slabs of Grade-A, top-choice hard rock. "Dark Days" is a swaggering, midtempo stomper tailor-made for festival-stage singalongs. Campbell and Appice evoke Dio's mid-'80s glory days with razor-wire solos and rock-solid grooves, while Freeman pushes his bluesy howl to the max with effortless aplomb. Don't let the name fool you: Last in Line plays with a vitality that leaves most of their peers in the dust. (Bryan Rolli)
19. (Tie) Joan Jett, "If You're Blue"
"If You're Blue," the first new music from Joan Jett & the Blackhearts since 2013's Unvarnished, offered a timely reminder: She didn't put up with your shit back in the day, and she's certainly not putting up with it now. "I make my own rules they don't teach in school," Jett reminds, "and that's what I live by." Guitarist Dougie Needles provides a perfect, prickly counterpoint, but make no mistake: Jett is centerstage. Long may she roar. (Nick DeRiso)
19. (Tie) Ian Hunter, "No Hard Feelings"
"No Hard Feelings" is a benevolent ballad anchored with lilting piano and features Jeff Beck in one of his last recordings before his death, playing an instantly recognizable guitar solo that's as lyrical and emotive as any voice. (Beck's frequent collaborator Johnny Depp also contributes to the song.) Hunter's vocals aren't as strong as they once were, but that's the strength of "No Hard Feelings": A great song and an even greater legacy are often enough. (Allison Rapp)
19. (Tie) Gorillaz (featuring Stevie Nicks), "Oil"
There are a few things Stevie Nicks hasn't done in her long career. But she's now able to knock "Collaborate with a band of cartoon characters" off her to-do list. The Fleetwood Mac songstress lent her voice to "Oil" from Gorillaz's Cracker Island. Nicks, singing mostly in her lower register, intertwines with Gorillaz frontman Damon Albarn on the track, creating a distinctive dichotomy. Their vocals bounce along a buoyant, electronic melody in this collaboration by two of the most talented artists of their respective generations. (Corey Irwin)
18. Van Morrison, "Freight Train"
Roughly a century before her posthumous induction into the Rock & Roll Hall of Fame, Elizabeth Cotten was inspired to write this song as the train rattled through her childhood hometown of Carrboro, North Carolina. "Freight Train" was later misappropriated by others before becoming a foundational cover song in the emerging skiffle movement in the U.K., where it was covered by the Quarrymen, John Lennon's pre-Beatles group. Van Morrison jazzed things up, adding a few lyrics, but returned proper credit to the self-taught left-handed guitar genius who originally wrote it. (DeRiso)
17. Joe Perry, "Fortunate One"
Aerosmith and Black Crowes' shared history spans more than three decades, as the former took the latter on the road as their opening act on 1990's Pump tour. It's only fitting that Chris Robinson would lend his sassy, bluesy snarl to Joe Perry's "Fortunate One," a rough-and-tumble firecracker full of Perry's signature slide guitar work and peppy keyboards. "Come on baby, don't be so mean," Robinson drawls, conjuring an image of Aerosmith's strung-out, pre-MTV heyday. (Rolli)
16. Alice Cooper, "I'm Alice"
Alice Cooper has remained extraordinarily active on the road and in the studio in recent years. But he's kept the two worlds mostly separate, using only guitarist Tommy Henriksen from his touring band on 2021's Detroit Stories and 2017's Paranormal. This year's Road, however, finds guitarists Nita Strauss and Ryan Roxie, drummer Glen Sobel and bassist Chuck Garric joining the rock legend in the studio. Their chemistry shines through loud and clear on the first single, the autobiographical "I'm Alice." (Matthew Wilkening)
15. Joni Mitchell, "A Case of You"
Up until about a year ago, most fans assumed that Joni Mitchell's performing days were over. She proved them wrong in 2022 when she unexpectedly appeared at the Newport Folk Festival, where she performed an 11-song set with the help of some famous friends. The performance is documented on the live At Newport, which features Mitchell covering many of her best songs. The highlight: "A Case of You" from 1971's Blue. A severe brain aneurysm in 2015 means Mitchell will never be the same, but her voice, now deepened with age and steeped in resilience, still sounds strong as she sings, "I could drink a case of you, darling / Still I'd be on my feet." (Rapp)
14. Graham Nash, "I Watch It All Come Down"
Graham Nash spent years as a member of Crosby, Stills, Nash & Young, and not all of them were pleasant. "I watched it all come down to a paperweight at the business end of town," he sings in "I Watched It All Come Down," "Loaded up and loaded down, it's a mess, a mess." Complete with strings and vocal harmonies that nod to his old group, the song recalls Nash's time in CSN&Y and his regrets. "I reached incredible heights musically with them, and the opposite has been true with them, too – saddened that we didn't make more music," he told Variety. Sometimes these feelings are best put into song. (Rapp)
13. Pretenders, "I Think About You Daily"
Chrissie Hynde was in the audience for the premiere of Paul Thomas Anderson's Phantom Thread as Jonny Greenwood led a 34-member orchestra through the score at Los Angeles' Theatre at Ace Hotel. Already a fan, she made a point of finding the Radiohead multi-instrumentalist backstage to praise his sensitive and intriguing score. Years passed before Greenwood was surprised by a follow-up email from Hynde. She'd written a Pretenders song, the darkly touching "I Think About You Daily," that she guessed could only be completed by a similar treatment. She was right. (DeRiso)
12. Noel Gallagher, "Pretty Boy"
Noel Gallagher will never shake his Oasis legacy, but over the past few years, he's started to find his voice as a solo artist. His fourth album with his High Flying Birds, Council Skies, includes "Pretty Boy," which features a chorus designed for audience singalongs. But it doesn't evade emotional vulnerability. "Can you delete my number? / I wanna get me free," he sings in the song's outro, declaring his solo independence. "I wanna change my star sign / Because it don't suit me." (Rapp)
11. Mammoth WVH, "Another Celebration at the End of the World"
"Another Celebration at the End of the World," the first single from Mammoth WVH's upcoming Mammoth II, picks up where Wolfgang Van Halen's 2021 debut left off and moves forward with increasingly complex surprises. The song's video, in which Van Halen is forced to fire the hapless band of Wolfgangs featured in 2021's "Don't Back Down" clip, proves he's lost none of his sense of humor. No sophomore slump here. (Wilkening)
10. John Cale, "Moonstruck (Nico's Song)"
John Cale sets aside his more recent penchant for machine-generated rhythms for a quieter meditation on the late German singer, model, songwriter and actress Nico. Andy Warhol foisted her on Cale's band, the Velvet Underground, during sessions for their debut – correctly diagnosing that she'd spark wider interest in their weirdo sounds. Cale remembers her as a "moonstruck junkie lady," which was true enough, but the timing's off. In the late '60s, she was still just fabulously zeitgeist. The drugs came later. Still, as "Moonstruck" makes so clear, Nico has never stopped commanding our attention. (DeRiso)
9. John Mellencamp, "Hey God"
John Mellencamp makes a simple request, sparked in this case by sorrow over gun deaths in the U.S.: "Hey, God, if you're still there, would you please come down? We can't take it no more." It's a sentiment, however, that speaks to a broad number of seemingly intractable issues today. He doesn't come away with answers or even tangible hope, but there's a sense of community in his line of questioning. Mellencamp doesn't point an accusing finger so much as openly grieve. "This," he sighs, "is not the Garden of Eden, for sure." (DeRiso)
8. Paul Simon, "The Lord"
As the opening song on Paul Simon's excellent new album, Seven Psalms, "The Lord" sets the LP's theme and pace. The record, Simon's first in five years, came to him while he was sleeping, and it unravels at a leisurely, 33-minute pace that's meant to be taken in all at once. "The Lord" includes musical and lyrical themes that are revisited throughout the work. It's both benediction and a questioning of faith. "Nothing dies of too much love," the 81-year-old singer-songwriter concludes. It's a glorious start to a solemn, meditative album. (Michael Gallucci)
7. Metallica, "72 Seasons"
There's no shortage of demon-exorcizing epics on Metallica's 72 Seasons, but none is more bloodthirsty than the title track. James Hetfield muses on the self-destructive consequences of blind rage, barking about the "wrath of man" and lamenting his first "72 seasons gone" over rapid-fire riffs and machine-gun drumming. "72 Seasons" is a microcosm for its namesake album, weaving between the breakneck thrash of Metallica's early days and the anthemic stadium metal they perfected in the '90s. The quartet is still in blistering form at an average age of 60, making up for those tortured early days over the past 160 or so seasons. (Rolli)
6. Queens of the Stone Age, "Emotion Sickness"
The long breaks between Queens of the Stone Age albums usually happen because frontman Josh Homme takes on side projects like Them Crooked Vultures or Iggy Pop's Post Pop Depression album. But the gap between 2017's Villains and 2023's In Times New Roman ... found Homme dealing with the COVID pandemic, a messy public divorce, the deaths of several close friends and a cancer battle. So it's hard not to notice a dark weariness on the album, especially in "Emotion Sickness," which finds Homme unbowed and as innovative as ever. (Wilkening)
5. Jason Isbell and the 400 Unit, "Cast Iron Skillet"
A highlight of Isbell's new album Weathervanes, "Cast Iron Skillet" reads like an update of "Outfit," the song that helped establish him as one of the great modern singer-songwriters two decades ago with the Drive-By Truckers. Like that 2003 song, "Skillet' dispenses life lessons: "Don't wash the cast iron skillet / Don't drink and drive, you'll spill it." But it turns by the song's end toward even bigger issues, including racism. "Jamie found a boyfriend with smiling eyes and dark skin / And her daddy never spoke another word to her again." Isbell sings of heartbreak like it's an ongoing tradition. (Gallucci)
4. Foo Fighters, "Rescued"
Foo Fighters were at a major crossroads at the year's start. The death of Taylor Hawkins left a gaping hole in the band, but Dave Grohl and the surviving members circled the wagons and created their most personal album. At the heart of But Here We Are is "Rescued," the LP's opening song. Grohl doesn't just wear his heart on his sleeve here; he rips it right out of his chest and hands it to the listener. The song is raw, emotional and ultimately cathartic. With "Rescued," Foo Fighters deliver a powerful and inherently human sentiment: We mourn, we struggle, we rise, we endure. (Irwin)
3. Peter Gabriel, "Panopticom"
Peter Gabriel had a lot of time to think about this one: More than 20 years have unspooled since the release of 2002's Up. That's reflected in the back story: "The Panopticom platform is a constantly changing satellite fed globe," Gabriel has said, "which will be the central tool that allows people to upload and monitor appropriate and meaningful, personal, social, economic and political data along with all manner of scientific and environmental information." To further complicate things, Gabriel released "light-side" and "dark-side" mixes of "Panopticom" – and the latter mix is ... up-tempo? So, he didn't make it easy, but the journey to that dark side was worth it. (DeRiso)
2. Depeche Mode, "Ghosts Again"
Even though Depeche Mode's 15th album already had a title and theme before the death of co-founder Andrew Fletcher in 2022, Memento Mori can't help but feel informed by it. "Time is fleeting," Dave Gahan sings in this requiem to his late bandmate and to youth itself. "Everybody says goodbye." Memento Mori's lead single serves as a preface to the dark LP and its thoughts on mortality. The music is classic Depeche Mode - all moody synths and a funereal pace - and Gahan (along with the group's only other member in 2023, Martin Gore) hasn't sounded this at peace with their legacy in years. Through their darkness, they find some light. (Gallucci)
1. Iggy Pop, "Frenzy"
Iggy Pop has never been a man of subtlety. Even at 76, the godfather of punk shows no signs of slowing. His 2023 LP Every Loser overflows with unbridled aggression, as best exemplified on the lead single, "Frenzy." Backed by an all-star lineup of Duff McKagan (Guns N' Roses), Chad Smith (Red Hot Chili Peppers) and producer Andrew Watt, Pop tears through the track with reckless abandon. The song plays like one giant, three-minute-long middle finger. Consider the opening lines – "Got a dick and two balls, that's more than you all / My mind'll be sick if you I suffer the pricks" – then note that things get even wilder from there. "Frenzy" is a track that lives up to its name in all the best possible ways. (Irwin)
Top 20 Rock Albums of 2023 (So Far)
The best offerings from the first half of the year.
More From Ultimate Classic Rock