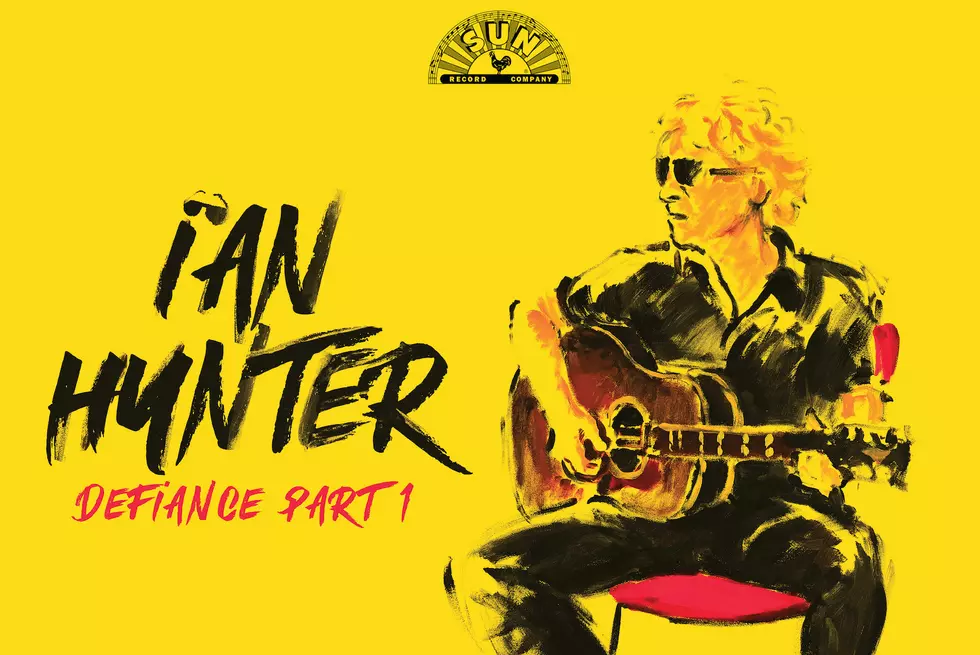 Ian Hunter, 'Defiance Part 1′: Album Review
Sun Records
In the title track of his first album in seven years, Ian Hunter declares with pride that he's "still flyin' by the seat of my pants" and "still frolickin' with all the young dudes." And both serve him extremely well here. Defiance Part 1, Hunter's 16th solo outing since parting ways with Mott the Hoople nearly 50 years ago, rocks with a charged conviction that lives up to its title, especially in relation to Hunter's age. He's 83, but save for the grizzled husk in his voice, Hunter tears into these 11 songs like someone less than half his age. In the statement-of-purpose "This Is What I'm Here For," he even gloats that "When I was 30, I was over the hill / Fifty years later I can still kill 'em all." And throughout Defiance (yes, there is a Part 2 coming) he more than lives up to the talk.
The dudes he's playing with, meanwhile, are younger but not necessarily young, and their clear kinship with the blend of gutbucket rock and crafted Americana that's Hunter's stock in trade only fortifies the attack. There's a temptation to call their contributions musical Viagra, but there's also a sense that's probably the last thing Hunter needs. We don't have to wait for the all-star show to get started either. "Defiance" kicks things off with Slash soloing throughout and Metallica's Robert Trujillo playing the same Fender bass that Jaco Pastorius used on Hunter's All American Alien Boy in 1976. It's a ferocious opening, and the Dylan-flavored follow-up - the sentimental "Bed of Roses" with Ringo Starr on drums and Mike Campbell on guitars and mandolin - is as earthy as "Defiance" is propulsive, setting a course for the Hunter yin-yang that propels the rest of the album.
The cast list remains impressive, as Todd Rundgren, Def Leppard's Joe Elliott, Guns N' Roses' Duff McKagan, Aerosmith's Brad Whitford, Waddy Wachtel, ZZ Top's Billy Gibbons, Billy Bob Thornton, Wilco's Jeff Tweedy and three-quarters of Stone Temple Pilots troop through the tracks. Taylor Hawkins drums on the late-album trio of "Angel," "Kiss N' Make Up" and "This Is What I'm Here For," and the soaring "No Hard Feelings" features another departed friend, Jeff Beck (Johnny Depp alongside), playing tasteful but virtuosic guitar leads that elevate the song's rich melody.
It's a genuine joy to listen to Hunter truly kill on the rockers, expressing true defiance - of society and failed political discourse as well as age (he says Part 2 is even more topical). "I Hate Hate," presented in two versions (one with Tweedy, one with co-producer Andy York Hunter's Rant Band), throbs like a new wave prototype. Hunter sneers his way through "Pavlov's Dog," his bite as sharp as Dean DeLeo's guitar licks, while "Kiss N' Make Up" mines a swampy groove tailor-made for Gibbons and for Thornton's vocal drawl.
Hunter counterpoints those with his gentler but still sturdy fare - particularly "Angel," a marriage of majestic '70s power balladry and country weep. "Guernica," meanwhile, plays him as the smartest man in the room, name-checking classical paintings to frame a discussion about creative inspiration and drive, and making it sound profound rather than posturing. Hunter has been making music for the better part of 65 years, and you'd be hard-pressed to find anyone who relishes as much as he still does. Defiance Part 1 is indeed a killer, and it makes us that more excited to tuck into Part 2.
Top 100 '70s Rock Albums
From AC/DC to ZZ Top, from 'Bridge Over Troubled Water' to 'London Calling,' they're all here.
More From Ultimate Classic Rock