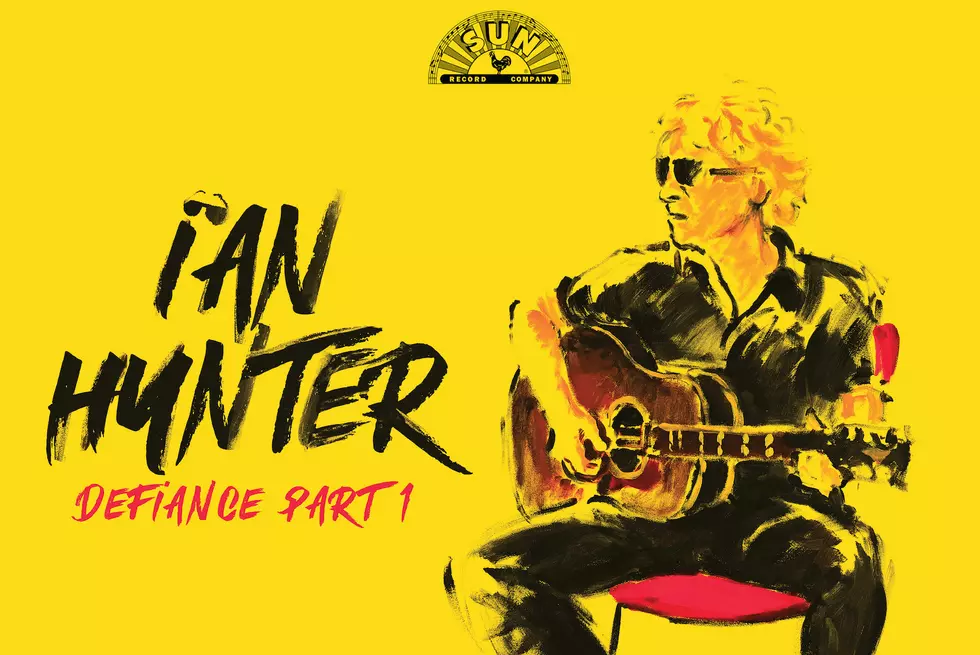 Ian Hunter Announces Star-Stuffed New Album, 'Defiance Part 1′
Sun Records
Ian Hunter has announced a new star-filled new album, Defiance Part 1, which will arrive on April 21.
The LP features guest appearances by Johnny Depp, Joe Elliott, Billy Gibbons, Duff McKagan, Todd Rundgren, Slash, Jeff Tweedy, Robert Trujillo, Waddy Wachtel, Brad Whitford, Dean DeLeo, and Robert De Leo and Eric Kretz (of Stone Temple Pilots). The late Jeff Beck and Taylor Hawkins are on it, too.
The first single from the album, "Bed of Roses," features Ringo Starr and Mike Campbell of Tom Petty and the Heartbreakers, and is available to hear below. A track listing for the LP is also below.
According to Hunter, the surplus of guests was not something he expected. "It was a fluke," he said in a press release. "This was not planned. Really, I'm serious. I really couldn't believe some of them. I mean, it's amazing what's happened. It's been such a buzz."
Hunter began crafting the record in early 2020, as the pandemic set in. He wrote some new songs and tracked them in his Connecticut basement with assistance from longtime collaborator Andy York (Defiance Part 1's co-producer) using a computer, guitar, V5 piano and, as Hunter recalled, "a very small keyboard." Pandemic restrictions kept them from working on the album in a real studio, which led to a new suggestion: inviting fellow rockers to contribute to the LP remotely.
"Everybody's sitting around," Hunter explained. "It's COVID. Nobody's going anywhere. We started sending them out. Slash started doing something. Robert Trujillo from Metallica. Ringo Starr, Mike Campbell. Joe Elliott is on a few tracks. Johnny Depp said, 'Jeff Beck's with me, and we'd like to do a couple of songs.' I know Todd Rundgren, I toured with Todd way back; he's done an amazing job. Billy Gibbons. Billy Bob Thornton and JD Andrew from the Boxmasters. It's never-ending. I mean, every day we'd get a phone call, this guy wants to do it, that guy wants to do it. It was like, I can't believe this."
As its title suggests, a Defiance Part 2 will follow Part 1, with "an equally stunning range of special guests while projecting an entirely different thematic approach and songwriting aesthetic," according to the press release. "There are a lot of reasons for calling this album Defiance," Hunter said. "It's, like, people my age shouldn't be making records, blah, blah, blah. But we've still got a bit left."
Ian Hunter, 'Defiance Part 1' Track Listing
1. "Defiance"
2. "Bed of Roses"
3. "No Hard Feelings"
4. "Pavlov's Dog"
5. "Don't Tread on Me"
6. "Guernica"
7. "I Hate Hate"
8. "Angel"
9. "Kiss N' Make Up"
10. "This Is What I'm Here For"
11. "I Hate Hate" (Alternate Version)
22 Rock Albums We Might (or Might Not) Get in 2023
More From Ultimate Classic Rock