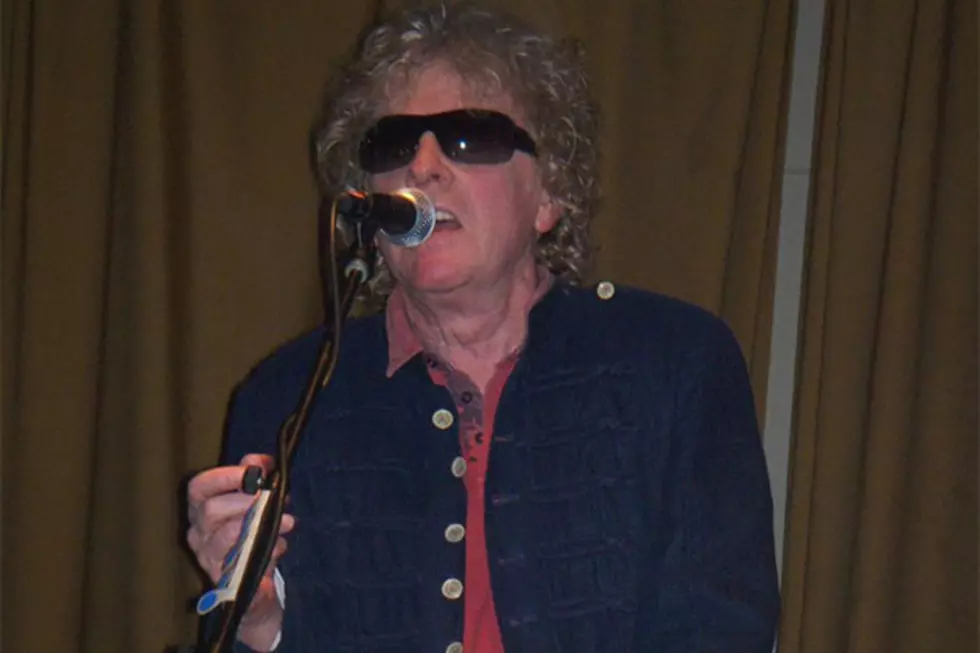 Ian Hunter Rocks Cleveland – Concert Review
Eric Demattio
Ian Hunter is certainly a legend when it comes to all things rock 'n' roll, but just in case there was any doubt, he proved it once again on Nov. 15, when he played the Beachland Ballroom in his honorary home of Cleveland. Opening with the relatively obscure ''(I'm the) Teacher,' the 75-year-old Hunter -- looking youthful in a stylish jacket and sharp shoes -- didn't let up for two and half hours. One of his signature classics, 'Once Bitten, Twice Shy,' quickly followed, and it was obvious that he, as well as the packed crowd, were happy to be there.
Highlights came one after another, covering a large chunk of Hunter's history -- from a rocked-out version of the Mott the Hoople classic 'All the Way From Memphis' to the obscure '23A, Swan Hill' from his 1996 album, 'The Artful Dodger.'
Hunter, who switched from guitar to piano throughout the evening, was backed by the Rant Band. Guitarists James Mastro and Mark Bosch provided a solid sonic wall. The blend of guitars was perfect throughout the set, as was drummer Steve Holley, who used to play with Paul McCartney and Wings and has been a big part, and strong backbone, of Hunter's band for many years now.
'Wash Us Away' (from 2001's 'Rant' album) was sandwiched between a beautiful rendition of 'Boy,' from Hunter's first solo album from 1975, and 'Just Another Night,' from 1979's fan favorite 'You're Never Alone With a Schizophrenic.' He also managed to toss a few surprises into the set, including 'Original Mixed Up Kid' from Mott's 1971 album 'Wildlife.'
Hunter tapped his old band's catalog several times throughout the show, including a beautiful rendition of 'I Wish I Was Your Mother' (which featured Mastro on mandolin) and a rocking cover of the Velvet Underground's 'Sweet Jane,' which closed the pre-encores part of the show.
For encores, Hunter and the band delivered 'Life,' 'All the Young Dudes,' 'Miss Silver Dime' and a lovely 'Goodnight, Irene' from the Leadbelly songbook. But they weren't done yet. As the audience stomped its collective feet and clapped its hands, they returned for a song that's been an unofficial rock 'n' roll anthem in Cleveland for 35 years: 'Cleveland Rocks.'
Acknowledging that they hadn't played the song anywhere else on the current tour, Hunter then muttered something along the lines of, "But if we don't do it tonight, you'll never forgive us." The crowd responded in turn with thunderous applause.
Throughout it all, Hunter looked and sounded great. His voice barely showed its years. And he looked like a man half his age. Best of all, Hunter played a show that was 100 percent committed. After all these years, he's still incapable of merely going through the motions.
Ian Hunter, Beachland Ballroom - Cleveland, Nov. 15, 2014, Set List
'(I'm the) Teacher'
'Once Bitten Twice Shy'
'Something to Believe In'
'Just the Way You Look Tonight'
'Boy'
'Wash Us Away'
'Just Another Night'
'Standing in My Light'
'Irene Wilde'
'All American Alien Boy'
'Black Tears'
'All the Way From Memphis'
'Flowers'
'I Wish I Was Your Mother'
'Now Is the Time'
'The Original Mixed Up Kid'
'When I'm President'
'Michael Picasso'
'Ta Shunka Witco (Crazy Horse)'
'Bastard'
'Sweet Jane'
'23A, Swan Hill'
'Life'
'All The Young Dudes / Miss Silver Dime'
'Goodnight, Irene'
'Cleveland Rocks'
More From Ultimate Classic Rock