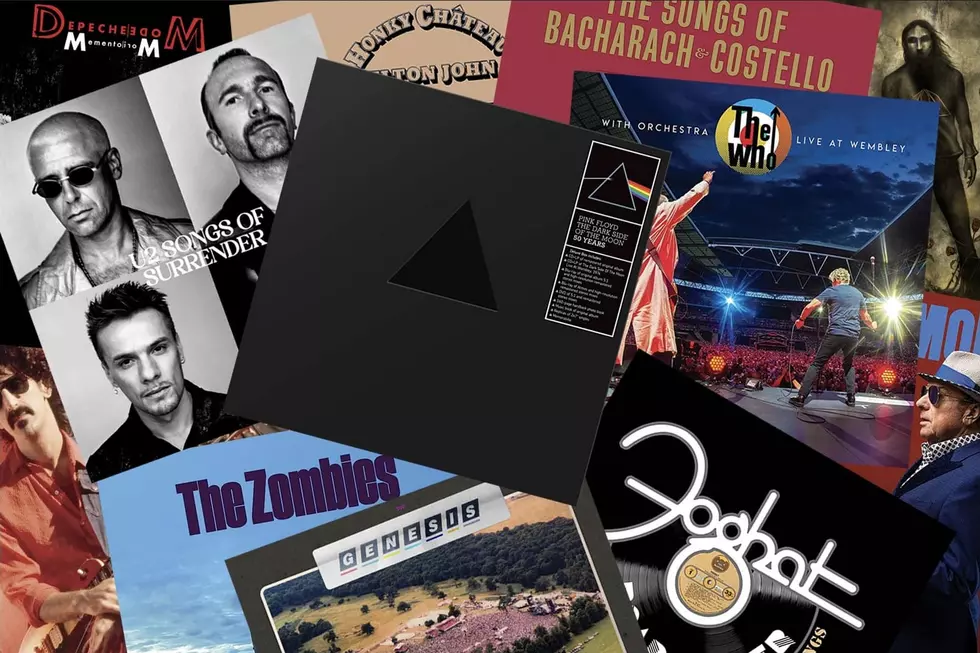 March 2023 New Music Releases
UCR
March comes charging in with huge box-set remembrances, tons of live stuff and some new thoughts on old favorites. Pink Floyd's upcoming 50th-anniversary set commemorating The Dark Side of the Moon also includes The Dark Side of the Moon - Live at Wembley Empire Pool, London, 1974. U2 is returning to 40 classic songs from their catalog on Songs of Surrender; the Edge said the reworkings have a "sensibility of less is more."
The Who With Orchestra Live at Wembley was recorded during a memorable 2019 stop, blending favorites like "Won't Get Fooled Again" and "Baba O'Riley" with selections from their latest album Who. Elton John's expanded 50th-anniversary reissue of Honky Chateau celebrates his first chart-topping album, which featured the hits "Rocket Man" and "Honky Cat."
Memento Mori will be Depeche Mode's first LP since the death of founding member Andy Fletcher. Guitarist Vivian Campbell and drummer Vinny Appice guided the Dio-inspired Last in Line through Jericho. The Songs of Bacharach & Costello box explores the decades-long partnership between Elvis Costello and the late composer Burt Bacharach, which was highlighted by 1998's Painted From Memory.
Other live sets include BBC Broadcasts, a five-CD, three-LP collection of sessions recorded by Genesis between 1970 and 1998. The Smile's Europe: Live Recordings 2022 EP features songs from the Radiohead offshoot band's debut album and the Thom Yorke solo cut "FeelingPulledApartByHorses."
More information on these and other new rock-related efforts can be found below. Remember to follow our continuously updated list of 2023 New Music Releases for details on projects issued throughout the year.
March 3
Elvis Costello, The Songs of Bacharach & Costello
Frank Zappa, Zappa '80: Mudd Club/Munich (3CD set)
Genesis, BBC Broadcasts (5CD or 3LP set)
March 10
Blackmore's Night, Shadow of the Moon: 25th Anniversary Edition (CD/DVD set)
The Smile, Europe: Live Recordings 2022
Van Der Graaf Generator, The Bath Forum Concert (2CD/Blu-ray/DVD clamshell box)
Van Morrison, Moving On Skiffle
March 17
Ten Years After, A Space in Time (remastered reissue)
U2, Songs of Surrender
March 24
Elton John, Honky Chateau (expanded 50th-anniversary edition)
Depeche Mode, Memento Mori
Peter Schilling, Coming Home: 40 Years of Major Tom (4CD box)
Pink Floyd, Dark Side of the Moon (expanded 50th-anniversary edition)
Various artists, Dance Craze: The Best of British Ska … Live!: Deluxe Edition (The Beat, Madness, the Specials, others)
March 31
Foghat, Road Fever: The Complete Bearsville Recordings 1972-1975 (6CD box)
Last in Line [Dio], Jericho
The Who, With Orchestra Live at Wembley
The Zombies, Different Game
April and Beyond
Kiss, Off the Soundboard: Poughkeepsie, New York, 1984
L.A. Guns, Black Diamonds
Metallica, 72 Seasons
Ian Hunter, Defiance Part 1 (Joe Elliott, Billy Gibbons, Duff McKagan, Todd Rundgren, Slash, Jeff Beck, Taylor Hawkins, others)
Jethro Tull, RokFlote
Revolution Saints, Eagle Flight
Glen Matlock (Sex Pistols), Consequences Coming
Dave Matthews Band, Walk Around the Moon
Top 30 Rock Albums of 2022
The soundtrack to the year.
More From Ultimate Classic Rock