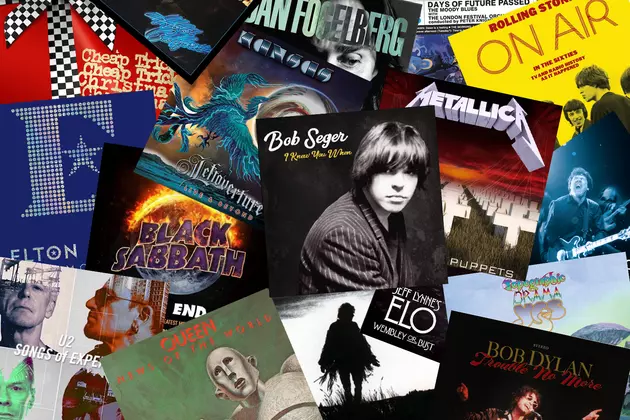 November and December 2017 New Music Releases
Ultimate Classic Rock
Christmas is coming early for music lovers – especially if you're looking for deep album dives and live projects from some of rock's best-known artists.
Record Store Day's Black Friday is, as usual, stuffed with great finds. Before then, I Knew You When will become Bob Seger's 18th studio release, and extends his record-breaking tenure as a solo artist with Capitol Records. (It's now at 49 years and counting.) Into December, U2's Songs of Experience – the follow up to 2014's Songs of Innocence – is finally headed our way in early December.
The upcoming slate of reissues is led by Metallica's long-awaited return to the landmark 1986 album Master of Puppets. Trouble No More, the 13th volume of Bob Dylan's acclaimed Bootleg Series, will explore his gospel era from the late '70s and early '80s. Other notable retrospective releases are also scheduled from the Eagles, King Crimson, the Doors and Queen, among others.
Kansas's Leftoverture Live & Beyond tops the in-concert offerings. The new set features concert performances culled from their ongoing Leftoverture 40th anniversary tour. Two of Black Sabbath's farewell shows, held last February in their hometown of Birmingham, England, provided material for The End. There are also key new live albums coming from the Electric Light Orchestra, Yes and the Rolling Stones.
More information on these and other classic-rock releases can be found below. And remember to look at our updated list of 2017 New Music Releases for details on music issued throughout the year.
Nov. 10
Elton John, Diamonds (box set)
Harry Chapin, The Bottom Line Archive: Live 1981
Kinks, Sleepwalker (vinyl)
Metallica, Master of Puppets (reissue)
Paul Butterfield Blues Band, Born In Chicago: The Best of the Paul Butterfield Blues Band
R.E.M., Automatic for the People: 25th Anniversary Deluxe Edition
Sting, Live at the Olympia Paris (DVD)
Ten Years After, Ten Years After 1967-1974
Tommy Bolin [Deep Purple], Northern Lights – Live 9-22-76
Various artists, Looking at the Pictures in the Sky: The British Psychedelic Sounds of 1968
Nov. 17
America, Heritage: Home Recordings/Demos 1970-1973
Black Sabbath, Black Sabbath: The End (DVD+CD)
Bob Seger, I Knew You When
Doors, Strange Days: 50th Anniversary Deluxe Edition
Green Day, Greatest Hits: God's Favorite Band
Glenn Hughes, Building the Machine (reissue)
Iron Maiden, The Book of Souls: Live Chapter
Jeff Lynne's ELO, Wembley or Bust
John Fogerty, Blue Moon Swamp (reissue)
Micky Dolenz, Out of Nowhere
Moody Blues, Days of Future Passed: 50th Anniversary Deluxe Edition
Paul McCartney, McCartney, Ram, Band on the Run, Venus and Mars, Wings at the Speed of Sound, McCartney II, Tug of War; Pipes of Peace (vinyl reissues)
Pearl Jam, Let's Play Two: Pearl Jam Live at Wrigley Field (DVD)
Pink Floyd, A Collection of Great Dance Songs; Delicate Sound of Thunder (vinyl reissues)
Queen, News of the World: Deluxe Edition
Steve Howe, Nexus
Various artists, A Tribute to Dan Fogelberg [Eagles, Boz Scaggs, others]
Yardbirds, Yardbirds '68
Nov. 24
Chris Bell, The Complete Chris Bell
Dimebag Darrell, Dimevision Vol. 2: Roll With It Or Get Rolled Over (DVD+CD)
Eagles, Hotel California: 40th Anniversary Edition
Electric Light Orchestra, Out of the Blue: 40th Anniversary Edition (vinyl)
Gary Moore, Blues and Beyond (box set)
Glenn Hughes, Songs in the Key of Rock (reissue)
Graham Bonnet, Flying Not Falling: 1991-1999 (box set)
Jeff Beck, Truth (reissue)
Ramones, Rocket to Russia: 40th Anniversary Deluxe Edition
Steve Marriott's Packet of Three, Watch Your Step: Final Performances '91 (box set)
Yes, Topographic Drama: Live Across America
Record Store Day Black Friday 2017 Classic Rock Releases
Anthrax, Carry On Wayward Son (12" Picture Disc)
Chuck Berry, The London Chuck Berry Sessions (LP)
Big Star's Third Live, Big Star's Third Live Stroke It Noel: Big Star's Third Live in Concert (2LP)
Blue Oyster Cult, Rarities Vol. 1 (1969-1976) (2LP)
Tommy Bolin, Energy (LP)
The Byrds, You Movin'/Boston (7" Vinyl)
Cheap Trick, Christmas Christmas (LP)
Dimebag Darrell, The Hitz (12" Vinyl)
The Doors, Absolutely Live (2LP)
Jerry Garcia and Howard Wales, Side Trips, Volume One (2LP)
Grateful Dead, Grateful Dead Records Collection (5LP)
Janis Joplin, Greatest Hits (LP)
Greg Lake, "I Believe In Father Christmas" (10" Vinyl)
Paul McCartney/Holidays Rule/The Decemberists, "Wonderful Christmastime"/"Jesus Christ" (GREEN) (7" Vinyl)
Paul McCartney/Holidays Rule/Norah Jones, "Wonderful Christmastime"/"Peace" (RED) (7" Vinyl)
Gram Parsons & the Fallen Angels, Live 1973 Featuring Emmylou Harris (LP)
Iggy Pop, New Values (LP)
Procol Harum, The One & Only One (10" Vinyl)
Queen, We Are The Champions/We Will Rock You (12" Vinyl)
Raspberries, Pop Art Live (3LP)
Lou Reed and Kris Kristofferson, The Bottom Line Archive Series: In Their Own Words: With Vin Scelsa (LP Picture Disc)
Rush, Closer To The Heart (7" Vinyl)
Ravi Shankar, Portrait of Genius (LP)
Southside Johnny, Detour Ahead - The Music of Billie Holiday (LP)
Sparks, Check Out Time 11AM (7" Vinyl)
Yusuf/Cat Stevens, The Laughing Apple (LP Picture Disc)
Tangerine Dream, Electronic Meditation (LP)
Roger Taylor, Journey's End (10" Vinyl)
Toto, Hold The Line/Alone (10" Picture Disc)
Turtles, Turtles '66 (LP)
The United States of America, The United States of America (LP)
Utopia, A Different P.O.V. (12" Vinyl)
The Winery Dogs, Dog Years, Live in Santiago (3LP)
Neil Young, Harvest Moon (2LP)
Frank Zappa, Lumpy Gravy b/w Primordial (12" Vinyl)
Dec. 1
Alan Parsons Project, Eye in the Sky: 35th Anniversary Edition
Atomic Rooster, Sleeping For Years: The Studio Recordings 1970-74 (box set)
Cindy Wilson [B-52's], Change
Daryl Hall and John Oates, Beauty on a Back Street (reissue)
Rolling Stones, On Air
U2, Songs of Experience
January and Beyond
Joe Satriani, What Happens Next
Harry Chapin, The Bottom Line Archive: Live 1981
W.A.S.P., Re-Idolized: Soundtrack to the Crimson Idol (expanded reissue)
Ace Frehley (untitled, details here)
Gene Simmons, The Vault
Lemmy Kilmister (untitled solo debut, details here)
Wolfgang Van Halen (untitled, details here)
Top 25 Classic Rock Albums of 2017
More From Ultimate Classic Rock