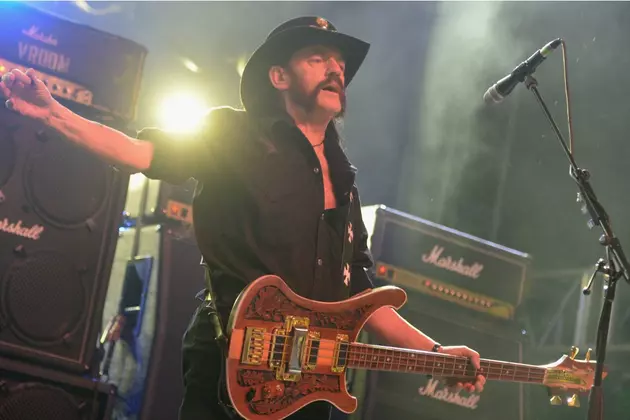 Lemmy's First-Ever Solo Album Due Later This Year
Jason Kempin, Getty Images
According to Metal Talk, Jim Voxx from the German band Skew Siskin revealed that he's finishing work on Lemmy's solo album, a project that has reportedly been brewing for years. Motörhead shared the information on their Facebook page.
"I still don't know when it will be released because this is in the hands of the Motörhead management, and it took a while," Voxx said. "Lemmy had so many things left, there are so many other recordings, and they all had to sort out how to proceed and there is no real time rush to release this album, so I can imagine it will be towards the end of this year."
Lemmy's long career stretches back to the Rockin' Vickers in the '60s to a stint with Hawkwind in the '70s. In addition to the two dozen Motörhead albums he made from 1977 through 2015, he's appeared on countless other records, including soundtracks and side projects. But he never released an official solo album.
Skew Siskin worked on some songs with Lemmy before the Motörhead leader's death in December 2015. Voxx said the project started in 2003, but Lemmy "didn't have a real idea what would be on it, so he came to me and asked me if I would work with him." He said tracks were also recorded with Dave Grohl, Reverend Horton Heat and the Damned.
"He wanted to take his time," Voxx explained. "It was the total opposite of working with Motörhead because he had to do it in his free time between the Motörhead work. I gave him the possibility always to come here and work in the studio whenever he needed, and step-by-step we got the songs together. We have 10 songs, and we thought it would have been released a long time ago, but when Lemmy got ill, we stopped working on it, but the recordings were all done."
30 Historic Moments from Lemmy's Life
More From Ultimate Classic Rock