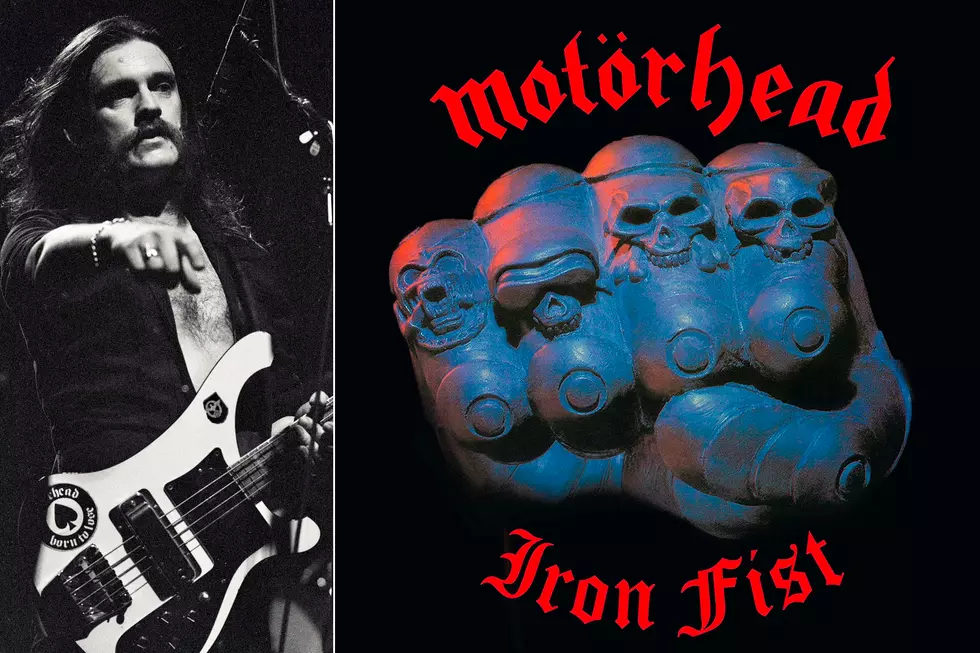 Six Reasons Motorhead's 'Iron Fist' Deserves More Respect
Steve Rapport, Getty Images / Bronze Records
During the past 40 years there's been no shortage of jabs aimed at Motorhead's fifth studio album.
Conventional wisdom has long held that Iron Fist, the final album released by the not-yet-iconic British heavy metal group's famed second lineup -- Lemmy Kilmister, "Fast" Eddie Clark" and Phil "Philthy Animal" Taylor -- was disappointing. It was set up for that, of course, having to follow up 1980's seminal Ace of Spades and the following years in-concert classic No Sleep 'til Hammersmith, the group's only ever chart-topper in the U.K. And many have said the decision to have guitarist Clarke produce Iron Fist instead of Ace of Spades' Vic Maile -- conflicting reasons have long been given -- was ill-advised, with polite critics calling its sound sterile and too polished.
Lemmy, meanwhile, long complained that some of Iron Fist's songs, particularly on the original release's second side, were incomplete when the band laid them down.
But with hindsight, we'd argue Iron Fist has gotten a bad rap. Even Clarke, some years later, told UCR, "I don't think it's a bad album at all. I think we were in bad shape at the time, the band. We didn't see eye to eye on a lot of things. We were tired, arguing, fighting. We probably could've done with some time off, but that's not something you did back then."
Despite the reviews, the Motorhead nation received Iron Fist well at the time. It hit No. 6 on the U.K. charts and was certified silver there. It was also the band's first title to hit the Billboard 200 (at No. 174).
But the group's internal schism was irreversible. Clarke left the band during May of 1982, less than a month after Iron Fist's release, -- ostensibly because he objected to Lemmy recording a cover of Tammy Wynette's "Stand By Your Man" with the Plasmatics. In his memoir White Line Fever: Lemmy: The Autobiography, Lemmy wrote that, "Eddie used to leave the band about every two months, but this time it just so happened that we didn't ask him back...We were just tired of him because he was always freaking out and he was drinking a lot back then." Clarke's replacement, former Thin Lizzy guitarist Brian Robertson, was on stage in Detroit a week later.
Interpersonal feelings aside, however, Iron Fist is a powerful last statement for that era of Motorhead, and a solid album by any measure -- and here are six of the reasons why...
1. "Iron Fist"
The title song, with its huge riff and galloping pace, is a bona fide Motorhead mosh pit classic. Lemmy's distorted bass punishes the woofers, and his portrayal of himself as a prophet of doom, a "beast of evil, devil's hound" -- delivered in his trademark whiskey-soaked rasp -- is genuinely frightening. He's the horseman before he loses his head, fiercer than anything Washington Irving could have imagined three and half centuries prior.
Watch the Music Video for 'Iron Fist'
2. "Fast" Eddie Clarke
Criticisms of his production aside, Iron Fist is a masterful showcase for Clarke the guitarist. He's spot-on and hot as fresh tar on virtually all 12 tracks, especially when he stretches out in the jamming end of "Loser" and with his solos in "Go to Hell," "America," "(Don't Let 'Em) Grind Ya Down" and "Bang to Rights." The riffs are undeniable throughout as well, throttling every song into high gear. Robertson, MIchael "Wurzel" Burston and especially Phil "Wizzo" Campbell carried the torch well in Clarke's stead, but a listen to Iron Fist affirms the group lost a great deal when its founding guitarist, who died in 2018, left.
Listen to 'Go the Hell'
3. "I'm the Doctor"
Iron Fist's raucous third track is as poppy and melodic as Motorhead has ever sounded. Lemmy (who died in 2015) was a well-chronicled Beatles and Merseybeat fan, and you can hear that influence without apology, even when it's covered in distortion and gleefully lascivious lyrics -- and, yes, another fiery solo by Clarke.
Listen to 'I'm the Doctor'
4. Efficiency
Iron Fist's songs aren't long; "Loser," at 3.57, is the longest, and half the album weighs in less than three minutes. But Lemmy, Clarke and Taylor (who also died three months before Lemmy in 2015) get quite a bit done within those parameters; a case in point is "Shut It Down," which manages to work in three verses, a full guitar solo and plenty of choruses into its 2:41. That compositional economy would be a lesson well-learned by those who came in Motorhead's wake, be it Nirvana or Guns N' Roses.
Listen to 'Shut It Down'
5. Humor
As a lyricist, Lemmy could be righteously angry -- and enormously funny, sometimes at the same time. In "Bang to Rights" he's caught in a cuckold and knows he'll pay the price ("Don't know what to tell ya, but I hope you don't cut loose/It don't matter anyway, my head is in the noose"). "America" portrays the U.S. as an "endless road" of "Sinsemilla, Ripple Win/Another schoolgirl with her daddy's Pontiac/another killer from the wrong side of the tracks." And "Sex and Outrage" gives us backstage lust with a leer but, importantly, a wink.
Listen to 'Bang to Rights'
6. "(Don't Need) Religion"
From the lambasted Side Two comes this unbridled protest song, Lemmy's anti-ritual screed that dismisses everything from confession to Santa Clause to Jesus Christ Superstar. He truly believes that "if your head's right, ya don't need binoculars to see the light," making for a church-scorching missive that hits its target like a planeload of heat-seeking missiles. We know who wasn't paging through the Gideon bibles in his hotel rooms.
Listen to '(Don't Need) Religion'
In White Line Fever, Lemmy had something of a final word about Iron Fist and the end of Motorhead Mk. II, noting that, "It was good for us that we fell apart when we did. We wouldn't have been going now if we had carried on getting more and more famous. We would have wound up a bunch of twats with houses in the country and gotten divorced from each other. So it was just as well, I think, for Motorhead's morale overall."
Motorhead did continue for another 33 years, but there aren't many rock and especially hard rock lineups that can lay claim to such a strong final stroke.
Motorhead Albums Ranked Worst to Best
More From Ultimate Classic Rock