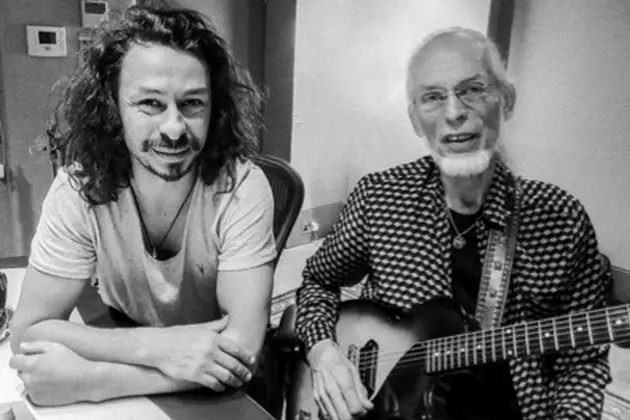 Steve Howe Hopes 'Nexus' Album Serves as 'Fitting Tribute' To His Son
InsideOut Music
Following the sudden death of Virgil Howe, drummer for the British power trio Little Barrie, his father and collaborator Steve Howe, guitarist for the prog-rock band Yes, is releasing an album that the two musicians completed shortly before his son's death. It's called Nexus. 
Virgil died on Sept. 11, of "tragic, unexpected causes" at the age of 41. He was scheduled to kick off a UK tour with Little Barrie just a couple of days later. The band canceled their tour, as did Yes, calling off the remainder of their Yestival Tour while the elder Howe grieves. Today, he announced plans to release their duo album as planned, on Nov. 17, via InsideOut Music.
"Virgil and I had only recently completed recording Nexus, which contains eleven of his tunes to which I added a guitar to suit each one. We delivered it to InsideOutMusic in August for release on 17th November. We started to work together in 2016 by selecting about nine tunes from his 'stockpile' of piano based music that he'd periodically sent Jan & I each time he'd written and recorded a new idea," Steve Howe said in a release. "I began adding guitars to them, then I'd play them to Virgil. He'd then surprise me by bringing up other channels of instrumentation which I'd never heard. The tunes went from straightforward 'duets' to something bigger & better, more of a complete picture than a mere shape. "Free Fall" & "Nick's Star" were added from earlier sessions, the latter being his tribute to the passing of his best friend Nick Hirsch.

"Nexus explores a completely different side of Virgil's ability, as a writer & keyboard player – 'in his own right,'" Steve Howe continued. "His talents were multi-diverse, so sitting at a keyboard & computer or in the middle of his drum kit, at all his regular DJ-ing gigs or on the radio, he always gave his best. We hope that the music just completed will stand as a fitting tribute to his life and legacy."  
Steve Howe played acoustic, electric and steel guitars for the album, while Virgil handled bass, drums and keys on the instrumental collaboration. Virgil had previously sung and played keyboards on his father's 1993 album The Grand Scheme of Things, while his older brother Dylan played drums. The three Howes again joined forces a decade later on Elements, which is credited to Steve Howe's Remedy.
Virgil died just hours after InsideOut Music approved the first press release about the record. Label Manager Thomas Waber and Product Manager Stefan Franke noted "It was supposed to be a new beginning for an exciting musical collaboration, but now it has become one of the saddest albums we have ever worked on." Offering their condolences to the Howe family, the label added, "We left the decision over the release of Nexus up to Steve and respect his wish to continue as originally discussed. Being fathers, too, we can only guess how hard it must be to deal with such a loss and we sincerely hope you will all enjoy 'Nexus' despite the circumstances under which it is coming out."

1. "Nexus"
2. "Hidden Planet"
3. "Leaving Aurura"
4. "Nick's Star"
5. "Night Hawk"
6. "Moon Rising"
7. "Passing Titan"
8. "Dawn Mission"
9. "Astral Plane"
10. Infinite Space
11. "Freefall"
More From Ultimate Classic Rock