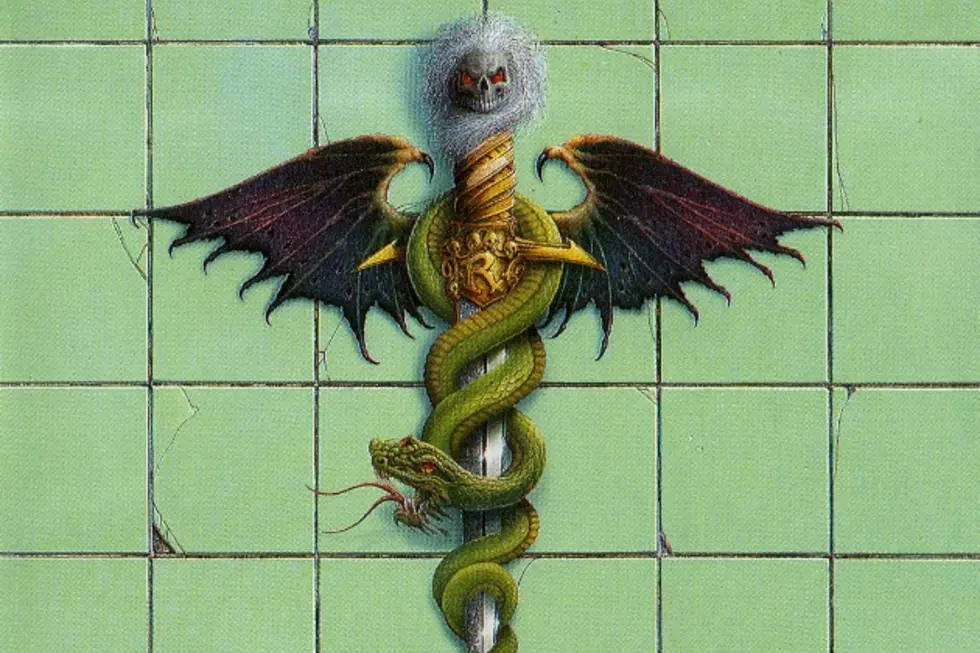 Weekend Songs: Motley Crue, 'Dr. Feelgood'
Elektra Records
Classic rock is about heavy hooks, power chords and tight harmonies. But it's also about letting loose and enjoying the good times — and there's no better time for that than Friday evening, when we pick up our paycheck, punch out of work and enjoy a couple days of much-needed rest and relaxation.
But before relaxing, sometimes we need to blow off a little steam, and because every good round of Friday night debauchery deserves a special soundtrack, we've got Motley Crue's massive 1989 hit 'Dr. Feelgood' on our minds this week. Arriving after a two-year layoff that saw the band members undergo a lot of changes -- including a much-publicized venture into sobriety and a new producer -- 'Feelgood' cemented the band's status as one of the biggest rock acts on the planet, spinning off four Top 40 singles, topping the Billboard charts, and selling more than four million records before the end of 1990.
Things could easily have gone in a different direction for the famously hard-partying Crue, but during the period following 1987's 'Girls, Girls, Girls,' the band members realized they needed to clean up in order to continue functioning, and their newfound post-rehab focus helped produce some of their most tightly crafted work. "We all took a break from a lot of crazy s---," explained drummer Tommy Lee during an interview for the record's 20th anniversary. "Everybody was sort of at their peak -- you know, like drugs and alcohol -- and we basically moved to Vancouver to embark on this amazing new record with everybody feeling good and focused. It was a really good time."
Bassist Nikki Sixx recalled the do-or-die atmosphere surrounding the record in a separate interview, saying, "We all said, 'Look, we either have to get it together and become the biggest band in the world, or we're going to knock this thing on the head and go out with more fury than anyone has ever hit the music business with.'"
After cutting a series of albums with producer Tom Werman, the band was ready for a change, and after considering a wide variety of candidates (reportedly including Quincy Jones), they chose Bob Rock, who tested the members' mettle in his Vancouver studio. "Individually, I watched him push the different band members and felt it myself," admitted Sixx, but he couldn't argue with the results: "In the end you listen to that record and you go 'Wow, it's the best of the best.'"
Of course, having a batch of solid songs certainly helped -- and the record's relentless title track, which served as the leadoff single (and a Top 10 hit on the Billboard Hot 100), was one of the best. ""I knew it was a classic from the time I heard that very first 'bomp bomp bomp bomp' -- that intro just kind of grabs you," Vince Neil later told Rolling Stone. "This song has been popular for 20 years. It was funny because I was watching VH1 and they had the Greatest Hard Rock Songs and 'Feelgood' was 15 or something. I was like, 'Wow, of all time.' Then you have Led Zeppelin and Aerosmith and AC/DC and 'Feelgood.' I was like, 'Wow, that's cool.' It's our signature song in some ways."
Vince has a point; while it may not be everyone's favorite Motley song, it's hard to argue with the way Rock's clean-yet-muscular production style bolsters the 'Dr. Feelgood' arrangement, leaving plenty of room for the rhythm section while shining a spotlight on the chugging riff and screaming guitar solos that drive the song. It's the type of track that sounds better the louder it gets -- and it provides the perfect prelude for a night of blowing off steam at the end of a work week. But even if you can't go speeding out of the office parking lot just yet, don't let that stop you from enjoying a little feeling good; just hit the 'play' button on that embed up there, turn up the volume as loud as you can without being written up by your supervisor, and let the weekend...start...now.
More From Ultimate Classic Rock