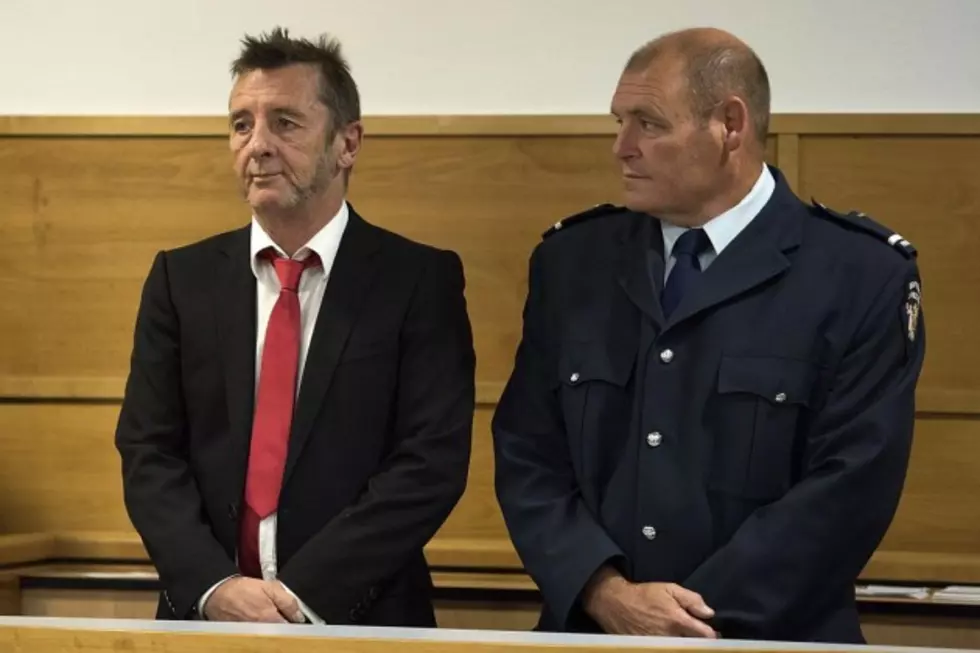 How Phil Rudd Plans to Avoid Jail Time Despite Guilty Plea
Marty Melville, Getty Images
Phil Rudd pleaded guilty today to one charge of threatening to kill and two counts of drugs possession, but the troubled AC/DC drummer doesn't intend to spend a day in jail. Instead, Rudd's lawyer Craig Tuck told a judge at New Zealand's Tauranga District Court that he will apply for a discharge without conviction.
Tuck specifically mentioned an issue with the "consequences of conviction" to the media afterward, perhaps indicating that he might argue Rudd was the victim of pre-trial prejudice. Rudd, 60, was initially accused of attempting to procure a murder, though that charge was quickly dropped.
Rudd, who faces up to seven years in prison, will now remain out on bail until a sentencing hearing is held on June 26.
Meanwhile, shocking details about Phil Rudd's November 2014 arrest are also becoming public. Rudd allegedly became angry over the way an August launch of his first-ever solo album was handled, and has admitted to threatening a personal assistant. Prosecutors say Rudd called an associate on Sept. 25, asking for the employee to be "taken out." The following day, they allege, he called the employee and said, "I'm going to come and kill you."
A subsequent search of Rudd's apartment on Nov. 6 then reportedly turned up 0.478 grams of methamphetamine and 91 grams of cannabis, according to multiple published reports. "This matter is essentially revolved around an angry phone call," Tuck told reporters today. "You know, that was it. ... The apparatus of the police then turned up with a search warrant based on a cannabis for own use situation and a cellphone."
These proceedings were initially set to go forward in February, but were postponed when Phil Rudd's lawyer abruptly withdrew from the case. Rudd also complicated matters with a pair of violent incidents which ultimately found the drummer in handcuffs yet again. He'd been reprimanded in court for breaching the terms of his bail as well, reportedly by making contact with a witness to this court case.
AC/DC's 10 Most Historic Concerts
You Think You Know AC/DC?
More From Ultimate Classic Rock