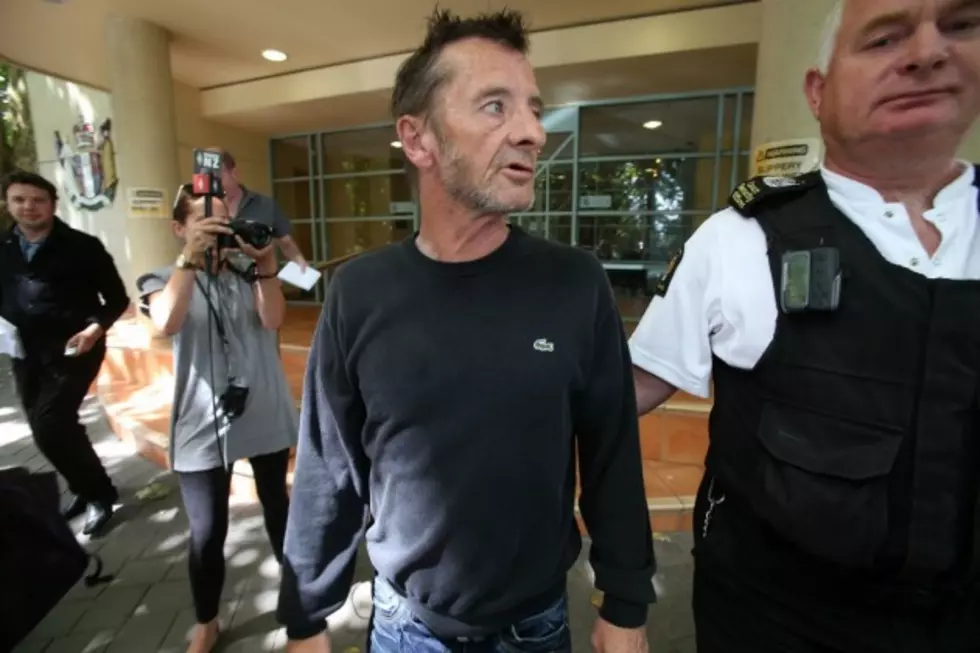 More Details Emerge Regarding Phil Rudd Coffee Shop Fracas
Joel Ford, Getty Images
Very little about Phil Rudd's life seems to make any sense these days, but reports have started coming in regarding his latest run-in with the law, and we at least have some idea of what led up to the coffee shop scuffle that ended with the AC/DC drummer in handcuffs.
As previously reported, Rudd was involved in some sort of physical altercation with a larger man outside Columbus Coffee in Tauranga, New Zealand, and ended up back in court -- where he was sternly admonished for violating a condition of his bail and told that its terms now included Rudd staying off illegal drugs. Initial statements seemed to indicate that Rudd had been fighting one person, potentially a witness in the case for threatening to kill and drug possession currently pending against him, but now it looks like he went up against two people, one of which was apparently his current bodyguard.
The coffee shop's owner, Leo Rojas, told the New Zealand Herald that he became involved when he heard noises outside. "I thought the big guy was trying to abuse an old man. Then I released it was the old man trying to fight the big guy," Rojas recalled, adding that he tried to break it up before falling, at which point he heard the "big guy" tell Rudd, "Back up. I don't want to break your face." Eventually, Rudd ended up being pushed "really strongly" to the ground; as Rojas told the Guardian, "He literally fell away like a fly."
After hitting the ground, Rudd reportedly yelled "that's why you don't work with the mafia" at his opponent, at which point the other man started heading for his car, saying, "Phil, get out of my way. That's why I don't work for you anymore."
At this point, Rojas told the paper that Rudd's own bodyguard got involved, trying to hold him back so the other man could leave -- only to have Rudd turn on him too: "Phil started punching and kicking his own bodyguard, which I don't understand." After that kerfuffle, Rudd reportedly headed back into the coffee shop to pick up some things he'd dropped during the fight, "including his wallet, mobile phone and groceries," and paused to offer a friendly warning to onlookers. "He came back to pick those up and he started yelling to the customers 'never get involved with the mafia,'" explained Rojas. "My customers were all very nervous, especially the old ladies and a few kids as well."
As quoted in our previous report, Rudd's lawyer explained away the confrontation by saying it "was a meeting with somebody [Rudd] wasn't meant to associate with in a shop. It was a chance meeting and then there was contact from that."
You Think You Know AC/DC?
Angus Young's and Other Rockers' Yearbook Photos
More From Ultimate Classic Rock