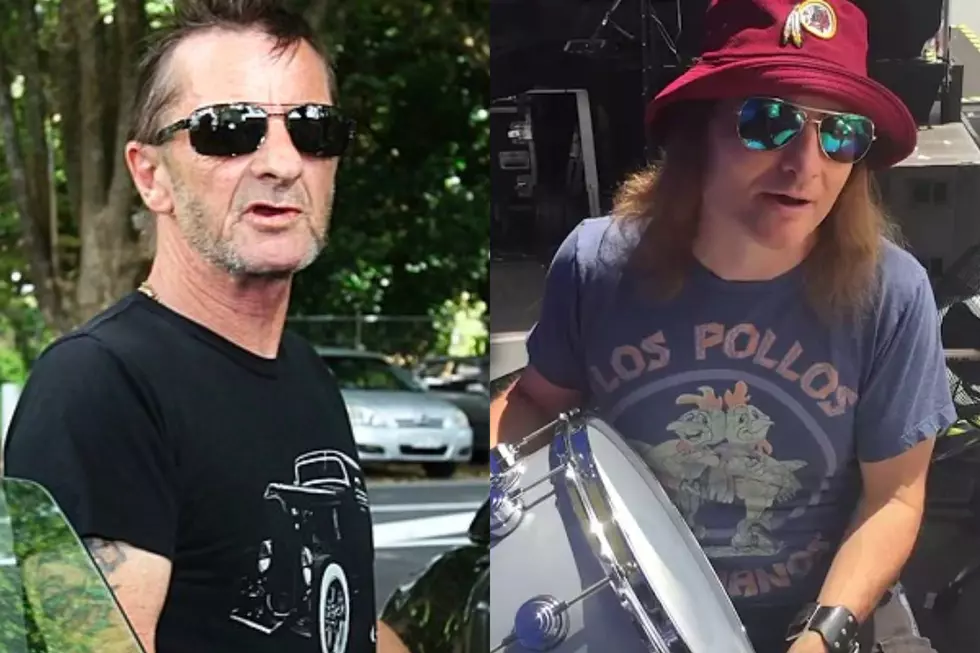 Is Phil Rudd Being Replaced for AC/DC's Power Trip Performance?
Joel Ford, Getty Images / YouTube
AC/DC has released some new audio of "If You Want Blood (You've Got It)" from one of their recent rehearsals, featuring a new drummer, Matt Laug.
It's unclear whether or not the band's longtime drummer, Phil Rudd, will perform at their upcoming Power Trip festival appearance in October, or if Laug will serve as a fill-in.
You can listen to the clip below.
READ MORE: How AC/DC Turned a Cartoon and TV Commercial Into 'Dirty Deeds'
Rudd joined AC/DC in 1975, left in 1983 and returned in 1994. Chris Slade, who served as the band's drummer from 1989 to 1994, returned for the 2015-2016 Rock or Bust world tour while Rudd dealt with the legal consequences of his 2014 arrest, after which he was ultimately convicted of threatening to kill a former employee and sentenced to eight months home detention. Rudd appeared on AC/DC's most recent album, 2020's Power Up.
"Nobody has ever called me and said, 'By the way, you're not the current drummer,' or, 'By the way, Phil's been in the band for three years.' Nobody has ever said that," Slade told Rolling Stone in 2020. "As far as I'm concerned...God, I'm philosophical enough to realize that Phil may well be back in the band. I have no idea. I had no idea last time when they called me before [the] Rock or Bust [tour]. I'm open to all possibilities. That's the way people should be, open-minded."
Brian Johnson can be heard singing in the new clip provided by AC/DC, indicating that he will be returning to the stage with the group. He was forced to miss the last 23 dates of the Rock or Bust tour after being warned by doctors that he risked total hearing loss if he continued. Guns N' Roses star Axl Rose filled in for Johnson on the tour's final dates.
The tweet also notes that bassist Cliff Williams will be returning for the Power Trip show, at least temporarily ending the retirement he announced at the end of the Rock or Bust tour. The band hasn't played any shows since that time, and Williams was also present for the recording of Power Up.
AC/DC's Rock or Bust touring lineup was rounded up by lead guitarist Angus Young and his nephew Stevie Young, who joined the band in 2014 after Angus' brother Malcolm was forced to retire due to a battle with dementia and other health issues. Malcolm died in 2017.
Matt Laug's Credentials
Laug's resume includes a laundry list of rockers, including Alanis Morissette, Alice Cooper, Beth Hart and Slash's Snakepit, among others For the last two decades or so, he's been playing and recording with former Tom Petty and the Heartbreakers guitarist Mike Campbell in the Dirty Knobs.
"I am very fortunate to be able to work with friends that are great musicians. I think when you try to be the very best you can be, that attracts others that do the same," Laug said in a 2020 interview. "I try to be professional which means to have a humble attitude, know the songs before going to the rehearsals, arrive at rehearsals and concerts on time and perform my very best."
AC/DC Albums Ranked
Critics say every AC/DC album sounds the same, but that's far from the truth.
More From Ultimate Classic Rock