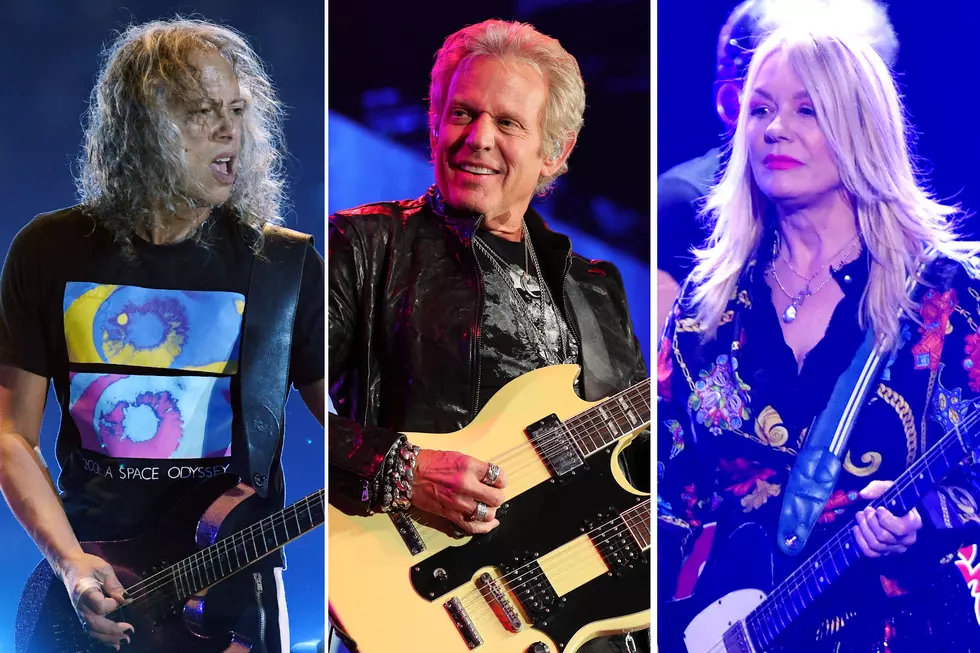 Metallica, Eagles and Heart Members to Attend Rock Hall Exhibit
Ethan Miller / Adam Bettcher, Getty Images
Metallica's Kirk Hammett and Robert Trujillo, former Eagles member Don Felder and Heart guitarist Nancy Wilson were named among the guests who will attend the opening of a new exhibition at the Rock and Roll Hall of Fame Museum on Nov. 21.
Play It Loud: Instruments of Rock & Roll explores the history of the instruments that contributed to the creation of the genre. It's the largest single exhibition staged in the Cleveland establishment, spanning four floors.
"Fans can expect spectacular new acquisitions and adaptations that make the show unique to its venue," the Rock Hall said in a statement. "Instruments showcased span from 1939 to today, and many have never been displayed outside of their original concert performance settings. This is the only time these iconic instruments will be seen together in one massive collection."
Exhibits include guitars played by Jimi Hendrix, Chuck Berry, Bruce Springsteen, Eric Clapton and Keith Richards, a sculpture created from one of Pete Townshend's smashed guitars, a Prince stage costume and Eddie Van Halen's 2013 stage rig.
The exhibition runs until Sept. 13, 2020. Tickets for the opening party are on sale now, including access to additional exhibits, live entertainment, a drink and a dessert bar.
Meanwhile, Metallica donated $100,000 to assist with relief in California as a result of this year's forest fires. The donation, via their All Within My Hands foundation, follows a similar payment last year. "Sadly, for the third year in a row, communities we have called home throughout the state of California are again experiencing the tragedy left in the wake of wildfires," the band said, noting that $50,000 was to be paid to the Sonoma County Resilience Fund and $50,000 to the Wildfire Relief Fund.
"We would also like to encourage you to join us in supporting those in need as well as the first responders who have been working tirelessly to keep Californians safe," the statement continued. "Whether you are able to contribute money, non-perishable food, clothing and other supplies, or your time by volunteering or providing temporary housing, every bit helps."
More From Ultimate Classic Rock