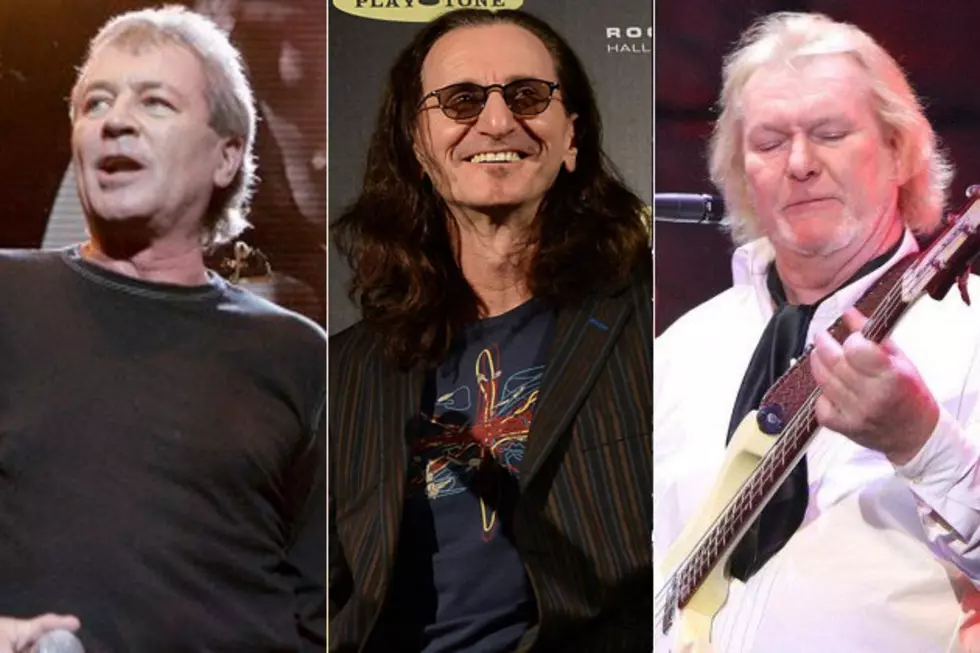 Geddy Lee Supports Deep Purple and Yes Rock Hall Inductions
Jo Hale / Jason Merritt / Kevin Winter, Getty Images
One of the cool things about being a member of the Rock and Roll Hall of Fame is getting to cast your vote in subsequent inductions -- and freshly minted Rock Hall member Geddy Lee sounds like he's already given some thought to who he'll vote for when he casts his first ballot.
The Rush frontman opened up on the subject during a recent interview with Radio.com, admitting that while he hasn't completely made his mind up yet, he's leaning toward a couple of bands. "Well, certainly Deep Purple, certainly Yes," Lee mused. "I have to give it a more complete thought, but those are two names that stand out as omissions in my view. I think one of the things the Hall of Fame looks for is influential bands. And if influence is a big part of their criteria, you can make the case clearly for Deep Purple."
Yes and Deep Purple are both certainly in the mix for long-overdue induction into the Hall, but if a pair of fan polls are anything to go by, the bands most likely to make the cut are Kiss and Nirvana, both of whom are currently duking it out for the top spot in tallies being conducted by The Plain Dealer in Cleveland and the Rock Hall itself. The Plain Dealer reports that Nirvana are currently leading its poll with nearly 15 percent of the vote, followed by Kiss, Deep Purple and Hall and Oates; meanwhile, the Rock Hall's poll has Kiss claiming a slim edge over Nirvana, with Deep Purple and Yes in third and fourth, respectively.
The Plain Dealer's report goes on to explain that the results of the Rock Hall's fan poll will be used to cast a single vote in the final election, which will be decided by its roughly 600-member panel. "Those performers who receive the highest number of votes -- and more than 50 percent of the vote -- are inducted," explains the Hall's website. "The Foundation generally inducts five to seven performers each year."
More From Ultimate Classic Rock