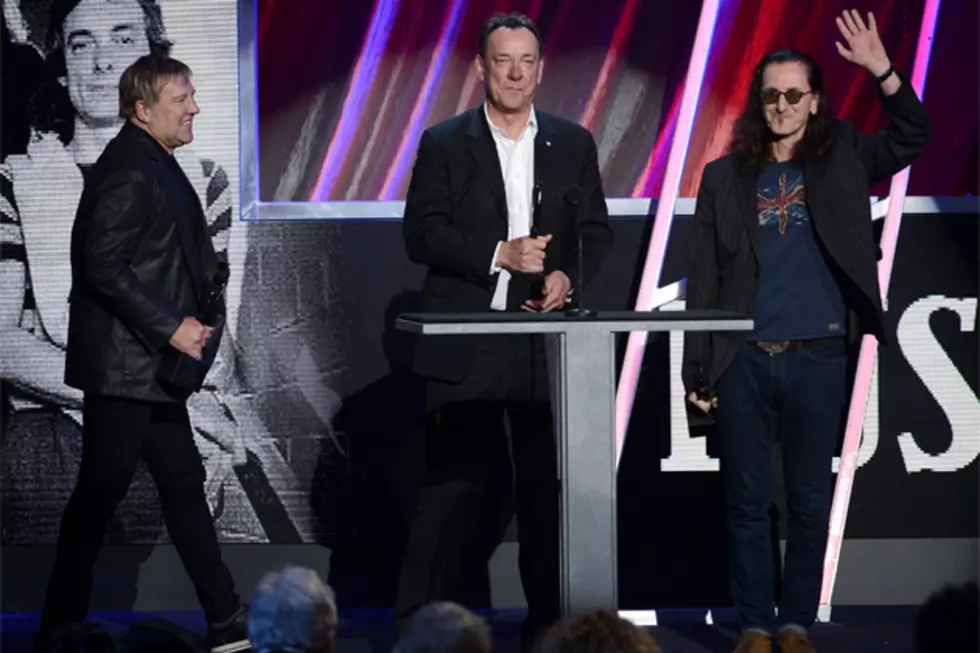 Rush Inducted Into Rock and Roll Hall of Fame
Kevin Winter, Getty Images
Well, it finally happened, Rush fans -- the legendary Canadian power trio is finally, officially, ensconced in the Rock and Roll Hall of Fame. Dave Grohl may have phrased it best in his induction speech for the band, when he asked the audience in mock puzzlement: "When the f--- did Rush become cool?"
Of course, as Grohl quickly acknowledged, for the millions who have eagerly absorbed each of the band's albums and turned out in droves for their tours, Rush has always been cool -- but they were in their glory last night (April 18), when they took the stage at Los Angeles' Nokia Theatre to accept one of rock's greatest honors and cement what Grohl referred to as the "legacy ... of a band that stayed true to themselves."
Drummer Neil Peart referenced the group's long wait for induction in his speech, admitting, "We've been saying for a long time that this wasn't that big a deal. Turns out, it truly is a big deal."
It was a sentiment heartily echoed by the Rush fans in attendance, who reportedly outnumbered (and drowned out) everyone else in the building -- and while such aggressive outbursts might not be entirely in keeping with the droll, self-effacing humor the band is known for, they weren't entirely unexpected after all those years of disappointment. Geddy Lee acknowledged as much in his acceptance speech when he told the crowd, "On behalf of my two partners I have to thank the most passionate, most dedicated fan base in the world."
So here's to you, Rush fans -- and congratulations to the members of the band for their long-awaited, and richly deserved, honor.
Watch Rush's Rock and Roll Hall of Fame Induction Speech

Watch the Foo Fighters Induct Rush Into the Rock and Roll Hall of Fame
Watch the Foo Fighters Perform 'Overture' from Rush's '2112'
More From Ultimate Classic Rock