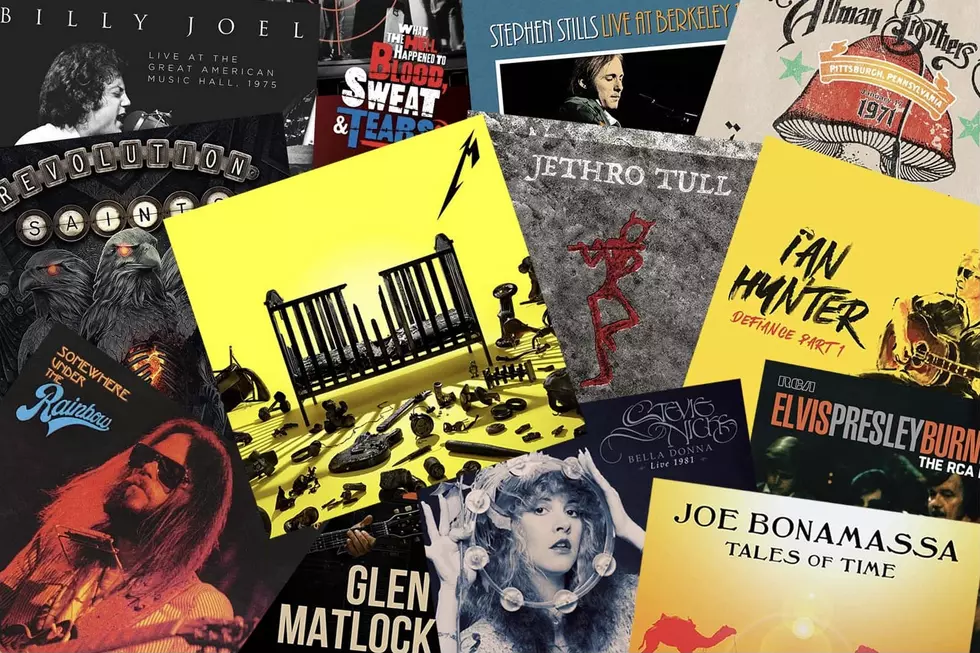 April 2023 New Music Releases
UCR
April's slate of new music releases is once again highlighted by a jam-packed spring edition of Record Store Day – but that's not all.
Metallica is back with the long-awaited 72 Seasons, their first studio album since 2016's Hardwired ... to Self-Destruct. They've got a massive M72 world tour on tap, too. The suddenly resurgent Jethro Tull will release RokFlote, their second LP in as many years following The Zealot Gene.
Ian Hunter completed Defiance Part 1 with an all-star cast that includes Joe Elliott, Billy Gibbons, Duff McKagan, Todd Rundgren, Slash and the late Jeff Beck and Taylor Hawkins, among others. Black Diamonds will be the fourth consecutive L.A. Guns album to feature both Phil Lewis and Tracii Guns since they reunited in 2016.
Neil Young has dug into the archives to retrieve Somewhere Under the Rainbow with the Santa Monica Flyers and High Flyin' with the Ducks. The Santa Monica Flyers included Nils Lofgren, Ben Keith, Billy Talbot and Ralph Molina. The Ducks featured Moby Grape's Bob Mosley, Jeff Blackburn and Johnny Craviotto. Both LPs document '70s-era performances.
Stephen Stills' Live at Berkeley 1971 features 14 previously unreleased tracks recorded over two nights at the Berkeley Community Theater. Kiss will also issue a rare recording with guitarist Mark St. John titled Off the Soundboard: Poughkeepsie, New York, 1984.
Then there's RSD, which features a reliably massive haul of vinyl, too. More information on these and other new rock-related efforts can be found below. Remember to follow our continuously updated list of 2023 New Music Releases for details on projects issued throughout the year.
April 7
Andy Fairweather Low [Roger Waters/Eric Clapton], Flang Dang (vinyl release)
Allan Clarke [Hollies], I'll Never Forget
Kiss, Off the Soundboard: Poughkeepsie, New York, 1984
Mamas and the Papas, The Mamas and the Papas (remastered)
April 14
Frankie Valli and the Four Seasons, Working Our Way Back to You: The Ultimate Collection (45CD box)
Joe Bonamassa, Tales of Time
L.A. Guns, Black Diamonds
Metallica, 72 Seasons
Natalie Merchant, Keep Your Courage
Neil Young, Somewhere Under the Rainbow [Santa Monica Flyers], High Flyin' [the Ducks]
The 13th Floor Elevators, 13 of the Best of the 13th Floor Elevators (vinyl reissue)
April 21
Blood, Sweat & Tears, What the Hell Happened to Blood, Sweat & Tears?: Original Soundtrack
Ian Hunter, Defiance Part 1 (Joe Elliott, Billy Gibbons, Duff McKagan, Todd Rundgren, Slash, Jeff Beck, Taylor Hawkins, others)
Jethro Tull, RokFlote
Revolution Saints, Eagle Flight
April 22: Record Store Day
RSD EXCLUSIVE
Billy Joel, Live at the Great American Music Hall: 1975 (2LP)
Black Keys, Live at Beachland Tavern March 31, 2002 (LP)
Brian Eno, Forever Voiceless (LP)
David Byrne, The Complete Score From the Catherine Wheel (2LP)
Canned Heat, Vintage (LP)
Captain Beefheart, I'm Going to Do What I Wanna Do: Live at My Father's Place 1978 (2LP)
Eric Carr, Rockology (2LP)
Carole King, The Legendary Demos (LP)
The Cure, Show: 2023 Remaster (2LP)
Dio, Live in Fresno 1983 (2LP)
The Doors, "Love Her Madly, "Hello, I Love Yo, "Break On Through (To the Other Side)" (3-inch vinyl)
Duran Duran, Carnival Rio! (LP)
Elvis Presley, Burning Love: The RCA Rehearsals (2LP)
Jerry Harrison, The Red and The Black (2LP)
Jerry Lee Lewis, Live at the Palomino Club (2LP)
Joe Strummer, Streetcore: 20th Anniversary (LP)
Keith Richards, Vintage Vinos (2LP)
Motley Crue, "Helter Skelter" (12-inch picture disc)
Motorhead, Lost Tapes, Vol. 4: Live in Heilbronn 1984 (2LP)
Pearl Jam, Give Way (2LP)
Ramones, Pleasant Dreams: The New York Mixes (LP)
Ringo Starr, Stop and Smell the Roses (2LP)
Rolling Stones, Beggars Banquet (LP)
Scott Weiland, 12 Bar Blues (2LP)
Soul Asylum, MTV Unplugged (2LP)
Stevie Nicks, Bella Donna Live 1981 (2LP)
Ted Nugent, Nuge Vault Vol. 1 (LP)
Todd Rundgren, A Wizard / A True Star (LP)
UFO, Will The Last Man Standing (Turn Out the Light) (2LP)
Van Halen, Live: Right Here, Right Now (4LP)
Violent Femmes, Violent Femmes: 40th Anniversary (LP)
Wilco, Crosseyed Strangers: An Alternate Yankee Hotel Foxtrot (LP)
Yes, Live at Knoxville Civic Auditorium (4LP)
RSD FIRST
Allman Brothers Band, Syria Mosque: Pittsburgh, PA 1-17-71 (2LP)
Eddie Money, The Covers (LP)
Elton John, Don't Shoot Me, I'm Only the Piano Player (2LP)
Fleetwood Mac, Albatross/Jigsaw Puzzle (12-inch vinyl)
Hawkwind, The Iron Dream: Live 1977 (LP)
Jerry Garcia Band, How Sweet It Is (2LP)
Joan Jett and the Blackhearts, Up Your Alley (LP)
John Lennon, Gimme Some Truth (10-inch vinyl box)
Mr. Big, Mr. Big (LP)
Paul McCartney and Wings, Red Rose Speedway (LP)
Pearl Jam, Give Way (CD)
Queensryche, Operation Mindcrime II (2LP)
Strawberry Alarm Clock, Incense and Peppermints (LP)
T. Rex, Rockin' & Rollin' (LP)
U2, "Two Hearts Beat as One/Sunday Bloody Sunday: War & Surrender Mixes"
Warren Zevon, The Wind (LP)
RSD LIMITED RUN/REGIONAL
Eric Carr, Rockology (CD)
Emerson Lake and Palmer, Brain Salad Surgery (LP)
Ringo Starr, Stop and Smell the Roses (CD)
April 28
Glen Matlock [Sex Pistols], Consequences Coming
King's X, In the New Age: The Atlantic Recordings 1988-1995 (6CD box)
Rickie Lee Jones, Pieces of Treasure
Stephen Stills, Live at Berkeley 1971
May and Beyond
Def Leppard, Drastic Symphonies
Winger, Seven
Graham Nash, Now
Yes, Mirror to the Sky
Alan Parsons Project, The Turn of a Friendly Card (Blu-ray edition)
Extreme, Six
Top 30 Rock Albums of 2022
The soundtrack to the year.
More From Ultimate Classic Rock