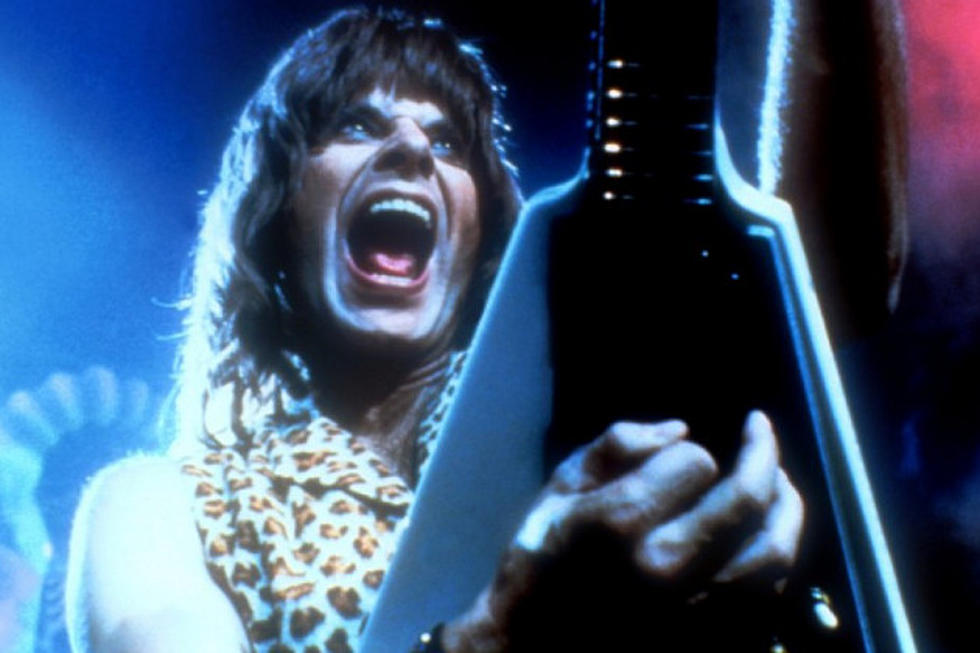 See the Cast of 'This Is Spinal Tap' Then and Now
YouTube
Director Rob Reiner's 'This Is Spinal Tap' didn't exactly look like a hit when it was released in March 1984. Thirty years later, it's considered to be one of the best music-related movies ever made. The film, which documents the ups and downs of a fictional heavy metal band, arrived decades before improv-heavy and mockumentary styled TV shows like 'The Office.' But thanks to strong word-of-mouth marketing from fans and famous musicians, the movie became a cult classic.
Starring Reiner, Christopher Guest, Michael McKean and Harry Shearer, 'This Is Spinal Tap' is now a tour-bus staple for musicians of all genres, and many say the movie's look at the often-ridiculous life of a traveling musician borders on uncomfortably true. Either way, 'Tap' is a must-see for any music fan. Here's what the stars of the film are up to today.
Christopher Guest, Nigel Tufnel
Then: Born to a British diplomat father and CBS executive mother in New York City, Guest rocked a Jeff Beck-inspired wig to play the role of Nigel Tufnel, Spinal Tap's absent-minded yet lovable lead guitarist.

Now: Married to Jamie Lee Curtis, Guest has carved out quite an impressive directing career with cult comedy hits such as 'Waiting for Guffman,' 'Best in Show' and 'A Mighty Wind' in his filmography.
Michael McKean, David St. Hubbins
Then: McKean was already a veteran of the hit '70s sitcom 'Laverne & Shirley' by the time he played David St. Hubbins, the singer and guitarist of Spinal Tap. The name is derived from Saint Hubbins, described in the film as the "Patron Saint of Quality Footwear."
Now: Now appearing on the HBO comedy series 'Family Tree,' McKean is married to Annette O'Toole, the actress who played Martha Kent, the mother of Clark Kent, on 'Smallville' from 2001-11.
Harry Shearer, Derek Smalls
Then: Like McKean and Guest, Shearer has also been a cast member of 'Saturday Night Live,' but he's most famous for his role as Tap bassist Derek Smalls. Who can forget the classic scene where he stuffs a foil-wrapped zucchini in his jeans to compensate for his lack of manlihood?

Now: A celebrated author, comedian and filmmaker, Shearer is a god to 'Simpsons' fans, voicing Principal Skinner, Mr. Burns, Ned Flanders, Rainier Wolfcastle, Dr. Marvin Monroe and many characters on the long-running animated series.
Rob Reiner, Marty DiBergi
Then: Before directing 'Tap' and playing DiBergi in the movie, Reiner portrayed Michael "Meathead" Stivic, the long-suffering son-in-law on 'All in the Family.'
Now: Besides 'Tap,' Reiner has directed such hit films as 'The Princess Bride,' 'Misery' and 'Stand By Me.' But he's also had his share of box-office duds (see 'North').
Fran Drescher, Bobbi Flekman
Then: The only thing more annoying about publicist Bobbi Flekman's music industry-related phoniness was her nasally voice, courtesy of Queens, N.Y., native Fran Drescher.

Now: It turned out that the grating voice wasn't just put-on for 'Tap,' but Drescher rode the nasally whine all the way to the bank, playing the starring role in the '90s sitcom 'The Nanny.'

Billy Crystal, Morty the Mime
Then: Playing a Marcel Marceau-inspired waiter, Crystal had only one scene in 'Tap,' but his "mime is money" line is among the most quoted in comedy-geek circles.

Now: A hugely successful actor, Crystal has also hosted the Academy Awards nine times, bringing his Borscht Belt, yuck-it-up brand of comedy to living rooms across the globe.

Dana Carvey, "Mime Waiter"
Then: Carvey played one of Crystal's mime lackeys in 'Tap,' proving again that every actor has to pay his dues, even if that means sacrificing your dignity by wearing mime makeup.

Now: The 'Saturday Night Live' alum became a hero to suburban metalheads everywhere with his Garth Algar character in the 'Wayne's World' sketches and movie franchise.

Paul Shaffer, Artie Fufkin
Then: Shaffer played Artie Fufkin, the incompetent record promoter behind Tap's epic failure of a record-store signing, one of the movie's most uncomfortable scenes.

Now: As band leader on 'Late Show With David Letterman,' the Canadian-born Shaffer gets to trade comedic banter with the TV icon on a nightly basis.

Fred Willard, Air Force Lt. Bob Hookstraten
Then: The improvisational comedic actor appears in the scene where Tap perform on an Air Force Base, telling the by-then-defeated band that the soldiers on the base aren't really familiar with Tap's work but are "big fans" of "the whole genre of rock 'n roll."
Now: Willard has continued to collaborate with Guest, but one of his most famous "appearances" got him arrested in 2012, when the actor was charged with "engaging in a lewd act" in a Hollywood adult-movie theater.

Paul Shortino, Duke Fame
Then: Shortino -- then singing for Sunset Strip hair metallers Rough Cutt -- played Duke Fame, a vocalist the Tap guys ran into in a motel lobby. St. Hubbins jealously claims, "We had to apologize for him with our set. It's all hype."
Now: Now fronting '80s hair farmers King Kobra, Shortino also gets to don leather pants and frilly pirate shirts as a cast member of Raiding the Rock Vault, a Las Vegas musical featuring hits by Def Leppard, Queen and other classic rockers.
You Think You Know Spinal Tap?
More From Ultimate Classic Rock