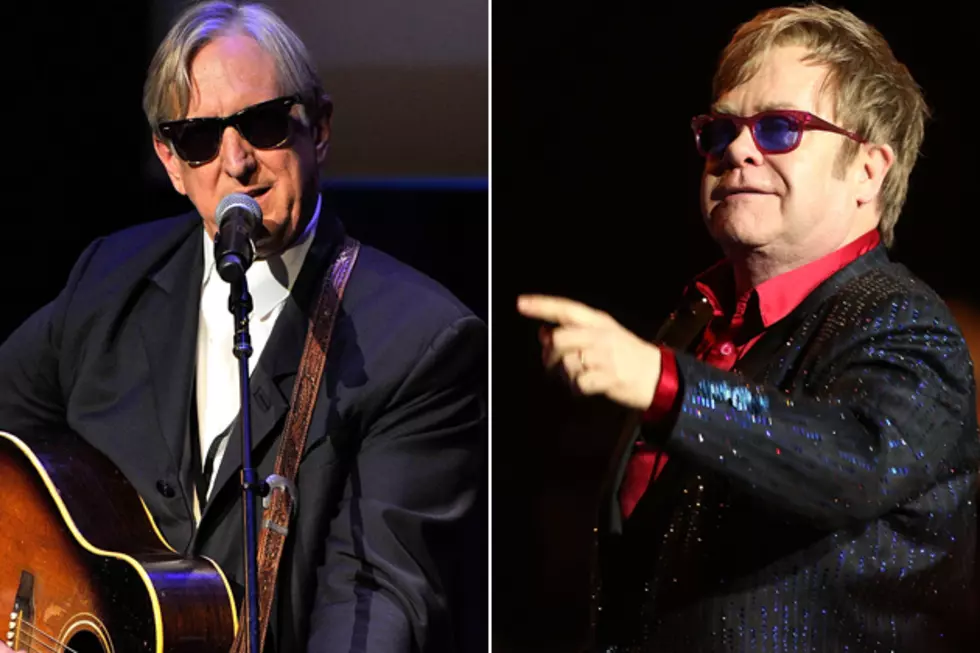 T-Bone Burnett Details Elton John's Return to Stripped-Down Rock
Frederick Breedon IV / Mark Metcalfe, Getty Images
As hinted earlier this year, the upcoming album from Elton John, 'The Diving Board,' will feature a stripped-down sound and a three-man band lineup. Producer T-Bone Burnett explains exactly how far back the inspiration for this move goes in a new interview.
Burnett reveals that he saw John during a week of performances in Los Angeles four decades ago: "It was totally personal for me, because I was at the Troubadour – he did a week at the Troubadour that changed this town and changed the world, really." Years later, the producer felt that the raw, stripped-down vibe of those shows was exactly what was needed for Elton's 2013 album.
As he told Rolling Stone, "I thought, 'Let's just do that -- let's go in with a killer trio and do a rock & roll record.' So [Elton] just went, 'OK, let's go!' I don't know, maybe that's just where he's at, you know?"
Burnett says that more studio sessions will likely take place next month, but fans shouldn't look at this as a re-tooling of the album. "We're going in with the same guys," says Burnett. "We're just keeping going." The producer says John is in an extremely creative place at the moment, having recently finished writing a suite of tunes for another project separate from the new record.
More From Ultimate Classic Rock