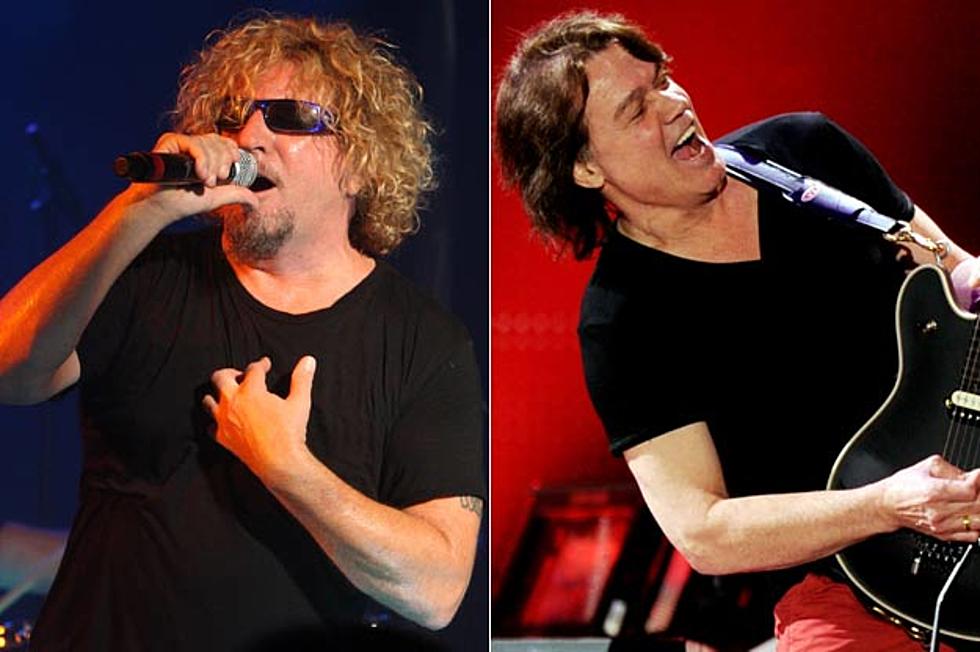 Sammy Hagar on Eddie Van Halen: 'I Don't Hate the Guy. I Love the Guy'
Sammy Hagar has shared his true feelings about his former bandmate, Eddie Van Halen. Even though the Red Rocker's split with Van Halen was a rather difficult one, he contends that he doesn't hate the guitarist, nor does he wish him ill. It's more of a case of hating the sin, not the sinner.
"I don't think I ever slowed down and stopped trying to prove something in that damn band 'til the reunion in '04, but by then it was too late," Hagar recalled to LA Weekly. "Eddie was shot at that point, though I heard he's great now, and I'm really happy that he's supposedly sober and playing great and doing good. People think, 'Oh you hate the guy.' I don't hate the guy, I love the guy. I hate what he did in '04 to me on the reunion tour, but other than that I still love the guy."
There you have it. Hagar was bummed about the way things went down, not at the guitarist himself. He maintains that he has not taken a listen to 'A Different Kind of Truth,' but says he is glad the band he once fronted is active with the singer he initially replaced. He said, "The fact that they're out right now, that's so great; I'm so happy that they're out doing it -- but look how long it took."
Despite no hard feelings, Hagar is glad to be out of that environment, finishing, "It's so dysfunctional and who knows how long it will last like this and I just can't be part of something like that."
If there is one thing Sammy Hagar does, it's tell you how he feels. He also said that while he was incredibly frank and candid in his book 'Red: My Uncensored Life in Rock,' which was released last year, he doesn't regret pulling back the curtain so much, even if it meant exposing people who didn't want to be exposed.
He admitted, "There were a lot of times where I said, 'I really shouldn't say this.' But I felt that my fans, who've been with me all this time, deserved the real story; they need to hear why and understand why I am who I am and why I've become what I've become and how I did it and what I went through for it."
It always comes back to Van Halen, doesn't it? They are the body around which many people who were once in their inner circle continue to orbit. The paperback version of Sammy's book 'Red,' with a new chapter all about the reaction to the first release of the book, comes out March 13.
More From Ultimate Classic Rock