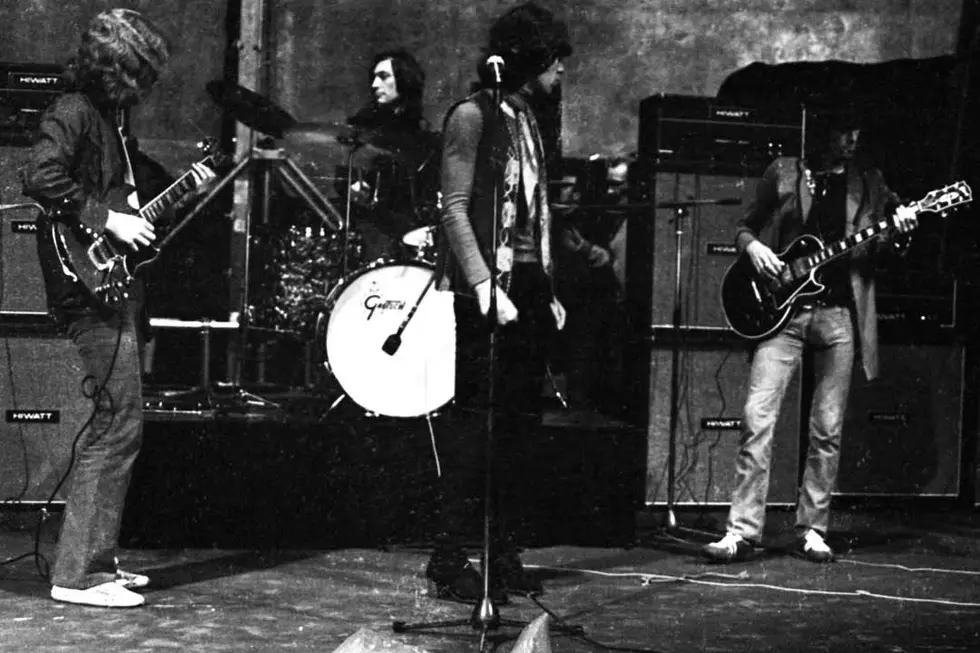 When the Rolling Stones Went to Muscle Shoals
William Lovelace / Hulton Archive, Getty Images
The Rolling Stones went to Alabama and recorded three songs that evoked the country, blues and R&B sound of the region. Over three days – from Dec. 2-4, 1969 – they put down the basic tracks and live vocals on "Brown Sugar," "Wild Horses" and "You Gotta Move" at Muscle Shoals Sound Studio in Sheffield, Ala.
Muscle Shoals had been a hotbed of great music since the early '60s when FAME studios, started by producer Rick Hall, churned out songs by Arthur Alexander, Wilson Pickett and Percy Sledge. In 1969, four of FAME's session musicians – keyboardist Barry Beckett, bassist David Hood, drummer Roger Hawkins and guitarist Jimmy Johnson – left to open Muscle Shoals Sound. The musicians were known as the Swampers, a term immortalized in Lynyrd Skynyrd's "Sweet Home Alabama."
After the Stones sessions, Bob Dylan, Paul Simon, Elton John and other notable artists made the journey south to record at Muscle Shoals Sound.
The Stones had a few days off during their 1969 U.S. tour when Keith Richards suggested they go to the studio.
"It worked very well: It's one of Keith's things to go in and record while you're in the middle of a tour and your playing is in good shape," said Charlie Watts in the book According to the Rolling Stones. "The Muscle Shoals Studio was very special, though – a great studio to work in, a very hip studio, where the drums were on a riser high up in the air, plus you wanted to be there because of all the guys who had worked in the same studio."
Listen to the Rolling Stones' 'You Gotta Move'
Rolling Stones producer Jimmy Miller was expected but never made it to Muscle Shoals. Johnson, who had expected to assist Miller, engineered the sessions.
"The Stones came in, and they were a little rusty at first because they hadn't been practicing on account of the tour," Johnson told BMI. "It took them some time to get in the groove. On everything they did, they'd be going in all different directions for about two or three hours. So I just took it upon myself to have the tape machine ready and get rolling as soon as they started getting good.
"All of a sudden Keith would come up with a figure, and the band would just fall in around it. By hour five or six, it had really started to come together. In the meantime, they wouldn't be saying anything to me, but I knew I had to get the very best performance when it happened."
On the first night, the Rolling Stones tracked "You Gotta Move," a traditional spiritual number recorded in 1965 by bluesman Mississippi Fred McDowell. "We're down in Alabama, we're in Muscle Shoals, we gotta cut some Fred McDowell stuff," Richards recalled in the documentary Muscle Shoals. "If ever I'm gonna do it, it's gotta be here."
Listen to the Rolling Stones' 'Brown Sugar'
On Dec 3, the band cut "Brown Sugar," written primarily by Mick Jagger. "The lyric was all to do with the dual combination of drugs and girls," the singer said in the liner notes of the Jump Back LP. "This song was a very instant thing, a definite high point."
Jagger would attribute the song's sound to Muscle Shoals: "The thing about 'Brown Sugar,' it had this sound. It was quite distorted. It was pretty funky, you know, and that was the whole idea of it." Richards added, "We knew we had one of the best things we'd ever done."
On the final evening, Dec. 4, the Stones recorded an acoustic classic. "Keith had this tune, 'Wild Horses,' but I don't think that was really finished," said Jagger. "He had the chorus but that was about it. So that was all written on the spot. Muscle Shoals Studio was in this rather interesting place. Being there does inspire you to do it slightly differently. 'Wild Horses' is a sort of country song."
Johnson explained in ProSound that Memphis session player Jim Dickinson dropped by that night to watch the Stones work, and ended up playing on "Wild Horses." "What happened is that their touring piano player, who was also their road manger, Ian Stewart, he played on 'Brown Sugar' some, but during 'Wild Horses,' Jim Dickinson was out behind where we put the guitar amps.
"Do you remember Paul Simon's 'Kodachrome,' where we went to double time and the tack piano comes in, the piano kind of goes crazy? That was our tack piano, an old upright piano; we put tacks on the hammers so it sounded like a honky tonk. Anyway, Jim was back there just tiddling on it, playing along with what they had settled on as the groove, and Keith walked by and said, 'Hey, you need to play that!'
Listen to the Rolling Stones' 'Wild Horses'
Without Miller in the studio, Johnson took on an expanded role. "After a few takes of 'Wild Horses,' Jagger just looks up at me and says, 'Is that it?' – like I'm the producer or something," he recalled. "But I knew when they had it – and I just told 'em to come out and hear it back."
The three Muscle Shoals tracks wouldn't be released until 1971's Sticky Fingers. Muscle Shoals Sound eventually moved to a larger space on Alabama Avenue in the late '70s and closed in 2005. The original building at 3614 Jackson Highway has since been restored and is now operated as a museum by the Muscle Shoals Music Foundation.
"I thought it was one of the easiest and rockingest sessions that we'd ever done," said Richards. "I don't think we've been quite so prolific ... ever. I mean, we cut three or four tracks in two days, and that for the Stones is going something!
"Those sessions were as vital to me as any I've ever done. I mean, all the other stuff – Beggars Banquet and other stuff we did: 'Gimme Shelter,' 'Street Fighting Man,' 'Jumpin' Jack Flash,' you know?" he concluded. "But I've always wondered … that if we had cut them at Muscle Shoals, if they might not have been a little bit funkier."
The Rolling Stones' Charlie Watts Year by Year: Photos 1962-2020
We collected dozens of pictures of the drummer below for Charlie Watts Year by Year: Photos 1963-2020.
You Think You Know the Rolling Stones?
More From Ultimate Classic Rock