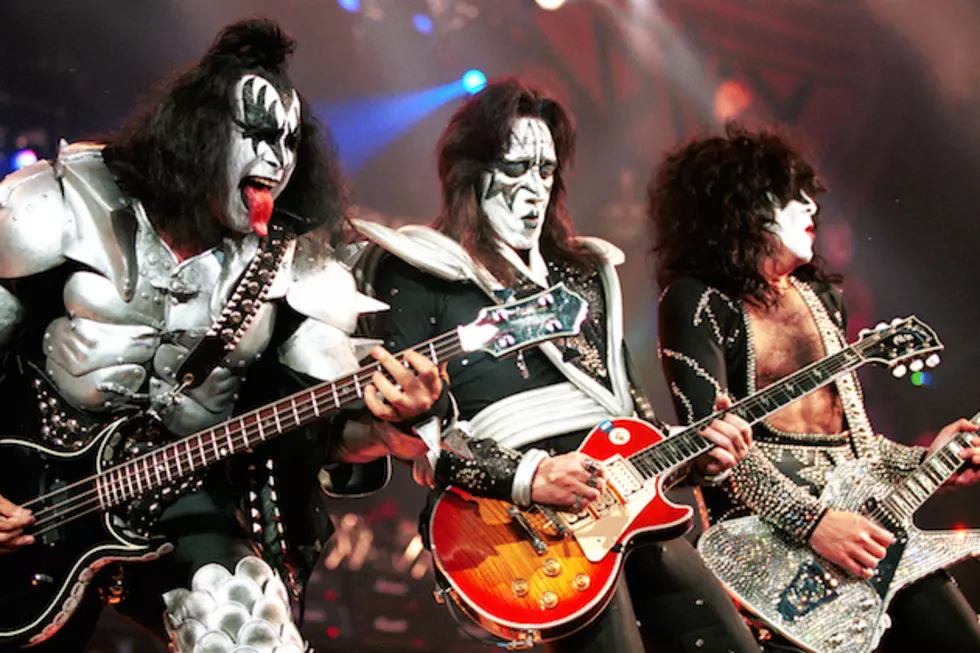 Kiss and the Rock and Roll Hall of Fame: The Whole Damn Story
George De Sota, Hulton Archives
All of the excitement and drama surrounding Kiss' induction into the Rock and Roll Hall of Fame can make it difficult to keep up. We're here to help, with a comprehensive look into the band's long journey toward recognition, the thrilling announcement of this belated honor and the incredible repercussions that followed.
Kiss' induction ceremony will be held at the Barclays Center in Brooklyn, N.Y. on April 10. The event will later be televised via HBO in May. In the meantime, here's everything you need to know about Kiss and the Rock and Roll Hall of Fame ...
FIRST, THERE WERE YEARS OF SNUBS:
Kiss had, of course, been eligible for induction into the Hall of Fame since 1999, leading to regular questions about the band's feelings on being snubbed. Gene Simmons, speaking just a year before Kiss was honored, may have had the best quip about their plight: "It's become a joke. We've been thinking about it and the answer is simply, 'We'll just buy it and fire everybody.'" Kiss' manager Doc McGhee, in preface to some of the incendiary things remaining founders Paul Stanley and Simmons would say in post-announcement comments, questioned whether a hall of fame that also featured Donna Summer was a place where Kiss would fit in, anyway. Simmons later railed about the inductions of Madonna and of Grandmaster Flash. Stanley questioned the voting process prior to their election, while also belitting the presence of recent inductee Laura Nyro. All along, though, Stanley said Kiss would graciously accept the honor, if and when it arrived, "because it matters to our fans."
WITH THE FANS' HELP, KISS IS IN:
AT FIRST, TALK OF A REUNION:
In the immediate aftermath of the honor, members talked openly about the prospects of a reformation of the band's original lineup - which hadn't appeared together since 2002. "Sure, why not?" Simmons said, while Stanley tweeted that there was "no way to not share in celebrating what we started 40 years ago." Within a few days, however, things had changed. Frehley said he wouldn't appear if current guitarist Tommy Thayer was there in the Space Ace makeup, as well. Stanley, having been rebuffed by the hall after asking that they expand their inductee list beyond the original foursome, began to back away from reunion talk, as well -- suddenly saying such a thing "seems unlikely."
ACCUSATIONS FLY, AND KISS PULLS OUT:
Stanley proceeded to take the offensive against the Hall of Fame -- charging organizers with being inconsistent in deciding which eras were represented among inductees. Questions about adding long-time former post-'70s members like Eric Carr and Bruce Kulick were "shut down immediately as 'a non starter,' which to me is arrogant," Stanley said. Thayer and current drummer Eric Singer were also disregarded, though they have each also been in the group for more than a decade. As such, Stanley said the selection process is "tainted, corrupted and distorted." Stanley confirmed that he would attend, but the band announced that no edition of Kiss would perform at the ceremonies. Later, both Simmons and Stanley took aim at Hall of Fame committee member Dave Marsh, a harsh critic who they feel has kept Kiss out of the running for years, with Simmons called him an "ugly little troll."
THE HALL OF FAME RESPONDS:
Rock and Roll Hall of Fame Foundation CEO Joel Peresman subsequently outlined the reasons for their insistence on inducting only the initial lineup, saying Singer and Thayer simply "took the persona of characters that were created by Ace and Peter." Stanley countered that Kulick and Carr were part of Kiss during a no-makeup era. Later, Peresman further clarified the hall's position: "There wasn't a single person we spoke to that didn't feel the reason these guys were being inducted was because of the four original members." He said other inductees included members from successive eras because they were "still evolving bands that are breaking new ground." Frehley, for his part, refused to "take potshots" at the hall, saying: "It's a cool organization. But it is what it is."
CONTROVERSY SPARKS PLEAS FOR UNITY:
The news that Kiss wouldn't perform was met with disbelief in many quarters. Roman Fernandez, the former partner of original Kiss manager Bill Aucoin, said Aucoin would have told them to "find a compromise." Metal guitarist Chris Impellitteri called out the remaining founders, telling them to "get your heads and egos out of your a--!" in an open letter. Meanwhile, 50.47 percent of those who responded to an Ultimate Classic Rock poll on the matter said they wanted to see all living members of Kiss reunite for the ceremony. Another 40.99 percent said they'd like to see only the original four perform. Votes for no performance at all totaled 8.54 percent. Singer Corey Taylor, frontman for Slipknot and Stone Sour and longtime Kiss fan, concluded that the drama 'petty' and 'ridiculous.'
BUT BAD FEELINGS REMAIN:
Criss and Frehley, perhaps understandably, took the decision not to reunite personally. Criss called it "disgraceful,' wondering aloud why everyone couldn't get along for the 10 minutes it would take to accept the award. Frehley went a step further, saying he thought of the group's current version as "half a Kiss cover band" -- and that Stanley and Simmons didn't want even a brief reunion because it would lead to pressure from fans for a full tour featuring the initial lineup. That clearly opened up some old wounds. Simmons fired back that his former bandmates "no longer deserve to wear the paint." Simmons has long argued that Criss and Frehley's drug and alcohol abuse interfered with the band's success. Sebastian Bach, who collaborated with Frehley on a 2004 session with Anton Fig, said: "I understand why Gene Simmons doesn't work with Ace Frehley."
CEREMONY TO FEATURE ONE BIG UNHAPPY FAMILY:
Except for noted recluse Vinnie Vincent, all surviving Kiss members are reportedly scheduled to sit at the same table during the April 10 inductions. (Carr and 1984-era guitarist Mark St. John have both passed.) The ceremonies happened to arrive just as Stanley published an autobiography filled with new accusations about his former bandmates - with the most incendiary one being that Criss and Frehley exhibited anti-Semitic behavior toward Stanley and Simmons. Both Frehley and Criss brushed it off at first, although Frehley got more agitated the following day, asking if the Starchild was "out of his mind." Stanley also contended that their last reunion tour was a nightmare. To the end, Stanley continued his withering criticism of the Hall of Fame, calling it 'fluff' and 'a farce' just days before Kiss's induction. In an equal-opportunity moment as the ceremony loomed, Stanley even took a shot at the band's fellow founding member, saying of Simmons: "He's this guy who everybody sees as the brains behind Kiss. Really what he is, is the mouth behind Kiss."
Still, and amazingly, Stanley recently told VH1 Radio Network that "it'll be fun to see Ace and Peter... we have something to look at and be proud. We created something amazing together."
More From Ultimate Classic Rock