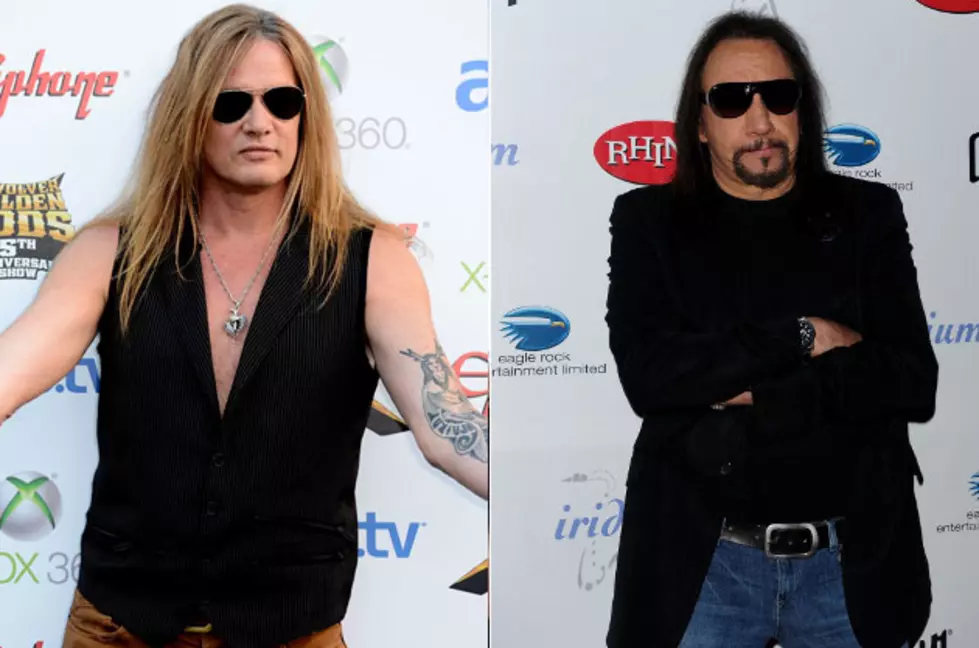 Sebastian Bach: 'I Understand Why Gene Simmons Doesn't Work With Ace Frehley'
Frazer Harrison/ Stephen Lovekin, Getty Images
During a recent conversation we had with former Skid Row frontman Sebastian Bach, he quickly reeled off a list of some of his favorite Kiss songs from over the years. But Bach, well-known for being a longtime Kiss fan, also had thoughts regarding the ongoing controversy surrounding the upcoming Rock and Roll Hall of Fame induction for the group and the news that the original four members will not perform at the ceremonies.
"As a fan, I understand why people would want to see that," he told Ultimate Classic Rock. "But as a 46-year old man that has worked with Gene Simmons and Ace Frehley, I understand why Gene Simmons doesn't work with Ace Frehley."
Bach explained his position further, explaining that "Ace has sides to him that maybe the fans don't see. That's all I can say." He revealed that he's currently working on an autobiography and there will be stories in that book "that will explain more of that topic," so it looks like we'll have to wait a little while to get the full story. He closed out his thoughts on the subject by saying that "I understand why Gene doesn't play with him."
As he indicated in his comments, he had worked with Frehley in the past, both onstage and in the studio. The two paired up to record a track called 'Know Where You Go' for drummer Anton Fig's solo album 'Figments' in 2004. At that time, Bach called the collaboration with Frehley "a dream come true and an honor."
With the ceremonies happening this week, it's anybody's best guess as to how things will ultimately play out. While a performance from any formation of Kiss is officially off the table, it sounds like their music might be present in some form (a show-closing jam of 'Rock And Roll All Nite' has been mentioned as a possibility) and the members themselves are slated to attend.
Kiss will perform Friday evening on 'The Tonight Show With Jimmy Fallon' as part of a week's worth of Rock Hall-themed activities on the show.
More From Ultimate Classic Rock