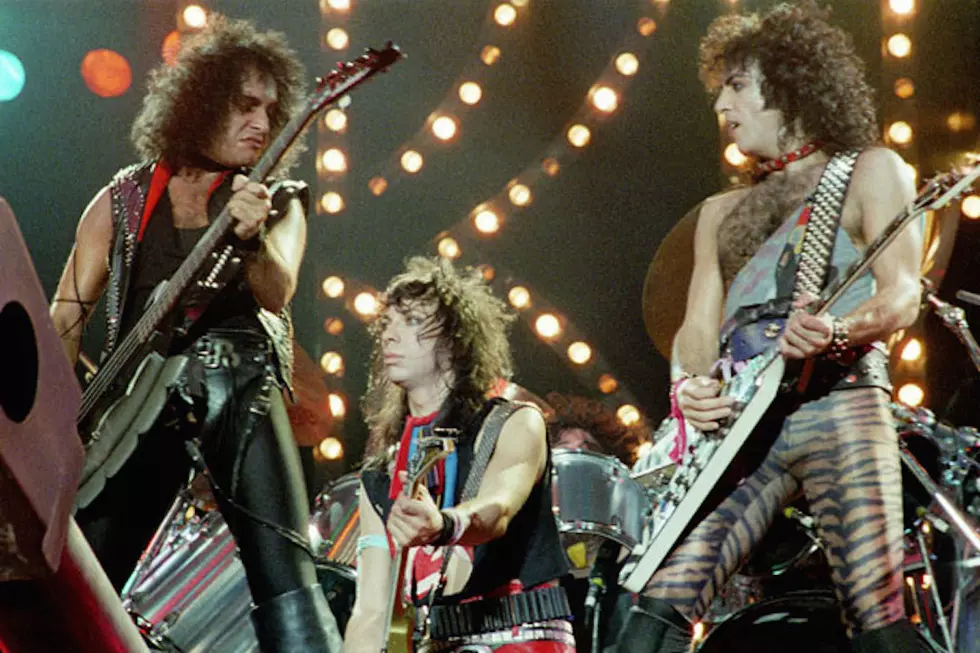 40 Years Ago: Kiss Plays Their First Show Without Makeup
Phil Dent, Getty Images
Kiss performed their first show without their trademark face paint on Oct. 11, 1983. The change helped revitalize the band's sagging commercial fortunes, but it also marked the beginning of an extended "troubling time" for Gene Simmons.
This inaugural live unmasked appearance – in the unlikely and remote setting of Lisbon, Portugal – came just three weeks after Kiss, long famous for hiding their identities in public and onstage behind elaborate costumes and makeup, first revealed their real faces on national television during a special MTV appearance.
By this point, only two of the group's original members were around for the unveiling, with founding drummer Peter Criss departed in 1980 and guitarist Ace Frehley following him out the door in 1982. The "hottest band in the land" had also fallen from the height of its massive '70s popularity. This was partially because of the lineup changes, and also because they spent the early '80s dabbling in disco-influenced rock or making a much-derided concept album.
READ MORE: The Very Best Kiss 'Without Makeup' Songs
Even when they did get their act together – and how! – with 1982's thunderous return to form Creatures of the Night, the public barely took notice. Despite new guitarist Vinnie Vincent's insistence that it was "time to grow and change" by unmasking, the move was most likely borne at least partially to try and garner a higher level of attention for their highly deserving new album, Lick It Up.
Kiss Undergoes Another Power Shift
The change helped Kiss regain some, but certainly not all, of the popularity they had lost during the past few years. But it also signified another shift in the already fractured band's power dynamic, with Simmons finding himself uncomfortable in his new non-Demon persona.
As he details in his book Kiss and Make-Up, Simmons "didn't know how I was supposed to act, because the non-makeup version of the band was an entirely new idea. Paul [Stanley] was in his prime. He was very comfortable being who he was – because, in some ways, Paul is the same offstage as onstage."
Watch Kiss' Unmasking Special on MTV
This dilemma can be seen in footage of the band's first non-makeup show. Stanley doesn't seem to have lost a step in terms of fulfilling his sex symbol/frontman duties, while Simmons' outfit and monster-stomping routine seem a bit more awkward without the face paint.
"For those couple of years it became his [Stanley's] band," Simmons continued. "Paul was always the guy who spoke in the interviews. When you saw photos of Kiss, they tended more and more to be photos of Paul." As Simmons jokes himself, things would get worse, not better, in later years, clothing-wise: "My reaction was to try to muscle my way back into the spotlight by buying some truly outlandish androgynous clothing. ... It just made me look like a football player in a tutu."
Kiss Guitarists Come and Go
Perhaps this shift led to Gene Simmons seeking fulfillment in other avenues, as he spent much of the mid-'80s pursuing film roles, managing other bands and operating his own record label. Paul Stanley was often forced to fill the vacuum left by his partner's divided focus, dominating the songwriting and production duties on albums such as Animalize, Asylum and Crazy Nights. It was nearly a decade before the first Simmons-fronted single of the non-makeup era (1992's "Unholy") was released.
Still, somehow Stanley and Simmons managed to keep the good ship Kiss afloat. The band would continue to perform without face paint for the next 13 years. They released seven albums during this time, several of which went platinum and spawned hit singles such as "Heaven's on Fire" and "Forever."
READ MORE: Complete Guide to Kiss Lineup Changes
Vincent, who had taken over for Frehley only a year earlier, would soon be replaced even more briefly by Mark St. John and more permanently by Bruce Kulick. Eric Carr, the band's universally beloved second drummer, would remain in the lineup until his death in 1991.
In 1996, Kiss once again donned the makeup – and welcomed back Frehley and Criss – for a hugely successful world tour. The pair would depart again a few years later. Simmons and Stanley made the controversial decision to hire new members (guitarist Tommy Thayer and drummer Eric Singer, who also played on the last two "unmasked" Kiss albums) to wear the cat and spaceman face paint. Kiss released their 20th studio album, Monster in 2012.
The Hilariously Bad First Concerts of Rock's Biggest Bands
There were long car rides, tiny stages and embarrassing situations on the way to stardom.
Gallery Credit: Matthew Wilkening
Which Rock Star Would Ace Frehley Raise From the Dead?
More From Ultimate Classic Rock