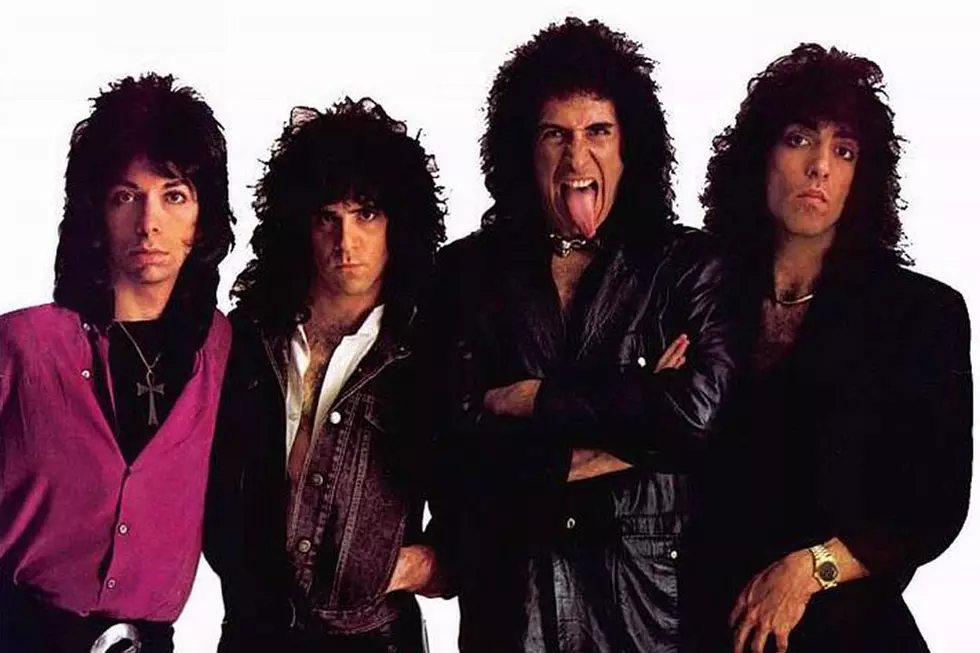 How Kiss Completed a Hail Mary With 'Lick It Up'
Mercury
Kiss were at a career peak on Sept. 18, 1978: All four members of the famously face-painted group released solo albums in one of the most extravagant displays of marketing power in rock history.
Exactly five years later, the band's original lineup was reduced by half, and their commercial standing had suffered an incredibly sharp decline. So they decided to make a drastic, previously unthinkable change in order to save their careers: They took off their trademark makeup and revealed their real faces on the cover of their 1983 comeback album Lick It Up.
How did things get so dire so quickly? Well, the solo albums didn't sell to expectations, and together with a live album and a best-of released right around the same time, Kiss overloaded the market.
READ MORE: The Worst Song From Every Kiss Album
Then the band attempted to reach a broader audience with a pair of albums – 1979's Dynasty and 1980's Unmasked – that drifted too far into pop and disco for those who loved their original hard-rock sound. To make matters worse, the records didn't connect with new fans. After original drummer Peter Criss left, the band's attempt to return to its roots somehow got derailed and turned into the disastrous 1981 concept album Music From the Elder.
Lead guitarist Ace Frehley checked out somewhere in the middle of making the record, and it seemed like remaining founding members Paul Stanley and Gene Simmons had hit bottom. Amazingly, they recovered – at least creatively – with 1982's Creatures of the Night, a defiant, backs-to-the-wall masterpiece that added new levels of grit, drama and shading to their repertoire.
It should have returned Kiss to the top of the mountain. Instead, Creatures of the Night went largely ignored by an audience that had either moved on or grown tired of the band's recent stylistic wanderings.
Watch Kiss' 'Lick It Up' Video
It was now clear that a big change was needed. So on Sept. 18, 1983, Stanley, Simmons, drummer Eric Carr and new guitarist Vinnie Vincent appeared on MTV to reveal their real faces. The album that the stunt was designed to promote, Lick It Up, was released the same day. And for the first time in five years, things worked out exactly as Kiss had planned.
READ MORE: The Day Kiss Finally Removed Their Makeup
"I've always believed that Lick It Up was proof that people listen with their eyes," Stanley said in the book Kiss: Behind the Mask. "The response to Lick It Up was four times the response to Creatures, and I think that's purely because people were tired of the image of the band and couldn't hear past what they saw. It's a really good album, but it's not in the same league as Creatures of the Night."
'Lick It Up' Was a Comeback for Kiss
While Lick It Up does trade the glorious dynamics and slightly outside-the-lines coloring of its predecessor for a much sleeker, polished and slightly pop-metal sound, Stanley is a bit too harsh. The songwriting chemistry among Simmons, Vincent and himself didn't last long due to personal and contractual differences, but it did result in one of the band's most cohesive and appealing albums.
The insanely catchy title track broke the dam at radio and MTV, despite a somewhat strange post-apocalyptic video that spends its first 30 seconds showing the band's crotches walking down the street and the rest of the time demonstrating that Gene Simmons has no idea what to do with himself in front of a camera without his fire breathing, fake blood and demon makeup.
Other highlights include Stanley and Carr's half-rapped, half-sung "All Hell's Breaking Loose," and three stomping numbers in which Simmons reclaims his crown as rock's most unrepentant naughty and unsubtle lyricist: "Not for the Innocent," "Fits Like a Glove" and the charmingly titled "Dance All Over Your Face."
Kiss' new image and second strong album in a row were enough to return them to some degree of their former glory, as Lick It Up cracked the Top 30 on the Billboard 200 while more and more fans once again turned up at their concerts. The following year brought another new album and the massive "Heaven's on Fire" single, confirming that Kiss had successfully escaped its turn-of-the-decade troubles and entered a second era of success. Oddly enough, Sept. 18 also marks the anniversary of another Kiss album release: 1987's keyboard-infested Crazy Nights.
Kiss Solo Albums Ranked Worst to Best
Counting down solo albums released by various members of Kiss.
More From Ultimate Classic Rock