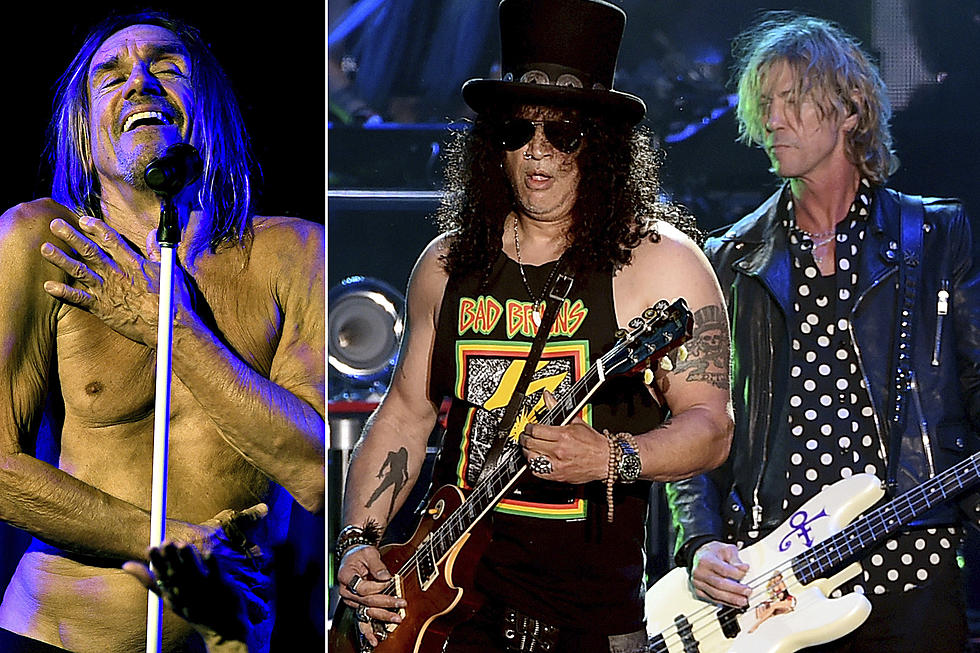 Iggy Pop's 'Gallon of Vodka, Bowl of Blow' Meet With Slash and Duff
Kevin Winter, Getty Images
Iggy Pop recalled the drink- and drug-fueled introductory chat he had with Slash and Duff McKagan before the trio worked on his 1990 album Brick by Brick.
In a recent interview with Classic Rock, the punk icon discussed his connections with the younger musicians who appear on his latest album, Every Loser, which also includes the Guns N' Roses members.
"I've known Duff since he was in his early 20s," Pop said. "I used to go over to Duff's house – at the time he was trying to decide between the Playboy model he was dating and the weather girl – and rehearse. One time Slash was three hours late because, he said, 'I'm sorry, but my snake escaped into the wall.'"
He recalled that "before we set to work, they said, 'We'll have to have a discussion before we start.' So they arrived with a gallon of vodka and a bowl of blow and, as a result of living through that, I got to know them pretty well."
He noted that Red Hot Chili Peppers drummer Chad Smith was a Stooges fan. "I jammed with him when Dave [Navarro] was on guitar with the Peppers," he explained. "Dave and Eric Avery I've known from when they were really little kids. They'd just started Jane's Addiction, didn't have a record out, but they played at a semilegal club called Scream that was owned by a friend of mine. They were like, 'Can you help us out?' So I took them on their first tour, and they absolutely destroyed me every night."
Pop concluded, "So I knew a lot of the guys, and that helped. I wasn't just some guy they saw in a magazine." Asked if the big-name artists could appear at an upcoming U.K. concert, he said, "Not for that gig, unless … if any of them are in the vicinity, they're always welcome to hang, but I have a crack live band – four French, three American – who play everything I do really well with a whole lot of passion." But, he hinted, "There will be some gigs with the album's core band, but I just can't talk about it."
Top 10 Punk Albums
You'll find some familiar names, but also bands that didn't sell as many records while having just as much impact.
More From Ultimate Classic Rock