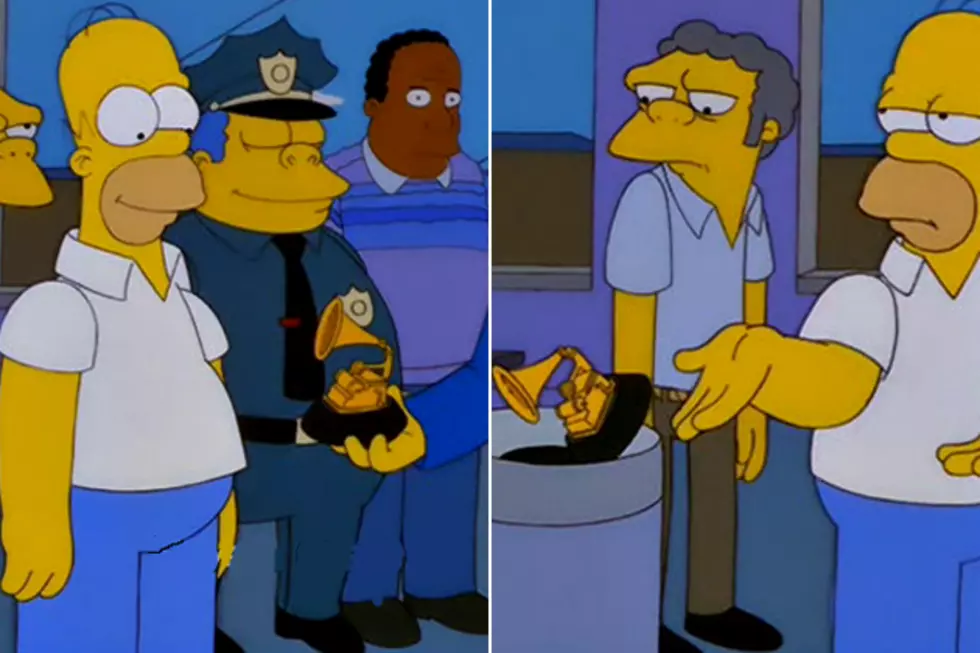 Do the Grammys Matter?: Great Rock Debates
Fox
The Grammy Awards ceremony is one of the music industry's biggest annual events. But more and more each year, a large part of the discussion about the show involves mocking the choices made by those responsible for handing out the awards for the best albums, songs and artists. So, as the music world continues to fracture, and as social media allows absolutely everybody to share their opinions on the music they love and hate, the question has to be asked: Do the Grammys even matter anymore? We assigned two writers to take on each side of this great rock debate, and here's what they said. As always, we leave the final vote up to you.
The Grammys Don't Matter
by Michael Gallucci
The entertainment industry loves itself. It loves congratulating itself even more. That's why every year around this time, a bunch of famous rich people get together to hand out awards to a bunch of other famous rich people. They do it for movies. They do it for television shows. And they do it for music.
There are a ton of different awards shows happening during the first couple months of the year (a perfect way to goose up interest in what is typically a dead period for the entertainment industry, which is too busy counting holiday revenue to be bothered with releasing anything good), and the biggest ones still hold interest and a certain amount of prestige. But why?
The Oscars at least boast some semblance of respectability with their choices of movies nominated for top honors every year. There are the usual shuns and disappointments, sure, but they're nowhere near as head-slappingly wrong as the ones the Grammys make time after time. This is nothing new. The Recording Academy has gotten it wrong ever since it chose to ignore rock 'n' roll during its most formative period in the '50s, and continued to ignore it, even as everyone else -- fans, the media, fellow artists -- fell in love with groups like the Beatles (they're finally getting a Lifetime Achievement Award this year).
The Grammys eventually acknowledged the music, but even then it was too little, too late and too stubbornly asinine to merit any respect. From the New Vaudeville Band's 1930s novelty throwback 'Winchester Cathedral' snagging Best Rock & Roll Recording in 1967 to Jethro Tull's infamous win over Metallica in 1989 to countless Album of the Year and New Artist mess-ups over the years, the awards handed out each season reflect just how out of touch voters are.
So do the Grammys matter? No. They lost their cred years ago -- assuming they ever had any to begin with. The awards are basically a way for the music industry to congratulate itself on a job well-done each year, with a big televised show (in which every conceivable genre is shoehorned into blink-and-you-miss-'em performances) and some clunky-looking statues given away as parting gifts to a handful of artists deemed worthy enough.
Does that mean Arcade Fire made a better album than Katy Perry in 2011? Maybe. But if so, that makes them more important to Grammy history than the Doors, Jimi Hendrix, Led Zeppelin and the Who, none of whom have ever won an award. That right there says everything you need to know about the Grammys.
The Grammys Do Matter
by Matthew Wilkening
Everything you say is true. Allowing a conservative-minded, seemingly monetarily-focused collective such as Grammy voters to judge the inherently rebellious art form of rock 'n' roll was a bad idea to begin with. And as popular music continues to get both more diverse and more specialized, with new sub-genres constantly forming to target smaller and smaller audiences, the Grammys' efforts to keep everyone under the same tent has only made them more bloated, outdated, tone deaf and schizophrenic over the years.
So it breaks my heart a bit to say that the Grammys clearly still do matter to most of your favorite rock stars -- or at least to their managers and record labels. For proof, all you need to do is look at the long line of established classic-rock artists lining up to be any part at all of this year's show.
Why on earth would Black Sabbath sign up to present an award at this ceremony? After all, the odds are that their 20 seconds of a presentation speech will be sandwiched between the performance of some pop band even Ozzy Osbourne's kids have never heard of and a commercial for some erectile-dysfunction pill? Because they're nominated for three awards, because winning even one of them is the last chance they have to dramatically improve sales of their deserving if not legacy-changing new album '13' and because even if they don't win, that precious slice of national airtime will get their name out there one more time.
You'd think, and maybe hope, that such things wouldn't matter to such clearly established stars, but obviously it does. Heck, Steven Tyler of Aerosmith isn't up for any awards but he'll be handing out a trophy at some point during the night, no doubt part of the same ongoing solo brand-awareness campaign that saw him host 'American Idol' and appear in fast-food commercials.
As much as we might wish for the day when our musical heroes shun this kind of overblown pageantry once and for all, without being in their shoes, it's hard (and dangerous) to judge them for wanting to be a part of the Grammys. Whether they're after what they perceive as the attention of their peers in their chosen field, or simply the chance to perform in front of a much larger part of the world than they typically have access to, it's clear the Grammys still matter to your favorite rock stars.
More From Ultimate Classic Rock