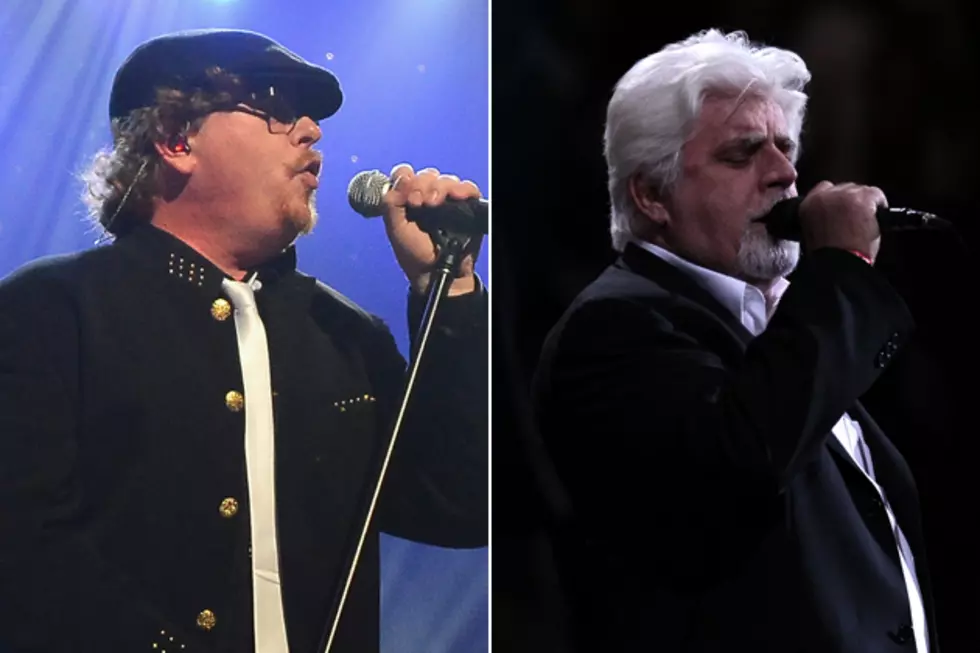 Toto and Michael McDonald Announce 2014 Tour
Frazer Harrison / Ronald Martinez, Getty Images
Two of the biggest names in rock music from the 1980's are coming together for a late summer swing through North America. Toto and five-time Grammy winner Michael McDonald have formally announced plans for a wide scale co-headlining tour. The complete schedule can be found below.
"I so look forward to the dates I'll play with Toto this summer," said McDonald in a joint press release. "Not only because they're old friends but also because they're one of the most talented and significant American bands." Toto's keyboardist Steve Pocaro was just as enthusiastic about the upcoming jaunt in his praise for the former Doobie Brother saying, "I can't wait to get out on the road with Michael McDonald and his band. There is some deep history between us and it's always a great hang. Michael surrounds himself with the best people, the crowds are great, and I, for one, never tire of hearing his amazing band play and hearing those classic songs sung by one of my all-time favorites."
McDonald got his start in the music business in the mid-1970s, joining up with Steely Dan as a background vocalist and keyboard player. From there he was recruited into the Doobie Brothers were he contributed to such hits as 'Real Love', 'Takin' It to the Streets', 'Little Darling', 'It Keeps You Runnin'', 'Minute by Minute' and 'What a Fool Believes.' His latest record, 2008's 'Soul Speak,' represented a continuation of his delve into the early soul music beginning with 'Motown' in 2003 and the follow-up 'Motown II' the following year.
Toto was formed in 1977 when a collection of acclaimed Los Angeles studio session players grew tired of working behind the scenes and decided to strike out on their own. Their greatest success came with the release of 'Toto IV' in 1982 that featured three top-ten hits including 'Rosanna,' 'I Won't Hold You Back,' and 'Africa.' In 2009, the group was inducted into the Musicians Hall of Fame and Museum in Nashville.
The tour won't exactly be the first time that McDonald and Toto have worked together. In 1982, Toto members Mike Porcaro, Jeff Porcaro and Luke were recruited by McDonald to contribute to his Top Ten solo debut solo record 'If That's What It Takes.' The singer returned the favor four years later by providing a vocal track to the band's song, 'I'll Be Over You,' from their 'Fahrenheit' album.
Tickets for all upcoming dates are set to go on sale on March 28 and March 29. Visit Toto's website for full information, including VIP packages.
Toto / Michael McDonald 2014 Summer Tour Dates
8/2 -- Grand Ronde, OR
8/3 -- Marysville, WA
8/5 -- Saratoga, CA
8/7 -- Los Angeles, CA
8/9 -- Indio, CA
8/10 -- Pala, CA
8/14 -- Newkirk, OK
8/15 -- Tulsa, OK
8/16 -- Durant, OK
8/19 -- Clearwater, FL
8/20 -- Hollywood, FL
8/22 -- Atlanta, GA
8/23 -- Blue Ash, OH
8/24 -- Charleston, WV
8/29 -- Highland Park, IL
8/30 -- Wisconsin Dells, WI
8/31 -- Windsor, Ontario
9/3 -- Englewood, NJ
9/5 -- Lincoln, RI
9/6 -- Atlantic City, NJ
9/7 -- Newport News, VA
More From Ultimate Classic Rock