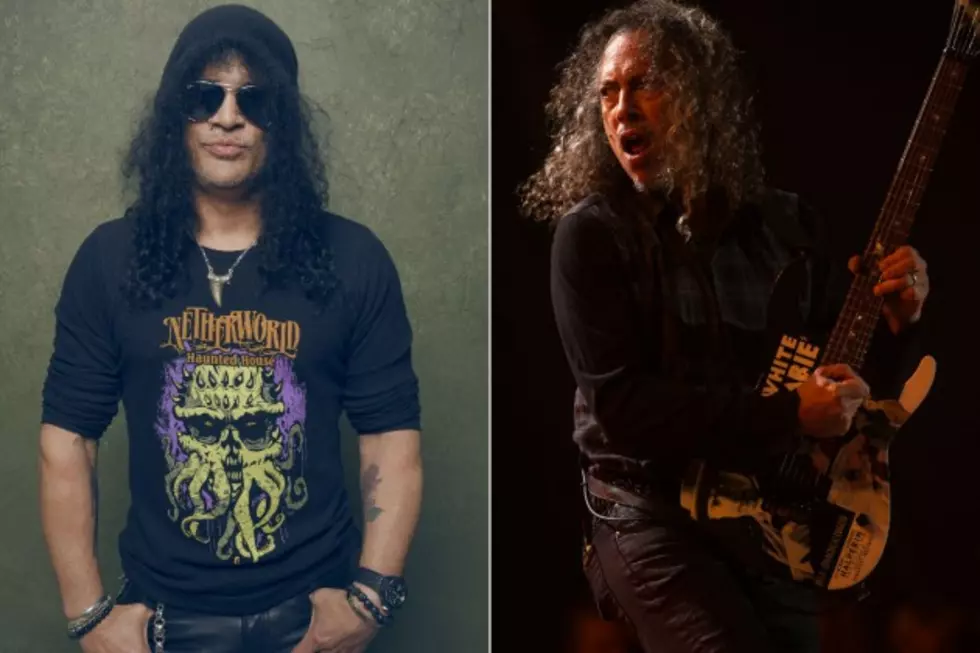 Slash Named as Panel Participant for Kirk Hammett's Fear FestEvil
Larry Busacca / Ian Gavan, Getty Images
Slash and Kirk Hammett will put their shared love of horror to good use this April, when Slash puts in an appearance as a panelist at Hammett's Fear FestEvil convention.
This year's FestEvil is scheduled for April 10-12 in San Jose, Calif., and will kick off with a party at the city's famous Winchester Mystery House tourist attraction, which promises to offer "a classic night of 'whodunnit' mystery madness, dining alongside Kirk Hammett, touring the infamously eerie and atmospheric mansion, and trying to figure out who killed who! Guests can expect twists, turns and clues from some very special 'horror royalty' as they try to crack the mystery open."
The fun continues on the 11th and 12th, with performances and exhibits at the RockBar Theater, where Slash is set to join Corey Taylor and Rob Zombie guitarist John 5, among other guests.
This marks the second year for the FestEvil, and Slash's involvement is a perfect fit; as fans are already aware, he's branched out into horror through his Slasher Films production company, through which he's scored and produced multiple movies, and last fall, he teamed up with Universal Studios Hollywood to help create his own clown maze. Scariest of all, he makes a cameo in the upcoming 'SpongeBob SquarePants' movie.
"It has always been my intention that Fear FestEvil events carry both the weird and the loud," enthused Hammett in a press release. "What better way to achieve another extension of what we want to do than eat dinner in a haunted house while solving criminal acts before a weekend of super kick-­ass music?"
Slash Explains How Guns N' Roses Got Together
See the Yearbook Photos of Slash and Other Rock Stars
More From Ultimate Classic Rock