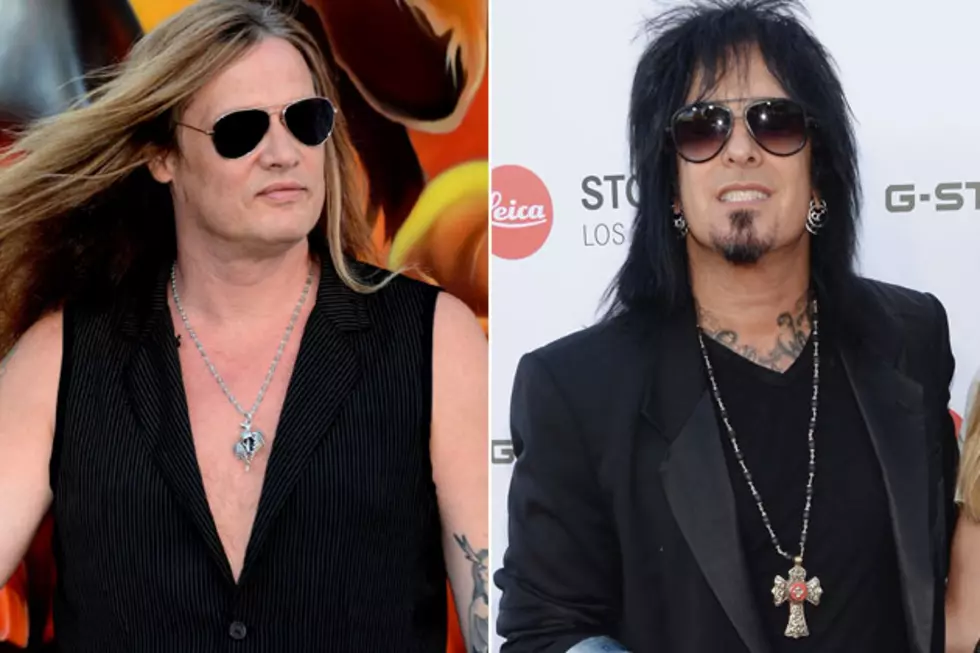 NIkki Sixx Says Sebastian Bach Was Never Asked to Join Motley Crue
Frazer Harrison / Jason Kempin, Getty Images
Motley Crue bassist Nikki Sixx says the story that Sebastian Bach is telling about being asked to join Motley Crue is simply not true. Last week, the Skid Row singer said he was asked to replace Vince Neil when the singer left the group in 1992. Sixx said it never happened.
During a recent broadcast of his 'Sixx Sense' radio show, the Crue man pointed out that Bach was still in Skid Row at the time, and they were "on top of the world." He added that Skid Row guitarist Dave "The Snake" Sabo "is one of my very best friends. So I think I would remember that."
"I don't know where Sebastian got this," he continued. "I think maybe Sebastian wanted to be in Motley Crue and just forgot to tell us that he wanted to be in Motley Crue when we were looking for a singer. Which I don't think we would have taken him anyway, just because of our friends from Skid Row."
'Sixx Sense' co-host Kerri Kasem asked if maybe a drunken promise was made somewhere along the way. Sixx said that wasn't the case, since one of the reasons the Crue and Neil split was because the singer refused to get sober.
Bach stayed with Skid Row until 1996 (Sixx said he often tries to get the band to reunite), and Neil ended up rejoining Motley Crue in 1997.
More From Ultimate Classic Rock