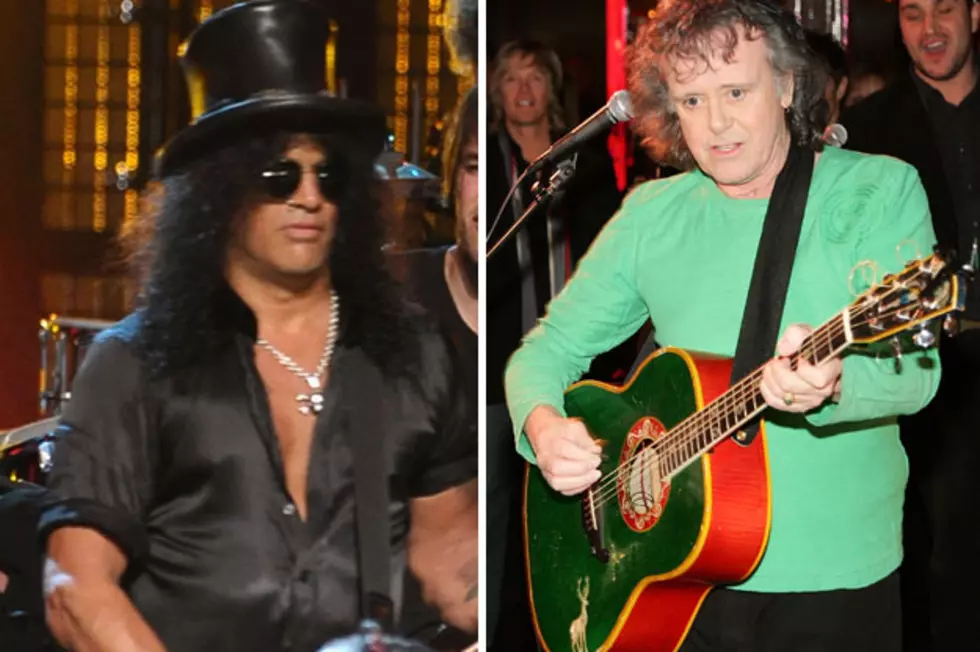 Rock and Roll Hall of Fame Induction Ceremony Airs on HBO This Weekend
The 27th annual Rock and Roll Hall of Fame induction ceremony,  which was held April 14 in Cleveland, Ohio, will be making its way to the masses via HBO this Saturday, May 5 (9:00-11:30 p.m. ET/PT). The special will feature highlights from the evening including inductions, speeches, performances, tributes and so on.
Donovan, Small Faces/Faces, Beastie Boys, Guns N' Roses, Freddie King, Laura Nyro, Red Hot Chili Peppers and are among the inductees for the program. Among the highlights is a performance by the 'reunited' Guns N Roses (minus Izzy and Axl, of course) that kind of leaves one asking Axl who?
Donovan, who in his acceptance speech said of his induction,"It's a singular honor, the grandest searchlight on my music that the world can ever beam," delivers a stellar version of 'Sunshine Superman.'
We also get Billy Gibbons and Dusty Hill of ZZ Top inducting the great Freddie King, Bette Midler paying honors to Laura Nyro, Chuck D giving the 411 on the Beastie Boys, Green Day welcoming Guns N' Roses and Little Steven doing the honors for the Small Faces and Faces.
With Rod Stewart unable to attend, the Faces brought in Simply Red's Mick Hucknall and before you throw things at the TV, we gotta say that while he's no Stewart, he really ain't too shabby!
HBO Signature will present a 24-hour marathon of the Rock Hall special beginning at midnight the same day the special debuts on HBO, and running throughout Sunday, May 6 at midnight. Other HBO airings are: May 10 (7:30 p.m., 3:20 a.m.), 13 (2:00 p.m.), 15 (3:00 p.m., 12:30 a.m.), 19 (5:15 p.m.), 28 (12:10 a.m.) and 31 (1:30 p.m.) HBO2 : May 12 (6:00 p.m.), 17 (11:45 p.m.), 21 (9:30 a.m., 10:00 p.m.), 25(5:30 p.m.) and 30 (1:50 a.m.)
Watch The 2012 Rock and Roll Hall of Fame Induction Ceremony Trailer
More From Ultimate Classic Rock