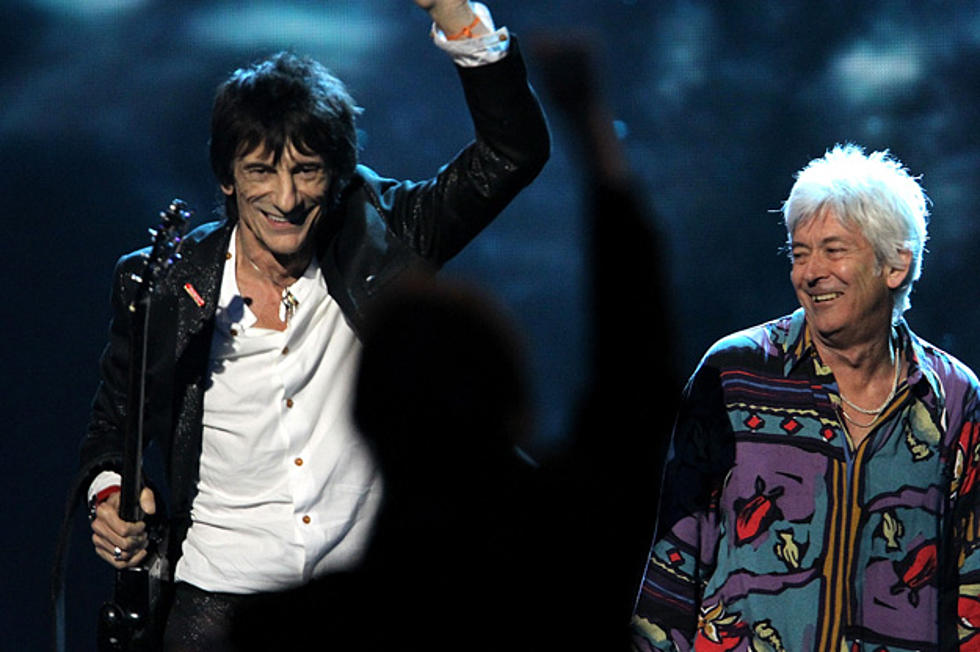 The Faces Perform Blistering Set Following Rock and Roll Hall of Fame Induction
As Ronnie Wood noted, the lead vocalists for the legendary bands slated for induction at the 2012 Rock and Roll Hall of Fame ceremony were "dropping like flies" in the days leading up to the event. However the rest of the musicians, including Wood's former band the Faces, managed to make it a memorable night anyway.
After the announced no-show of Guns N' Roses frontman Axl Rose, music fans learned on Friday that Rod Stewart would also miss the induction ceremonies and a planned Faces reunion and performance -- their first together in nearly two decades --  due to a sudden case of strep throat.
With Stewart sidelined, at the last moment, the remaining members of the Faces forged onward, calling in Mick Hucknall of Simply Red to sit in for their old friend. Ron Wood, keyboardist Ian McLagan and drummer Kenney Jones, augmented by Rod Stewart bassist Conrad Korsch, rehearsed with Hucknall on Friday evening (April 13) at Cleveland's Lava Room Recording studio to get ready for their induction performance.
The rehearsal found the old mates woodshedding in an intimate fashion that hearkened back to their early days. With the proceedings being captured in photos by longtime Faces and Who photographer Tom Wright, the sessions were a loose affair, with the band members surrounded by family and friends.
Wood and the members of the Faces quickly fell into a groove during this run-through, delivering tight, rust-free renditions of 'Stay With Me' and 'Ooh La La.' With Jones laying down a smooth groove and McLagan singing vocals prior to Hucknall's arrival, Wood poured oodles of slide guitar out with a playing style that looked effortless.
In between takes, McLagan would retire to the side room, where he ran through a seemingly endless selection of standards on the grand piano, reeling them off like a barroom player to the delight of those assembled.
Thankfully, that good feeling translated 1000 percent when they took the stage with Hucknall for their actual performance at the induction ceremony on Saturday night. While many were initially disappointed about the absence of Stewart, Hucknall, an excellent vocalist in his own right, proved to be an amazing fit with the Faces as they took a delightful trip down memory lane.
Opening with the Small Faces-era 'All or Nothing,' their three-song set also included 'Ooh La La' and a roof-raising version of 'Stay With Me' that featured some of the most blistering guitar work of the night, courtesy of Wood.
E Street Band guitarist, garage rock aficionado and general music historian Steven Van Zandt gave a colorful yet eloquently informative speech inducting the group, calling the late Steve Marriott and Stewart "two of the greatest white soul singers in rock and roll."
He also praised Wood's "fantastic guitar tone" -- noting that he was still trying to copy it himself -- and joked that his "imagination isn't good enough to picture all of the sex they must have had."
During his speech, Jones thanked the Hall of Fame voters for remembering them, saying, "We thought we had been forgotten." Nobody rambled too long with their comments, with McLagan having fun at his own expense, noting that he would keep his speech short, "because I am."
Both McLagan and Wood remembered their "sadly missed" bandmates Ronnie Lane and Steve Marriott in their time on the podium, with Wood saying that Lane's "spirit lives on" while thanking the hall for giving him his second award. (Wood had been previously inducted as a member of the Rolling Stones in 1989.)
Although they've been defunct as a performing unit for many years, Saturday night's near-Faces reunion performance begs for the possibility of a future raincheck from Stewart. It would be great to see this classic bunch of musicians, a huge inspiration for so many, take the stage one more time.
More From Ultimate Classic Rock