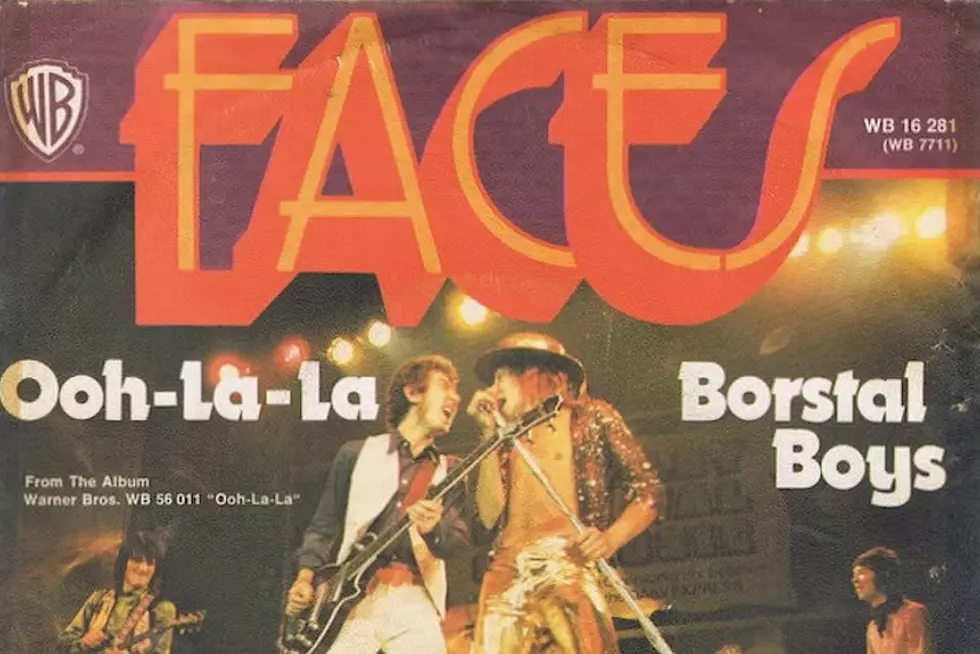 50 Years Ago: Imploding Faces Uncover Timeless Truths in 'Ooh La La'
Warner Bros.
Faces released "Ooh La La" in the U.S. in March 1973, offering a wizened commentary about learning our most important lessons long after we can use them. Rod Stewart became its living embodiment.
By this point, he'd started to drift out of Faces' orbit after launching a successful parallel solo career. Promoters were even billing their live performances as "Rod Stewart and Faces," and that only served to deepen the divide.
So perhaps it was no surprise that they began work on the Ooh La La LP without Stewart in September 1972 at Olympic Studios in London. He wouldn't even appear on three of the 10 new songs that emerged – including the album-closing title track, co-written by Ronnie Lane and Ron Wood.
"Rod wasn't there a lot, but Ronnie had his songs together already," Ian McLagan wrote in his liner notes for the Five Guys Walk into a Bar box set. The results out of London became increasingly reflective – particularly on the project's second side. By the end, Ooh La La essentially become "Ronnie's album," McLagan noted.
Both Faces and the earlier Small Faces had recorded at Olympic before. "Same piano, same room, same old desk," McLagan, a member of both bands, later told MusicRadar. Producer Glyn Johns was around for those sessions, too. So a certain camaraderie remained.
Listen to the Faces' 'Ooh La La'
That's clear on the title track, which finally came together as Ooh La La was being completed in January 1973. The journey there, however, was littered with potholes. Lane and Stewart had made attempts to record the vocal, and neither came away satisfied. Finally, someone suggested a novel approach: putting Wood out front for the first time as a member of Faces.
Stewart stepped aside, in a moment that would presage the band's premature split. "Rod said, 'It's the wrong key for me,'" McLagan told MusicRadar. "He pointed to Woody and said, 'You should sing that,' so that's why Ronnie Wood sang it. An odd choice perhaps, but he sang it so beautifully, I think."
Things were moving full circle for Wood, who'd provided the initial musical idea. Lane then added a prophetic lyrical assist ("I wish that I knew what I know now when I was younger") on a song Stewart initially rejected – and then later ended up covering as a solo artist.
"I never realized when I wrote the words to 'Ooh La La' how relevant it was," Lane said in an interview for the Faces website. "Everything that I seem to write either comes true or is what's actually happening – and I haven't noticed it's what's actually happening."
Wood's charmingly bedraggled vocal turned out to be a perfect choice, as he captured both sides of a reminiscence between an elderly figure and his grandson. "It's an old man's pub lament," a contemporary review enthused at the time, "but you can hear a smile in it. ['Ooh La La' is] a song that slaps you on the back and welcomes you into a room."
Listen to Ronnie Lane's Live Version of 'Ooh La La'
The note-perfect instrumentation was similarly shambolic, as Wood played a flattop Gibson with a faulty fret while McLagan manned an old-timey harmonium. There's an audible acoustic buzz at several key times on the completed single. (McLagan later asked Wood if he still had the battered instrument, and Wood said he did – but that he'd fixed the fret. "I said, 'No! You've just ruined a fucking great guitar!'" McLagan exclaimed.)
Ooh La La shot up the charts, becoming Faces' first U.K. No. 1 album and nearly breaking the U.S. Top 20. Unfortunately, Stewart did not share their fans' enthusiasm. "I didn't particularly help the deteriorating atmosphere within the band," Stewart admitted in his autobiography Rod. "In an interview [with Melody Maker], I described Ooh La La as 'a bloody mess.'"
He tried to walk back the comments in a subsequent interview with Rolling Stone, arguing that they'd been taken out of context. ("What I actually said was I think the band is capable of doing a better album than what they've done," he said. "I just don't think we've found the right studio or the right formulas.") But the damage was already done.
Lane left the band in June 1973, ending an association with Faces drummer Kenney Jones that went back to the founding of the Small Faces in 1965. Former Free bassist Tetsu Yamauchi took over instrumentally, but no one could replace Lane's distinctive narrative voice. They recorded two quickly forgotten singles but were primarily a touring act over the next couple of years.
Watch the Video for Rod Stewart's Solo Version of 'Ooh La La'
Faces finally split in November 1975, as Stewart focused on his solo ventures. Wood joined the Rolling Stones, where the late McLagan also found a home. Jones had an '80s-era stint with the Who.
"Obviously there are some wonderful memories of the Faces days, but the band really fell apart when Ronnie Lane left," Stewart told the Deseret News in 1998. "He was the heart of the group, although Ronnie Wood and I got most of the attention. But Ronnie Lane was really the engine of the band."
Lane perhaps inevitably returned to "Ooh La La" after leaving Faces, first with his new group Slim Chance. More surprising was Stewart's cover of the song on 1998's When We Were the New Boys. By then, health problems had felled Lane, and Stewart presented the song as a tribute.
He earned another Top 20 hit in the U.K. and a Top 40 single in the U.S. while breathing new life into Lane's timeless lyrics. "When we played Rod 'Ooh La La,' he said, 'Don't like it!'" McLagan told MusicRadar. "He continued not to like it for 25 years – until he recorded a version."
Bands That Reunited Without Their Lead Singer
Getting the band back together has become a rock 'n' roll cliché, yet it remains a difficult task for some.
More From Ultimate Classic Rock