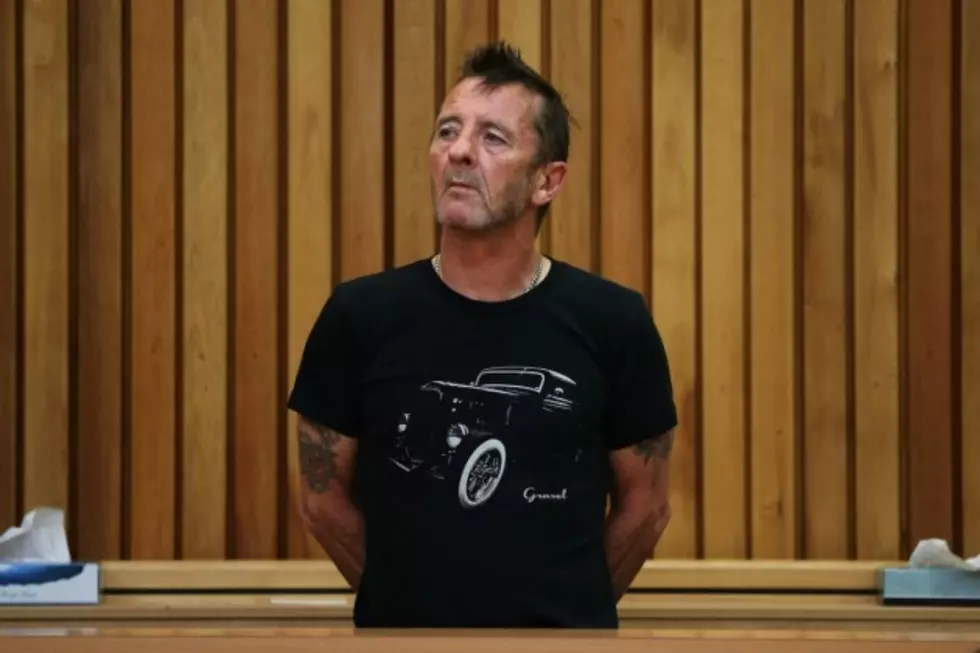 Phil Rudd Pleads Guilty to Threatening to Kill, Drug Charges
Joel Ford, Getty Images
Phil Rudd has pleaded guilty to drug possession and threatening to kill charges. The AC/DC drummer remains on bail and is now scheduled to appear for sentencing on June 26. His trial was scheduled to commence this morning (Tuesday, April 21 on Tauranga, New Zealand time), but Rudd instead changed his plea to guilty.
As previously reported, the embattled AC/DC drummer faced an array of serious allegations stemming from his arrest last November. Although authorities quickly dropped charges accusing him of attempting to procure a murder, he still stood accused of a number of other offenses, including drug possession and threatening to kill.
Rudd's April 21 court date, which was to find him standing in a "judge-alone trial," was initially scheduled to take place in February, but had to be postponed after his lawyer suddenly withdrew from the case — just one in a series of post-arrest embarrassments that includes a somewhat chaotic first court appearance that ended with Rudd making rude gestures at paparazzi as well as a pair of public fights that ended with him in handcuffs again.
The Waikato Times reported earlier today that given the format of the trial, it seemed likely that once court convened, things could move along fairly swiftly. Up until his plea change today, Rudd had continued to deny allegations that he placed phone calls threatening to kill a former contractor and the contractor's daughter.
Of course, this isn't the first time Rudd's faced legal troubles, as we've outlined here, but this was easily the most serious — which no doubt contributed to AC/DC's quick decision to rehire former drummer Chris Slade for their tour in support of the band's new Rock or Bust LP. Rudd's gone on record as saying he wants his job back, but this plea seems to have ended those hopes, at least in the near term.
10 Historic AC/DC Concerts
You Think You Know AC/DC?
More From Ultimate Classic Rock