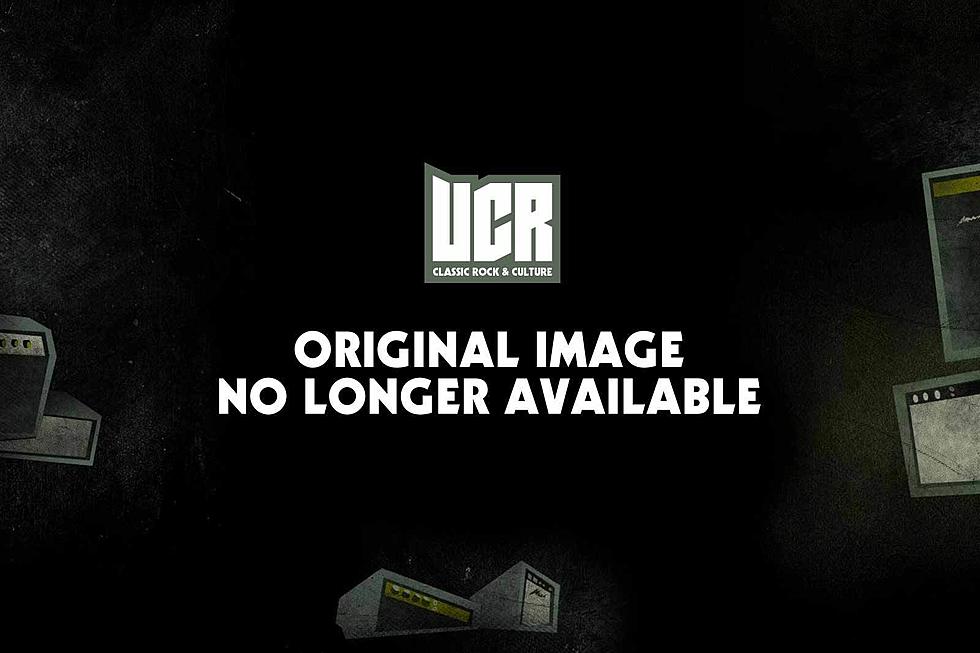 Top 50 AC/DC Songs: 10 to 1
10

'Thunderstruck'

From 'The Razor's Edge' (1990)

The electrifying opener of 'The Razor's Edge' -- was composed around a hypnotic, carpal-tunnel-inducing hammer-on lick devised by Angus Young, and then backed by an ominous Malcolm Young chord progression. A massive hit in 1990 and reliable concert staple ever since, 'Thunderstruck' also couldn't have come at a more crucial time for AC/DC, revitalizing them as a chart-topping threat and washing away the sour taste left in mouths across the globe by preceding career low-lights such as 'Blow Up Your Video,' 'Fly on the Wall' and 'Flick of the Switch.'

9

'The Jack'

From 'High Voltage' (1976); originally released on Australia-only 'T.N.T.' (1975)

Modern medicine may have eradicated or at least significantly decreased the risks involved with gonorrhea long ago, but this sexually transmitted disease is nevertheless guaranteed musical immortality thanks to AC/DC's thinly veiled tribute via 'The Jack.' Err, thanks boys! Long popular with AC/DC's concert audiences as a lascivious sing-along opportunity, this stubbornly sensual slow blues number also boasts an entire set of "unofficial," graphically explicit lyrics, not heard on the original studio album version (but later recited in all their gory glory on 1978's 'If You Want Blood' live album by singer Bon Scott). Hey, the man knew what he was speaking about!

8

'You Shook Me All Night Long'

From 'Back in Black' (1980)

Arguably the biggest true single of AC/DC's long career, 'You Shook Me All Night Long' makes this list of top AC/DC songs because it has surely lured more unsuspecting, non-traditional hard rock listeners -- not to mention virtually every female -- into the dirtier, tougher alleyways of the band's discography than any other tune. AC/DC's first American Top 40 hit (peaking at a now seemingly modest No. 35, in late 1980), it also enjoyed a second worldwide run at the charts in 1986 when it was featured on the 'Who Made Who' soundtrack and given a brand-new music video treatment to capitalize on the power of MTV at the height of its influence.

7

'Problem Child'

From 'Dirty Deeds Done Dirt Cheap' (1976)

As great an example of rock 'n' roll mythmaking as you are liable to find, 'Problem Child' was tailor-made to propagate Angus Young's naughty school boy persona: a 3-minute-and-45-second infomercial from hell, courtesy of AC/DC's ever loquacious head of -- ahem! -- marketing, Bon Scott. First heard by international audiences on 1976's 'Dirty Deeds Done Dirt Cheap' LP, but not 'til '77 in America when it was added to the original U.S. printing of 'Let There Be Rock' (thus making it even more spectacular!), 'Problem Child' also boasts perhaps the greatest three-chord guitar riff in recorded history. Try it yourself and call us in a week.

6

'Highway to Hell'

From 'Highway to Hell' (1979)

When AC/DC decided to hitch a ride on the 'Highway to Hell,' they also embarked on the fast track to conquering America and, though they were well on their way to achieving this already, the world. Set to the echoing signature riff's portentous fanfare and powered by Phil Rudd's inexorable backbeat, 'Highway to Hell' -- one of our top AC/DC songs -- also sparked parental concerns across America over its perceived satanic connotations. In reality, Mom and Dad were making much ado about nothing, since the song simply addressed the hardships of touring life -- but hey, whatever sells the papers!

5

'Dirty Deeds Done Dirt Cheap'

From 'Dirty Deeds Done Dirt Cheap' (1976)

Another three-chord wonder (or is it four this time?), the magnificently decadent hit-man confessional 'Dirty Deeds Done Dirt Cheap' was remarkably rejected, along with its accompanying 1976 album, by Atlantic Records' U.S. division, which at the time deemed it either too uncommercial or too sleazy for American consumption. Ironically, the same label suits probably felt like geniuses five years later, when the album was finally given a green light in the wake of the massive success of Back in Black,' and proceeded to ride the wave's momentum to multi-platinum sales of its own. 'Dirty Deeds,' indeed.

4

"For Those About to Rock (We Salute You)"

From 'For Those About to Rock (We Salute You)' (1981)

Inspired by the legendary salute proclaimed by Roman gladiators as they entered the arena ("Hail Caesar, we who are about to die salute you"), this was the sort of grand statement AC/DC simply had to make as a follow-up to the world-conquering 'Back in Black' album. And, while most all of the other songs found on this 1981 LP have since faded into memory, the title track has of course endured as AC/DC's infallible concert-closing spectacle, to the tune of a 21-gun salute. Although any, uh, self-respecting uber-geek knows the original recording boasts only, like, 17 cannon blasts.

3

'Let There Be Rock'

From 'Let There Be Rock' (1977)

Even before they gave us the gladiator's point-of-view, AC/DC were kind enough to tell us just exactly how God almighty went about creating this rock 'n' roll music thing, via 1977's so-euphoric-it-can't-possibly-be-blasphemous (can it?) 'Let There Be Rock.' Picking up the tale "at the beginning" and never ending it without a positively devastating marathon guitar solo from Angus Young, this timeless, adrenalin-powered boogie rampage virtually defined what a true hard rock anthem must sound like. If not, it certainly set the bar on high for any future pretenders to try and match, and it lands at No. 3 on our top AC/DC songs countdown.

2

'Whole Lotta Rosie'

From 'If You Want Blood (You've Got It)' (1978); originally released on 'Let There Be Rock' (1977)

Love is blind, but never mind: just sit back, children, and let uncle Bon tell you a story of love and lust and groupie hijinks like no other with 'Whole Lotta Rosie.' Scott's oft-recounted real-life encounter with a promiscuous, generously endowed Tasmanian devil (no, not that kind) is of course the darker, far more realistic side of the rose-tinted 'Almost Famous' experience; and nothing could backdrop its story better than the frenzied assault unleashed by his AC/DC band mates. Already an amplifier-melting finale for 1977's 'Let There Be Rock' LP, the song literally brought the house down on the next year's 'If You Want Blood' live album.

1

'Back in Black'

From 'Back in Black' (1980)

Arguably the most recognizable guitar riff-and-lick combo in the universe, 'Back in Black' crowned the greatest, best-selling hard rock album of all time with a heartfelt tribute lyric -- notably penned by his successor, Brian Johnson -- for recently deceased AC/DC singer and soul Bon Scott. Heck, that's a song almost worth dying for! Fittingly, 'Back in Black' also reflects AC/DC's deepest roots in '50s rock and rockabilly, since its famous turnaround lick was allegedly inspired by the Johnny Kidd & the Pirates classic "Shakin' All Over" – well worth sampling here.
More From Ultimate Classic Rock