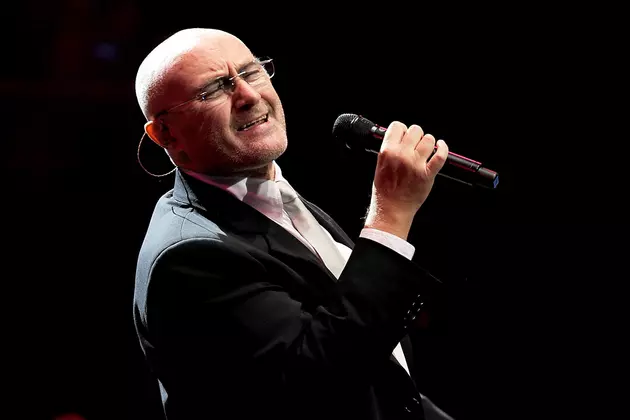 Phil Collins Announces Comeback Concert
Ian Gavan, Getty Images
Only a week after clarifying his coming-out-of-retirement scenario by saying that he wasn't planning to go on tour, Phil Collins has announced a concert. This will be his first billed show since the conclusion of his tour in support of 2010's Going Back.
Stereogum reports that, on March 11, he will take part in the Dreaming on the Beach concert at the Fillmore Miami Beach at Jackie Gleason Theater. The event is a benefit for the Little Dreams Foundation, which he founded in 2000 with his then-wife, Orianne, with whom he has reconciled. Collins will play an unplugged concert. Tickets are currently on sale at Live Nation.
Collins was scheduled to play a benefit for the foundation in December 2014, but pulled out at the last minute after realizing at soundcheck that his vocals were not up to his standards. At the time, the Miami Herald said that the vocal problems were the result of "some sort of neurological affliction that he said strikes every now and then." Seven months prior, he sang a couple of his songs at the spring recital of his kids' middle school.
Although he officially came out of retirement a little more than two years ago, Collins has yet to produce a note of new music. Last week, he said that his new home studio was not yet set up, but once it was ready he will "turn it on and sit down at a piano and see what happens [...] I mean, I haven't written in such a long time that I need to get back into the groove of it, the rhythm of it. And I've got lots of ideas. I've got lots of bits that I haven't developed that are just sitting there, and I've even got some lyrics that need music, so I've got things to start on."
See Phil Collins and Other Rockers in the Top 100 Albums of the '80s
More From Ultimate Classic Rock