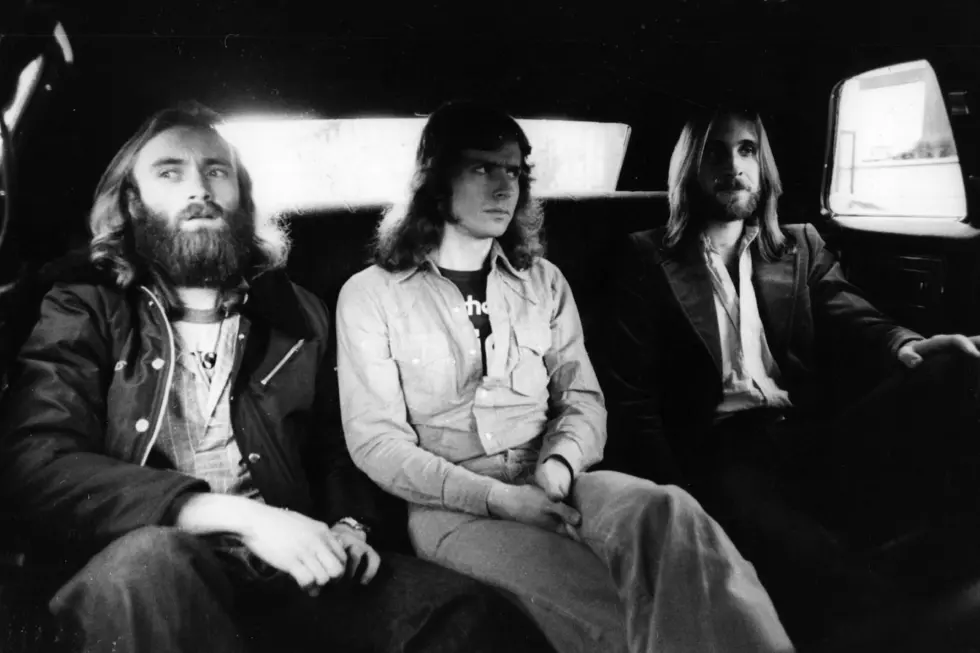 Top 10 Phil Collins-Era Genesis Songs
Graham Wood / Evening Standard, Getty Images
The Top 10 Phil Collins-era Genesis songs prove that while they were one of progressive rock's most durable bands, lasting three decades and releasing some powerful music, they were also one of the genre's most eclectic. In their early days with Peter Gabriel as frontman, Genesis traversed through pastoral 12-string folk and theatrical experimentation and oddball pop; during their pop peak in the '80s with Collins at the helm, they explored a slicker synth-driven sound that greatly expanded their commercial reach. Here's our look at the Top 10 Phil Collins-Era Genesis Songs:
10

'Abacab'

From: 'Abacab' (1981)

The driving title-track from the band's 1981 album, "Abacab" epitomizes Genesis' stylistic reinvention of the early '80s. Like the album itself, "Abacab" boasts a bold new sound: Tony Banks' synthesizers are punchier and more rhythmic; Collins' drums explode out of the speakers with an emphatic gated drum sound. Most importantly, with its soulful backing vocals, sparse arrangement, and gibberish hook, "Abacab" offered the band levity and quirkiness, casting Genesis' serious prog-rock image in a more playful light – just in time for punk's crushing blow.

9

'Tonight, Tonight, Tonight'

From: 'Invisible Touch' (1986)

The next entry on our list of Top 10 Phil Collins-Era Genesis Songs strikes a perfect balance between the band's prog and pop sides. "Tonight Tonight Tonight" was the fourth single released from 1986's Invisible Touch, but unlike the album's other hits, this track is as eerie and artful as it is catchy, marrying its belted chorus and infectious drum machine rhythms with brooding, minor-key synth atmospherics, stretching out to a grand eight minutes.

8

'Eleventh Earl of Mar'

From: 'Wind & Wuthering' (1977)

After Peter Gabriel left in 1975, Genesis went through a transitional stage as a quartet. It's a painfully overlooked chapter in Genesis history that produced two incredible albums, 1976's A Trick of the Tail and the following year's Wind & Wuthering. The latter album included this sprawling, multi-part prog epic, which demonstrates the band at the height of their adventurous instrumental powers: Banks' sharp organ, Mike Rutherford's frenetic bass, Steve Hackett's graceful classical guitar, and Collins' fusion-inflected drumming.

7

'No Reply At All'

From: 'Abacab' (1981)

Genesis — one of the whitest bands in rock history — were (rightfully) never known for their funkiness. But when Phil Collins began releasing solo albums in the early '80s, he started embracing his inner soul child, covering Motown classics and putting his now-trademarked horn blasts on almost all of his huge pop hits. "No Reply At All," a standout funk-pop jam from 1981's Abacab, is a mesmerizing middle-ground between Collins the Solo Soul Brother and Genesis the Prog Behemoth, with Collins crooning passionately over Banks' uptempo synth blasts, Rutherford's complex bassline, and Earth, Wind, & Fire's horn section.

6

'Follow You Follow Me'

From: '... And Then There Were Three' (1978)

As a general rule of thumb, most songs on our list of Top Ten Phil Collins-Era Genesis Songs won't work well if played during your wedding. "Follow You Follow Me," a groovy, teary-eyed ballad from 1978's ... And Then There Were Three, is one major exception. Now whittled down to the core trio of Collins, Rutherford and Banks, Genesis were slowly trimming back their expansive arrangements, writing fewer lyrics about dragons and knights and more lyrics about sweet, sweet romance. "Follow You Follow Me" was their first real love song – and also their first major hit.

5

'Entangled'

From: 'A Trick of the Tail' (1976)

"Nothing is quite what it seems," Collins sings on this lost classic from 1976's A Trick of the Tail, "Sometimes entangled in your own dreams." That lyric is a perfect summation of this mystical, percussion-free ballad, which builds from serene 12-string acoustic textures to a sweeping Mellotron coda. And it's also a wonderful example of the band's lyrical strengths: Steve Hackett depicts a tongue-in-cheek vision of a sickly patient under hypnosis, floating through his sub-conscious in a "Freudian slumber."

4

'Domino'

From: 'Invisible Touch' (1986)

Genesis were immersed in the sonic fabric of the '80s on Invisible Touch: bright synth pads, booming percussion, airy drum machines. For many early die-hards, this album was the last straw in an unending streak of catchiness. But as they proved with multi-part masterpiece "Domino,"' Genesis hadn't totally shed their prog skin. Tony Banks' engrossing tale of a global domino effect is set to an expansive instrumental palette, dominated by Rutherford's funky guitar riff. Over a skittering drum machine, Collins belts, "We prayed it would last forever!" It's hard not to wish the same of the song's ethereal prog-pop voodoo.

3

'Dance on a Volcano'

From: 'A Trick of the Tail' (1976)

In a way, the next entry in our list of Top Ten Phil Collins-Era Genesis Songs is the most important track the band ever released. When Peter Gabriel fled for a blossoming solo career in 1975, the remaining quartet were left without a singer. Collins (who'd already contributed vocal harmonies prior to Gabriel's departure) took over the reigns after failed auditions with other vocalists. "Dance on a Volcano" kicks off A Trick of the Tail with a simmering fusion-prog anthem, defined by Collins' impassioned vocals and Banks' lava-ooze synths.

2

'Behind the Lines'

From: 'Duke' (1980)

Collins re-recorded this 1980 art-rock classic on his debut solo album, Face Value, transforming it into a soulful, horn-fueled strut. But he didn't improve upon it: The Duke version remains one of the greatest Genesis tracks of all-time, cramming technically complex instrumental performances and massively catchy vocals into one compact, five-minute package. The song never sits still, moving from a busy instrumental opening theme to a tight verse-chorus groove and back again, all glued together by Banks' subtle, sophisticated chord changes.

1

'Mama'

From: 'Genesis' (1983)

"Mama," the jaw-dropping opener from 1983's Genesis, is a masterstroke of brooding climb and explosive climax. It's also one of the most purely cinematic rock songs ever recorded: We open with a clanky drum machine loop, gradually engulfed in Banks' spooky synth-pads, as Collins unfurls his enigmatic tale of a young man's obsession with an elusive prostitute. The track builds and builds, slowly but surely – peaking first with Collins' manic laughing and shrieking, and then with a stark snare-bass groove that propels the final minute. It's a spine-tingling exercise in musical restraint.
More From Ultimate Classic Rock