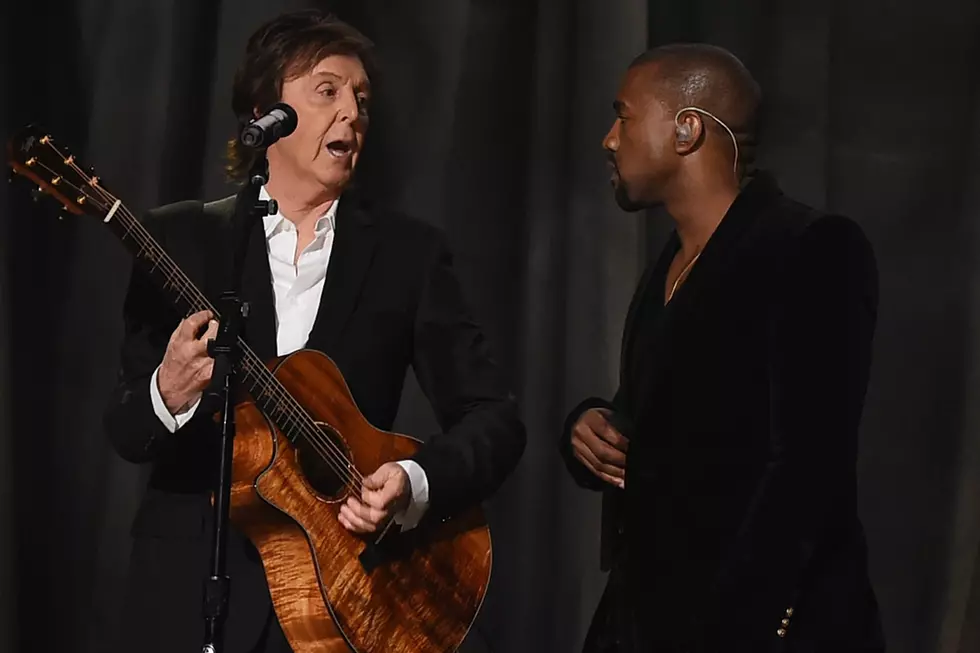 Paul McCartney Explains Why He's Working With Kanye West
Larry Busacca, Getty Images
Cross-cultural collaborations are nothing new to Paul McCartney. After all, some of his biggest hits in the '80s were duets with Michael Jackson and Stevie Wonder. Still, we were all surprised when it was revealed last summer that he was considering working with Kanye West. McCartney recently explained how West caused him to understand what hip-hop was about.
As he told NME, it happened while seeing West and Jay Z's Watch the Throne tour at London's O2 Arena in 2012. "I was expecting it to be, 'Oh it's great, it's hip-hop, it's loud...," he said. "But I hadn't until then got the urban poetry aspect. Like, Bob Dylan is a poet. And so is Jay Z and Kanye."
While it may have seemed strange for a man in his 70s to be listening to hip-hop in the first place, no less attending concerts, for him, keeping his eyes and ears open to what's new is a way of preventing himself from going stale.
"If I'm gonna do a tour I like to go and see what other people are doing. I didn't wanna bring my tour out and be amazingly old-fashioned. So people if are going, 'Oh man, Beyonce, she was killer!' I like to go there and go, 'Yeah, we can do better than this.'"
To date, the pairing of McCartney and West has produced three songs. "Only One" was released on New Year's Eve. "FourFiveSeconds," which features Rihanna on vocals, arrived three weeks later and became the first McCartney song to hit the Top Five in more than 30 years. Earlier this week came the newest offering, "All Day," which has its roots in some unreleased music McCartney wrote in 1969.
West, for his part, has said that it's a successful pairing because his knack for exposing his emotions is similar to the way John Lennon did. "I might be a little bit more 'angst' than Paul," he said. "And remember the last time when Paul had somebody really 'angst' working with him, the type of music they made?"
See Paul McCartney and Other Rockers in the Top 100 Albums of the '70s
You Think You Know the Beatles?
More From Ultimate Classic Rock