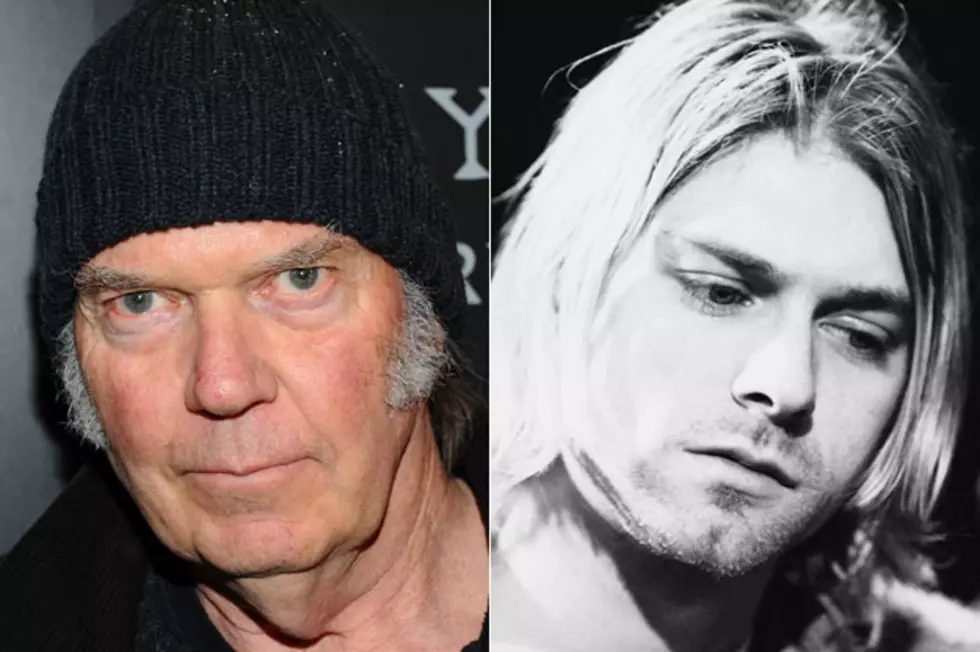 Neil Young Shares How Kurt Cobain's Suicide Rocked Him Emotionally
Frank Micelotta / Michael Buckner, Getty Images
Amongst the stories shared and decisions explained in 'Waging Heavy Peace,' Neil Young's new autobiography, the singer reveals that Nirvana frontman Kurt Cobain's 1994 suicide left him scarred. Cobain quoted one of Young's lyrics in his suicide note.
"When he died and left that note, it struck a deep chord inside of me," Young says (according to NME.com). "It f---ed with me." Cobain included the lyric, "It's better to burn out than fade into black" from Young's 1979 song 'Hey Hey, My My (Into the Black)' in the note.
"I, coincidentally, had been trying to reach him," Young adds. "I wanted to talk to him. Tell him only to play when he felt like it." He was one of many musicians who sensed trouble and tried to reach out to Cobain. R.E.M. lead singer Michael Stipe also encouraged him to join a project. Young's 1994 album 'Sleeps With Angels' was reportedly inspired by Cobain's death.
'Waging Heavy Peace' was released on Tuesday (Sept. 25). He tells stories from his childhood in Canada, moving to Los Angeles on a whim, his time with Buffalo Springfield and Crosby, Stills and Nash and the early days of Crazy Horse. The comprehensive autobiography brings fans through his marriage and the birth of his three children, to current times which will include the release of 'Psychedelic Pill' on Oct. 30.
More From Ultimate Classic Rock