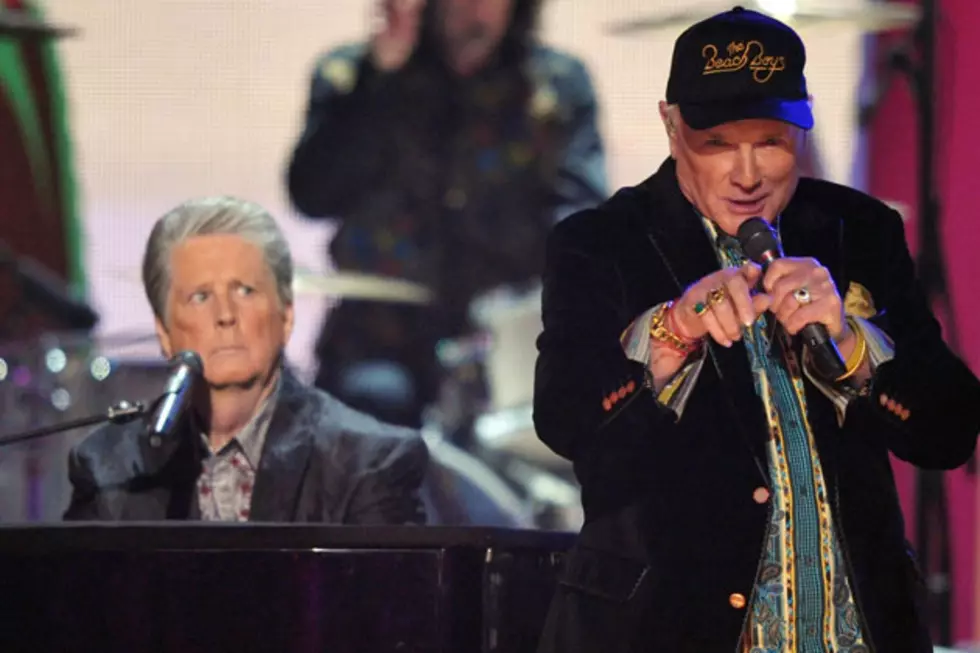 Mike Love Wants Brian Wilson Back in the Beach Boys
Kevin Winter, Getty Images
Last year, as the Beach Boys' 50th-anniversary tour wrapped up, Mike Love announced that the group would be hitting the road again, but without original members Al Jardine, David Marks and leader Brian Wilson. This pretty much amounted to being fired, Wilson said at the time. ''I don't know how that sacking controversy started," Love recently told The Daily Star. "I'd love to work with Brian again."
Well, the controversy started after Love announced that the Beach Boys' next round of concerts would not include some of the original members, including Wilson, who wrote almost all of the band's hit songs. Jardine went on Facebook not long after Love's announcement and set up a petition to reinstate the trio. Wilson told the Los Angeles Times that "the negativity surrounding all the comments bummed me out. It sort of feels like we're being fired. I'm disappointed and can't understand why Mike doesn't want to tour with Al, David and me. After all, we are the real Beach Boys."
''The anniversary tour was originally 50 dates and got extended to 73," Love explained. "At that point, Brian said, 'No more dates for us, please.' So once we finished those 73 shows, we went back to the lineup of the band before he rejoined.'' Love owns the rights to the Beach Boys name and has toured various versions of the group over the years, with the only other member from the classic era being keyboardist Bruce Johnston.
According to Love, Wilson is welcome to rejoin the group anytime he wants. ''I'd very much like to get in a room, just him and I, to write more songs," he said. "We've always had a special chemistry. I'd like to do that more than anything.''
In the meantime, Wilson is hitting the road later this month with Marks and Jardine as part of his backing band. Earlier this year, Rolling Stone asked Wilson about the chance of another Beach Boys reunion. ''No, I don't think so," he replied. "Doubt it.''
More From Ultimate Classic Rock