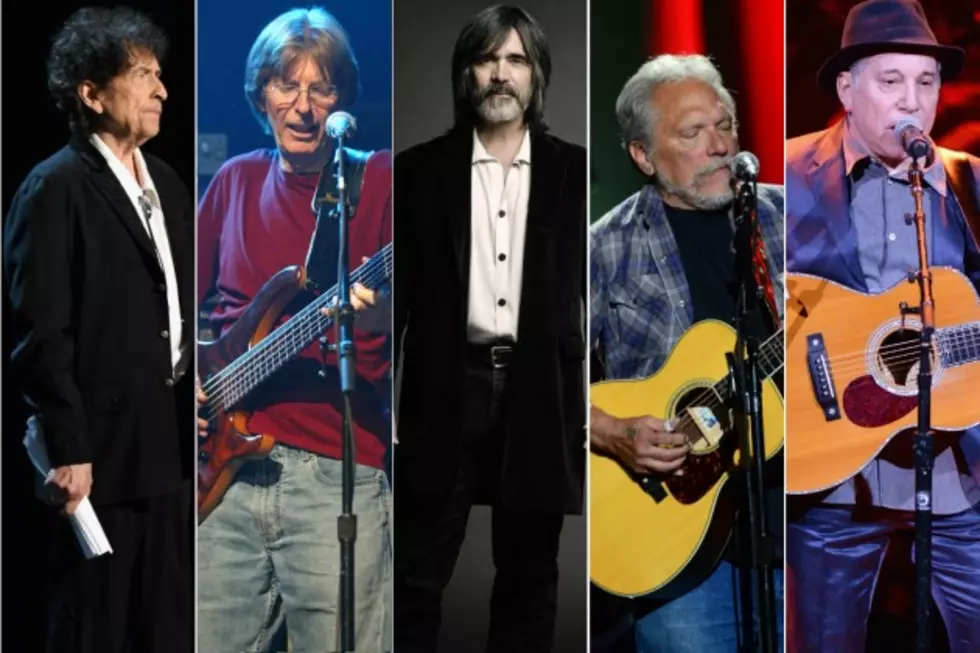 Larry Campbell Shares Memories of Bob Dylan, Phil Lesh, Hot Tuna, Paul Simon and More: Exclusive Interview
Larry Busacca, Getty Images / Daniel Pierce Wright, Getty Images / Red House / Brian Killian, Getty Images / Jamie McCarthy, Getty Images
You may not know him by name, but the odds are good that Larry Campbell has played on some of your favorite records.
Over the course of a distinguished recording career that spans more than 30 years and counting, Campbell has appeared in the studio and onstage with an incredible list of artists — and in an interview with Ultimate Classic Rock, the veteran multi-instrumentalist and producer looks back on some favorite moments.
The reason for his reflective mood? The upcoming release of Larry Campbell & Teresa Williams, an 11-track blend of eight originals and three covers that shines the spotlight directly on Campbell and his longtime musical partner (and wife). With the album's June 23 arrival just weeks away, he sat down with UCR and looked back over a list of career highlights that includes pivotal moments shared with Bob Dylan, Phil Lesh, Paul Simon, Levon Helm and Hot Tuna.
(NOTE: Larry Campbell & Teresa Williams will be appearing with Bill Payne of Little Feat at this year's Mountain Jam Festival, which takes place June 4-7 in Hunter Mountain, N.Y.)
"There are some really iconic moments in my travels, when I find myself on stage playing certain tunes with certain people and I just think 'How the hell did I get here?' I remember a particularly good show with Bob Dylan where the set was paced really well and he was right on and everything was doing good. Huge crowd right there with us. And at the end of the show, we did, for the first time that I played with him, a version of 'Blowin' in the Wind.' You know, this song, when I was a kid, this song was everywhere. It was the anthem of my exposure of the modern folk movement that was going on at that time. I'm talking about a young kid here — 6, 7, 8, around that. And that tune, for many reasons, it was a huge part of musically driving me to where I got to. What it meant lyrically, the melody, and how it brought people together and its role in the civil rights movement back then. And this one night, we ended the show with that song, and it was done in such an emotional way on everybody's part — Bob and everyone in the band. It sort of left the audience stunned. And we finish the tune and I'm just thinking, man, I have arrived! This is the completion of a circle for me, because I was affected by something like this from its source and now, I'm at that source. It was a really eye-opening moment for me."

"I was way into the Dead around Workingman's Dead and American Beauty — those were the records that really made me pay attention to those guys. Any tune off of those records really had a lot of meaning for me. At the time, I was in high school and those songs sort of illustrated a life that I wanted to belong to. It had nothing to do with high school you know? Get me the hell out of here. I remember, the first time we sang 'Attics of My Life' with Phil and Theresa and I on his show, I remember just feeling everything that song meant to me back then. When that music represented a whole other way of life that I wanted to enter into, and realizing, 'Well hell, I'm here! I made it!'"

Daniel Pierce Wright, Getty Images

Daniel Pierce Wright, Getty Images

"I had seen Reverend Gary Davis on the Pete Seeger show. This was '66 or '67, I guess, and here was this huge blind guy with these huge fingers and this huge guitar, making this otherworldly sound that I didn't even know you could do on the guitar, and it scared me! For lack of a better word, it just scared me that this could exist. I had to find out what this was. I had started playing guitar around that time, maybe sooner, and it was really hard to find Reverend Gary Davis recordings at the time, so I went to the Donnell Public Library in Manhattan and pulled out a couple of his records and you know, tried to get an inkling of what he was doing on the guitar, and it was hopeless. Just hopeless.

"Not too long after that, I'm at the Fillmore and there's Jorma and Jack doing 'Hesitation Blues' and I had progressed on guitar at the time where his 'interpretation' of what Gary Davis was doing on guitar was accessible to me. So I immediately went out and got that Hot Tuna record and spent I don't know how many hours aping Jorma's guitar interpretation of that song. Fast forward, years later, I'm on stage with those guys playing that tune and I guess it was just kind of...these were moments in my childhood and my early development where I was striving for a goal, and realizing that I'd reached these goals.

Brian Killian, Getty Images

Brian Killian, Getty Images

"When I was in Bob's band, we did a summer tour with Paul Simon. Simon and Garfunkel was a huge part of my life when I was a kid. I got to know Paul pretty well on that tour and I sat in with him, and I was one of the few people when I was a kid that knew that the solo section on 'The Boxer' was played by a pedal steel. Everyone would say 'No, it's a guitar, no, it's a horn.' No, it's a pedal steel. So at a couple of these concerts with Paul, I sat in and played the pedal steel break on 'The Boxer.'

"You know, the theme I'm trying to say here, is, through hard work — and it is hard work — and luck and love for what I was trying to do, I've been able to meet a lot of the goals that I set for myself as a young musician. Those goals are endless, fortunately, so it's not a bad way to make a living."

Scott Gries, Hulton Archive / Getty Images

Scott Gries, Hulton Archive / Getty Images

"Here's the most poignant moment I had with Levon: The last show we did before he went into the hospital. You could tell he was hurting, you know? It was at Tarrytown Music Hall, and he played through the whole show. He hadn't been singing for awhile — we'd been handling all the vocals. But he was still playing and giving it everything he had, and the last song of the show was a tune I wrote, 'When I Go Away.' I'd written it for the Dixie Hummingbirds record I produced, and he did it on Electric Dirt, a great version.

"We were still playing it live, and I'd sing it, but I missed his voice in there. We did it that night, and I sing the first verse, I'm about to come in on the second, and from the drums, clear as a bell with strength I couldn't imagine, here comes Levon. It just gave me chills, and the whole place exploded. Oh God, the emotion I was going through. It was like this incredible sadness that he couldn't do this anymore, and the joy that he'd just done it, and the hope that maybe it meant something and maybe he was coming back again ... and the despair of the knowledge that he couldn't."
More From Ultimate Classic Rock