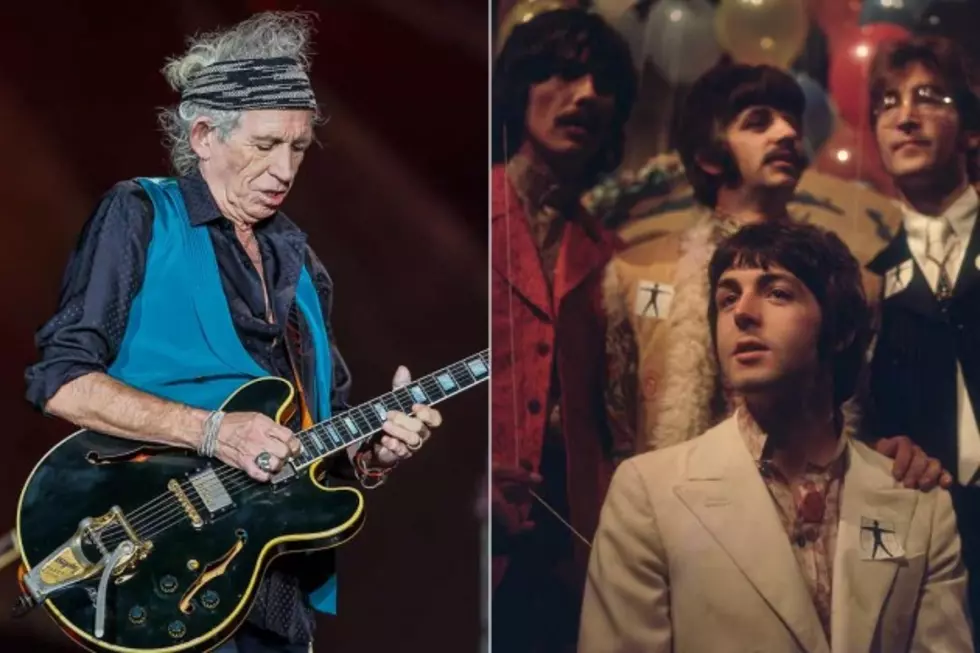 Keith Richards Blasts the Beatles, Thinks 'Sgt. Pepper's' Is 'Rubbish'
Michael Hickey / Hulton Archive, Getty Images
In a new interview with Esquire, Keith Richards blasts his band's old rivals the Beatles, and slams their 1967 masterpiece Sgt. Pepper's Lonely Hearts Club Band to boot.
"The Beatles, chicks wore those guys out," the Rolling Stones guitarist says in the interview, which runs in the magazine's September issue. "They stopped touring in 1966 --they were done already. They were ready to go to India and s---. ... There's not a lot of roots in that music. I think they got carried away. You're starting to do Sgt. Pepper. Some people think it's a genius album, but I think it's a mishmash of rubbish, kind of like Satanic Majesties. 'Oh, if you can make a load of s---, so can we.'"
Richards -- who admits that he's "probably more well-known because of my image rather than the music" -- just wrapped up a North American tour with the Stones and is maybe getting ready to do it all over again. His third solo album (and first in 23 years), Crosseyed Heart, comes out on Sept. 18, and there's talk that he plans to take the record on tour. There's also talk about the Stones starting work on another album soon. It will be their first since 2005's A Bigger Bang.
In other words, it doesn't look like Richards has any intentions of calling it quits anytime soon. After all, he says in the new interview, this was the life he chose. "To become a musician, that was the dream -- just to get into a band. You didn't care ... if you were stuck in the back strumming away," he said. "You know, I would have gladly done that. I wouldn't have minded being a sideman, but things turned out another way. Maybe it was the haircut or something."
See Keith Richards and Other Rockers in the Top 100 Albums of the '90s
Keith Richards, Year-By-Year, 1963-2015
More From Ultimate Classic Rock