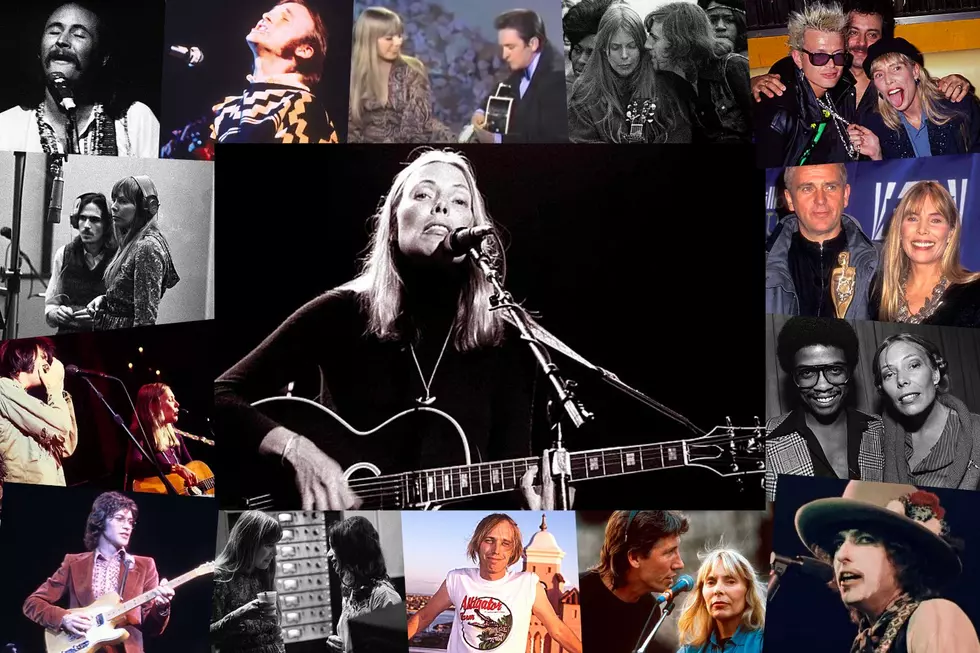 35 of the Best Joni Mitchell Collaborations
YouTube / Getty Images
Joni Mitchell has always been open to new things. "I have so many irons in the fire now," she told Rolling Stone in 1969, the same year her sophomore album, Clouds, arrived. By that time, she had already conquered the Toronto folksinger circuit, moved to New York City and penned a hit song, "Both Sides, Now," covered by Judy Collins.
The legend would go on to put more irons in the fire, working with artists and producers from all genres. Some of her oldest friends — Neil Young, Stephen Stills and David Crosby — contributed to her earliest albums; she'd later join jazz giants like Wayne Shorter, Herbie Hancock and Charles Mingus, melding her songwriting with arrangements not often heard in traditional rock or pop music. "I'm a composer," she said in 1988, "not a pop star that can be decorated into fashion."
We spotlight 35 of the Best Joni Mitchell Collaborations below.
1. David Crosby
David Crosby, a longtime champion and onetime boyfriend, produced her debut album, Song to a Seagull. He also contributed backing vocals to 1974's Court and Spark ("Free Man in Paris" and "Down to You") and 1975's The Hissing of Summer Lawns ("In France They Kiss on Main Street"). "I don't get along with her that well anymore," Crosby admitted to Howard Stern in 2021. "But I do love her with my whole heart for what she's given us. I don't think anybody did it as well." Mitchell also sang backing vocals on Crosby's 1971 solo debut, If I Could Only Remember My Name.
2. Stephen Stills
Stephen Stills contributed to five Mitchell albums over the years: Song to a Seagull, Clouds, Ladies of the Canyon (1970), Blue (1971) and For the Roses (1972). In 2022, Stills performed alongside Brandi Carlile as Mitchell was recognized as the MusiCares Person of the Year. "She's been brave," Stills told USA Today at the time. "We were really worried about her [after Mitchell's 2015 brain aneurysm], and now here she is and God bless her."
3. James Taylor
James Taylor, also a former boyfriend, could often be found in Mitchell's musical circle. He played guitar on four of Blue's tracks, sang backing vocals on Wild Things Run Fast (1982) and Dog Eat Dog (1985), and played guitar on the title track of Mitchell's most recent album, Shine (2007). She returned the favor a few times, including contributions to Taylor's Mud Slide Slim and the Blue Horizon (1971) and That's Why I'm Here (1985).
4. Carole King
Four months before Mitchell released Blue, Carole King released another staple of the singer-songwriter movement: Tapestry. Mitchell sang backing vocals on "Will You Love Me Tomorrow." Speaking to The Guardian in 2021, the 50th anniversary of both albums, King described Mitchell as "my sister in songwriting."
5. Johnny Cash
Mitchell appeared on The Johnny Cash Show three times during the program's run from June 1969 to March 1971, including its debut episode on which Bob Dylan and Doug Kershaw also appeared. "Joni Mitchell didn't need much help; she was a pretty capable musician," Bill Walker, the show's musical director, told UCR in 2014. "Joni was real professional and she was sweet and she was really nice to work with." She returned to the show a month later, performing "The Long Black Veil" with Cash. She appeared a final time in 1970 when she and Cash performed Dylan's "Girl From the North Country."
6. Cass Elliot and Mary Travers
Mitchell and Mamas and the Papas' Cass Elliot were friends and neighbors in Laurel Canyon. There's a photo of Mitchell sitting in Elliot's backyard playing guitar while David Crosby lights a joint and Eric Clapton looks on. In 1969, Mitchell performed "Both Sides, Now" on Elliot's ABC-TV special, The Mama Cass Television Program. Mitchell, Elliot and Mary Travers then covered Bob Dylan's "I Shall Be Released."
7. Jackson Browne
Former couple Mitchell and Jackson Browne fell out over time. (Mitchell's 1994 album, Turbulent Indigo, included a song called "Not to Blame" that seemingly accused Browne of domestic violence against some of his partners.) Before that, Mitchell and Browne were friends and collaborators, with Mitchell playing electric piano on "Sing My Songs to Me" from Browne's 1973 album, For Everyman.
8. Graham Nash
Mitchell and Graham Nash's relationship was famous for sparking some of the most moving music of its era. Following their breakup, Mitchell channeled much of her heartbreak into Blue, while Nash poured his into albums like Songs for Beginners (1971) and Wild Tales (1973), to which Mitchell contributed backing vocals on "Another Sleep Song." "Most of the sad songs on those albums are about my relationship with Joni," Nash told The Irish Times in 2022.
9. Robbie Robertson
Mitchell employed fellow Canadian Robbie Robertson to play lead guitar on "Raised on Robbery" from Court and Spark. "They remixed this record, you know," Robertson told the Los Angeles Times in 2019. "When they did, Joni said to me, 'I listened to the whole song, and just listened to your guitar in it. The rhythm is incredible. And so when we remixed it, we turned it up.'"
10. Neil Young
Neil Young and Joni Mitchell's friendship goes back to the mid-'60s when they performed regularly in Toronto coffeehouses. A lifelong friendship blossomed as Young contributed harmonica to "Furry Sings the Blues" from Mitchell's Hejira. In 2020, Young released a cover of "Raised on Robbery" recorded with Mitchell and the Santa Monica Flyers during sessions for Young's 1975 album, Tonight's the Night. "I love Joni. She's wonderful," Young said in 2022. "She's one of the greatest artists of our generation. She may be the greatest artist of our generation."
11. Crosby, Stills & Nash
In 1969, Mitchell performed "Get Together" at the Big Sur Folk Festival backed by Crosby, Stills & Nash. A year later, Crosby, Stills, Nash & Young released their version of Mitchell's "Woodstock" on 1970's Deja Vu and went to No. 11 on the singles chart with the cover.
12. Bob Dylan
Joni Mitchell and Bob Dylan were among the generation's most prolific artists. "I wrote poetry, and I always wanted to make music. But I never put the two things together," Mitchell told Rolling Stone in 1991. "Just a simple thing like being a singer-songwriter – that was a new idea. It used to take three people to do that job. And when I heard 'Positively Fourth Street,' I realized that this was a whole new ballgame. Now you could make your songs literature." The pair got together occasionally; in 1975, Mitchell joined Dylan's Rolling Thunder Revue tour, along with people like Joan Baez, Roger McGuinn and Mick Ronson. They also shared the stage in 1994, performing Dylan's "I Shall Be Released" at Japan's Great Music Experience.
13. The Band
Mitchell was one of the many guests who appeared at the Band's Last Waltz concert in 1976, performing "Coyote," "Furry Sings the Blues" and "Shadows and Light." She also added backstage vocals to Neil Young's "Helpless" and took part in the star-studded group finale, "I Shall be Released."
14. Chaka Khan
Chaka Khan was only 24 when she sang backing vocals on two songs from Mitchell's Don Juan's Reckless Daughter, "The Tenth World" and "Dreamland." Kahn said in 2023 that Mitchell has been an inspiration for years. "I'd get on the bus after a gig, and I'd be getting fucked up back there. I'd have all the windows open," she recalled. "The bus would be flying down the road, the wind blowing in the bus. I'd have Joni Mitchell blaring through the windows on the bus by myself back there. And she saved my life, on the Hejira album especially. When I listened to the words she was singing, they just spoke my life, what I was going through at the time. Like somebody really knew what I was going through. Because she was on the road, too. I got it."
15. Glenn Frey and J.D. Souther
"I want to stay sharp as long as I can. Christ knows Joni Mitchell has been an inspiration," Eagles co-founder Glenn Frey said in 1974. "It can be done. You can go further. You don't have to fizzle out at 27." Frey and frequent Eagles collaborator J.D. Souther contributed backing vocals to "Off Night Backstreet" from Don Juan's Reckless Daughter.
16. Charles Mingus
In the months leading up to his January 1979 death, jazz giant Charles Mingus joined Mitchell for a collaborative album called Mingus that also included contributions by Jaco Pastorius, Wayne Shorter and Herbie Hancock. "This was a unique position. I've never worked for somebody else before," Mitchell told Rolling Stone in 1979. "It was never meant as a commemorative album while we were making it. I never really believed completely that he was going to die. His spirit was so strong."
17. Pat Metheny
After releasing Mingus, Mitchell hit the road with a band that included Pat Metheny on guitar. A double live album, Shadows and Light, from the tour was released in 1980. "With these players, we're talking about young musicians who have no real musical or categorical preferences," Mitchell told Rolling Stone about her touring band. "We all love rock 'n' roll. We all love folk music. And we all love jazz. If anything, we want to be considered a musical event."
18. Herbie Hancock
Herbie Hancock first appeared with Mitchell on Mingus and returned on her 2002 album, Travelogue, and has performed live with her as recently as 2008. Mitchell also appeared on Hancock's 1998 album, Gershwin's World, providing vocals on "The Man I Love" and "Summertime." Hancock released an LP of Mitchell covers in 2007, River: The Joni Letters, which won a Grammy for Album of the Year.
19. Dan Fogelberg
Mitchell contributed vocals to one of Dan Fogelberg's most successful albums, 1981's The Innocent Age. When asked in 1997 about his favorite record from a songwriter's point of view, Fogelberg named Mitchell's For the Roses. "It is my all-time favorite record," he said. "And Joni wrote the music to my life, as so many have said I've written for theirs."
20. Steve Lukather
Mitchell collaborated with several musicians for the first time on 1982's Wild Things Run Fast, including Toto guitarist Steve Lukather, who played on four of the album's tracks: "Chinese Cafe/Unchained Melody," "Wild Things Run Fast," "Man to Man" and "Love." The guitarist also appeared on "Smokin' (Empty, Try Another)" from 1985's Dog Eat Dog. "Joni was wonderful," Lukather, who reportedly turned down an offer to tour with Mitchell in the '80s due to his busy schedule, told The San Diego Union-Tribune in 2014. "When you play with an artist who sits in the room with the other musicians and plays guitar or piano and sings live — and that's the take they use on the album — those artists don't exist anymore."
21. Don Henley
Don Henley appeared on two Mitchell albums: 1985's Dog Eat Dog, where he sang vocals on "Tax Free," "Dog Eat Dog" and "Shiny Toys," and 1988's Chalk Mark in a Rainstorm, where he performed similar duties on "Snakes and Ladders" and "Lakota."
22.  Michael McDonald
Michael McDonald sang backing vocals on "Tax Free" from Dog Eat Dog, but his more prominent appearance is on that album's lead track, "Good Friends," which was released as a single. "I was real nervous," McDonald recalled. "But singing with her was an incredible moment. And of course, everyone I know was going, 'You dog! How did you get that job!?' I have no idea. I was just at the right place at the right time."
23. Wayne Shorter
Saxophonist Wayne Shorter appeared on nearly every album of Mitchell's from 1977: Don Juan's Reckless Daughter, Mingus, Wild Things Run Fast, Dog Eat Dog, Chalk Mark in a Rainstorm, Night Ride Home, Turbulent Indigo, Taming the Tiger, Both Sides Now and Travelogue. "I would give her the entrances and exits and all that stuff. She said, 'Wow!'" Shorter told CBS Music [via jonimitchell.com] in 2013. "And then she would have a number of takes and she would choose from different takes to edit in as if using a paintbrush again because, of course, every take was different. She said she wished she could use all of them, but she would highlight the ones that would become the record with what she thought was a large, big, fat, rainbow of a palette that she could use."
24. Lionel Richie
Lionel Richie appeared on "Ladies Man" from Wild Things Run Fast on a whim. "I invited Don Henley to come and sing with me on this one," Mitchell explained in the liner notes to 2003's Complete Geffen Recordings. "After he left, when I was playing it back, I was amazed at how similar our voices sounded. It took a while to even notice that a new singer had been introduced. So I went across the hall to where Lionel Richie was recording and I conscripted him. There was the contrast I wanted, so I replaced Don with Lionel. The old cutting room floor routine."
25. Billy Idol and Tom Petty
Billy Idol wasn't expecting an invitation to collaborate with Mitchell on "Dancin' Clown." "I laughed and I was shocked," Idol reportedly said [via jonimitchell.com] "I wasn't sure it was the right thing to do." Idol was also joined on the track by Tom Petty. "Joni Mitchell called me up. She said [she had] a song about two street toughs and she wanted me to play one of them," Petty recalled to Musician magazine. "I said, 'Hmm, that sounds interesting.' Then she told me Billy Idol was the other one. I said, 'That sounds very interesting.' There's a trio for you! It was casting, I just had to learn really specific bits. I think she read the words to me — it's a neat little story."
26. Willie Nelson
Willie Nelson also makes an appearance on Chalk Mark in a Rainstorm, singing a duet with Mitchell on a cover of Bob Nolan's "Cool Water." "I just did what I always do," Mitchell explained to The Globe and Mail in 1988. "You run into someone at the coffee machine in the studio and you ask what they're doing. That's how most of the people got involved. I called Willie Nelson and Billy Idol. I cast voices just like I would cast faces for a film."
27. Peter Gabriel
Peter Gabriel's vocal appearance on "My Secret Place" from Chalk Mark in a Rainstorm was a matter of convenience, according to Mitchell. "I recorded some of this album at Peter Gabriel's studio," she explained to the Associated Press [via jonimitchell.com] in 1988. "And he dropped by one day, so I put him to work."
28. Benjamin Orr
The Cars co-founder Benjamin Orr entered Mitchell's orbit by way of her husband at the time, Larry Klein, who co-produced Orr's only solo album, 1986's The Lace. So, Orr wound up recording backing vocals for "Number One" and "The Beat of Black Wings" from Chalk Mark in a Rainstorm.
29. Wendy Melvoin and Lisa Coleman
"I met Wendy [Melvoin] and Lisa [Coleman] through Prince, who'd been inviting me to a lot of things," Mitchell told the Associated Press [via jonimitchell.com] in 1988. The pair provided backing vocals on Chalk Mark in a Rainstorm's "The Tea Leaf Prophecy (Lay Down Your Arms)." Prince was a vocal fan of Mitchell's, writing her letters over the years and offering a song he'd written for her. "Joni's music should be taught in school," he once said.
30. Daryl Hall
Daryl Hall's 1986 solo album, Three Hearts in the Happy Ending Machine, includes his only Top 10 solo single, "Dreamtime." The album also includes a guest appearance by Mitchell, who sang backing vocals on "Right as Rain." "Joni and I had talked about doing something together before," Hall told the Chicago Tribune in 1986 [via Rhino]. "I think that she and I sing really well together. We have the same approach to pitch. There's something to be developed there. I want to work with her again."
31. Roger Waters, Cyndi Lauper, the Band, Bryan Adams and Van Morrison (1990) 
Roger Waters staged Pink Floyd's The Wall in Berlin in 1990 - a performance that was turned into a live album, The Wall – Live in Berlin. Guests who participated included Mitchell, Cyndi Lauper, the Band, Bryan Adams and Van Morrison. Mitchell sang a solo rendition of "Goodbye Blue Sky" and later joined the ensemble for "The Tide Is Turning."
32. Jim Keltner
Busy session drummer Jim Keltner made an appearance on Mitchell's 1994 LP, Turbulent Indigo, playing on its opening track, "Sunny Sunday."
33. Steuart Smith
Steuart Smith, who has toured with Eagles since 2001, added guitar to "How Do You Stop" from Turbulent Indigo.
34. Billy Preston
Mitchell said in 2002 that Travelogue would be her final album. It wasn't, but she still made the most of the LP, which included a guest appearance by keyboardist Billy Preston, who played Hammond B3 on "You Dream Flat Tires."
35. Janet Jackson and Q-Tip
Janet Jackson grew up on Mitchell's music. "Along with Marvin Gaye and Stevie Wonder, Joni's songs spoke to me in an intimate, personal way," she told Jet in 1997. Jackson called Mitchell to ask permission to sample "Big Yellow Taxi" in "Got 'Til It's Gone," a request she expected would be declined. But after hearing the song, Mitchell gave her approval.
Joni Mitchell Year-by-Year Photos 1965-2023
Nearly six decades-worth of images from Mitchell's pioneering career.
More From Ultimate Classic Rock