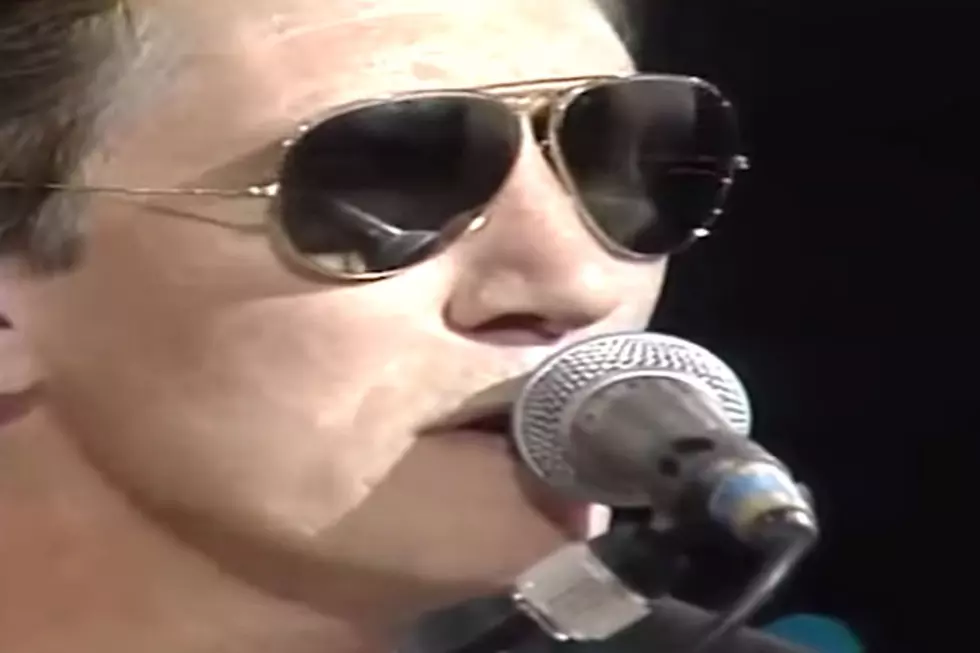 How Roger Waters Reclaimed His Pink Floyd Legacy With 'The Wall: Live in Berlin'
YouTube
When asked for the umpteenth time in 1989 about restaging his massive opus The Wall, Roger Waters quipped that he'd only do so on one condition. "If they ever take the wall down in Berlin," the former Pink Floyd mastermind said. "I'll put it on there as an act of celebration of that bit of freeing of the human spirit."
In November of that very year, it happened. Waters kept his word too, staging an expansive, all-star production at Potsdamer Platz in East Berlin on July 21, 1990, one that reduced the once-imposing Berlin Wall to nothing more than a stage prop.
"They took down the wall, and we got on a plane the next morning and flew to Berlin," Waters told the Los Angeles Times. "We peeked through the wall and saw this enormous piece of land, and I said this is where we're going to do this show – if we're going to do it at all."
Much of the significance of The Wall: Live in Berlin may be lost today, with the Cold War long gone and Waters' subsequent worldwide solo tours of the same project between 2010-13. Still, in its moment, the 1990 show stood as a mammoth celebration of the fall of Communist rule in Germany – and, for Pink Floyd fans, a then-rare chance to see The Wall performed on stage. Pink Floyd had launched a brief, unhappy tour in support of the 23-times platinum project in 1980 and 1981, but there were fewer than 30 total performances. After 1983's The Final Cut, Waters and the band split.
By 1990, however, Pink Floyd was recording and performing separately from the departed Waters, selling out huge tours with a set list that still featured many of his best-known songs, including several from The Wall. In no small way, The Wall: Live in Berlin also helped Waters reclaim his own legacy.
"It certainly will be most gratifying that a few more people in the world will understand that The Wall is 'my' work and always has been," Waters told Q magazine in 1990, before taking a shot at his former bandmates. "They just haven't got the faintest idea of what any of it's about, but then they never did. Most of the audience for this show will probably think it's Pink Floyd, anyway. The attachment to the brand name is limpet-like. It's something I live with."
Waters set up in what for decades had been a barren, heavily mined no-man's land next to the infamous Brandenburg Gate, a lasting symbol of 16 million citizens' post-war imprisonment in their half of a walled city. "The atmosphere here, with the East German border guards and the people that are involved with this site in keeping everybody off it for the last 40 years," an emotional Waters said as the concert date approached, "it's very – I don't know if you've felt it, but they're so glad this is happening, and so am I."
The setting gave new life to Waters' epic tale of alienation and nihilism – transforming what was once an interior meditation on the barriers that people erect around themselves into something with a much more universal dimension.
"It's strange how the macro and the micro often mirror each other, so the story of one man and his failed relationships and his shame and his problems can somehow mirror a more macro kind of global-political-religious situation," Waters said 20 years later. "So the wall is tremendously symbolic, maybe more so now, even, than it was when I wrote it."
Listen to Roger Waters Perform 'The Wall' Live in Berlin
In fact, everything about The Wall: Live in Berlin was outsized – from its $6.5 million cost to its supporting cast to its huge props. Waters was joined by a guest list that included Scorpions, the Band, Marianne Faithful, Joni Mitchell, Cyndi Lauper, Bryan Adams, Paul Carrack and Sinead O'Connor.
In a delicious twist, the Soviet forces' marching band took part, too – though that, perhaps appropriately, turned into a tale straight out of a Cold War espionage novel. "The day that we went to rehearse them was quite fascinating," Waters said, "because we were driven into East Germany, and we were driven for hours and hours, it seemed. Eventually, we came to this village, and we were asking people, 'There's a Russian army village near here, where is it?' And no one would tell us! They absolutely wouldn't tell us. They're saying, 'No, no such things exists.' Eventually, we found the gate. It was about a hundred yards away. There were like, 20,000 Russian troops in this huge camp! ... They were a bit cautious, because they weren't quite sure what was going happen."
In some ways, no one was. There was a dizzying array of logistics to be dealt with, and also issues of updating the material. For instance, "The Trial," a titanic, late-album set piece, expanded to include performances by actors Tim Curry and Albert Finney. Waters also added the determinedly hopeful solo song "The Tide Is Turning" from his recent solo album, Radio K.A.O.S., before segueing into the original album-closing "Outside the Wall."
Still, much of what fans remembered from the initial tour, as well as key elements of the film that followed, remained – just on a never-before-imagined scale.
Waters constructed, then dismantled, a 240-foot-wide, 35-foot-tall edifice behind the stage that was actually 4 1/2-times the size of the real Berlin Wall. Inflatable Wall-themed puppets, each of them as tall as six-story buildings, loomed over the crowd, while army helicopters swept low overhead. Watching it all were hundreds of thousands concertgoers – and perhaps a billion more around the world.
The Wall: Live in Berlin was streamed via satellite to 35 other countries, and taped for re-broadcast in 10 more – including the U.S. Some 175 radio stations also carried the show live. Everyone involved knew just what was at stake. "I was so scared, I was crying before I went out there," Lauper said at the time. "I've never done anything like this before." Carrack echoed her feelings, saying "I usually don't get nervous, but I was scared stiff."
In the end, there was just as much circumstance as there was pomp surrounding Waters' show. The Berlin performance served as a launching pad for a charity called the Memorial Fund for Disaster Relief, a then-new venture created by British World War II hero Leonard Cheshire.
Top 50 Progressive Rock Albums
From 'The Lamb' to 'Octopus' to 'The Snow Goose' — the best LPs that dream beyond 4/4.
Why Pink Floyd's David Gilmour and Roger Waters Are Still Fighting
More From Ultimate Classic Rock