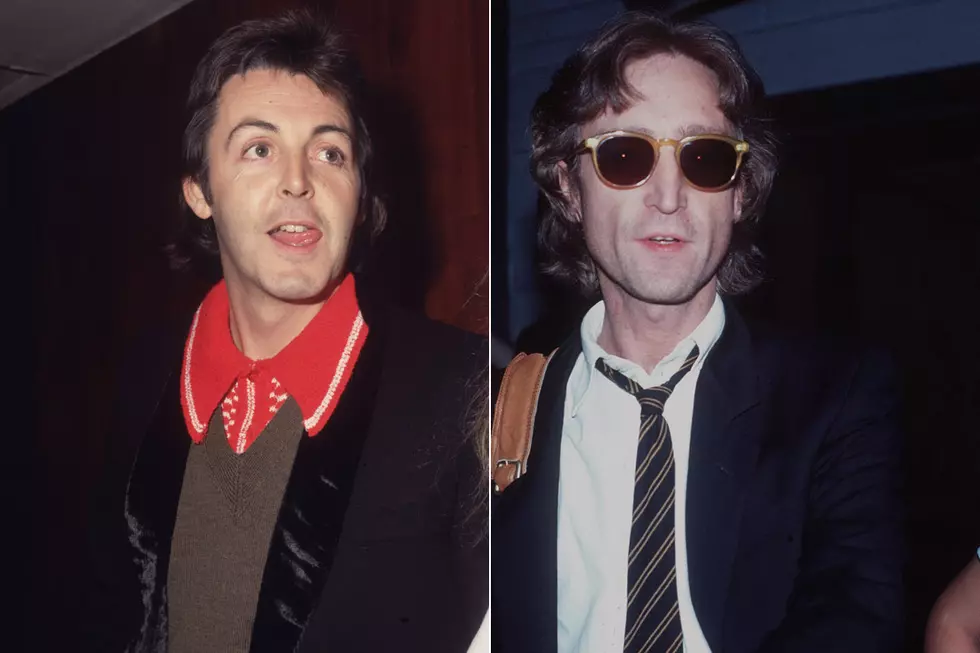 How John Lennon and Paul McCartney Almost Reunited on 'Saturday Night Live'
Hulton Archive, Getty Images
It was meant as a joke, but it turned into, arguably, the greatest missed opportunity in rock history. On April 24, 1976, John Lennon and Paul McCartney nearly took Lorne Michaels up on his offer to have the Beatles perform on Saturday Night Live.
Michaels, the producer of the show that was in its first season, spoke directly into the camera about how the Beatles had affected his and his generation's lives. "In my book, the Beatles are the best thing that ever happened to music. It goes even deeper than that — you're not just a musical group, you're a part of us. We grew up with you."
He then made the offer. "Now, we've heard and read a lot about personality and legal conflicts that might prevent you guys from reuniting. That's something which is none of my business. That's a personal problem. You guys will have to handle that. But it's also been said that no one has yet to come up with enough money to satisfy you. Well, if it's money you want, there's no problem here. The National Broadcasting Company has authorized me to offer you this check to be on our show. A certified check for $3,000."
The camera zoomed in on the piece of paper in Michaels' hand. "All you have to do is sing three Beatles songs." he continued. "'She Loves You,' yeah, yeah, yeah – that's $1,000 right there. You know the words. It'll be easy. Like I said, this is made out to 'The Beatles.' You divide it anyway you want. If you want to give Ringo [Starr] less, that's up to you. I'd rather not get involved."
Unknown to Michaels and the rest of the world, the Beatles' two principal songwriters were about only one and a half miles away, watching the show along with 22 million other people. As Lennon said in 1980, "Paul ... was visiting us at our place in the Dakota. We were watching it and almost went down to the studio, just as a gag. We nearly got into a cab, but we were actually too tired. ... He and I were just sitting there watching the show, and we went, 'Ha ha, wouldn't it be funny if we went down? But we didn't."
McCartney has confirmed that this took place. "John said, 'We should go down, just you and me. There's only two of us so we'll take half the money.' And for a second. … But It would have been work, and we were having a night off, so we elected not to go. It was a nice idea – we nearly did it."
A fictionalized account of what could have happened had the duo changed their minds, a TV movie called Two of Us, aired on VH1 in 2000.
The joke didn't end there. A month later, on May 22, Michaels returned with a new offer. "We've heard from the Monkees, Freddy and the Dreamers, Herman's Hermits, Peter and Gordon, the Cowsills and Lulu," he said. "But still no word from the Beatles. I'm not discouraged and neither is NBC. Because of the recent acclaim that Saturday Night has received, I was able to convince NBC to sweeten the pot. John, Paul, George [Harrison] and Ringo -- we are now prepared to up the original offer to $3,200."
Michaels went even further to entice them, offering free hotel accommodations. Announcer Don Pardo then described the amenities at the Cross Town Motor Inn, including, "round-the-clock elevator service," water glasses that have been "sanitized for their convenience," "48-hour dry cleaning" and free room-to-room calls.
While Lennon and McCartney couldn't be bothered to take Michaels up on his offer, Harrison, tried to collect on the Nov. 20, 1976, episode on which he appeared as a musical guest (this is the same episode in which guest host Paul Simon sang "Still Crazy After All These Years" while dressed in a turkey suit).
In the cold opening to the show, Michaels and Harrison are seen haggling over the price. Saying he felt "terrible" about the misunderstanding, Michaels explains, "I thought that you would understand, you know, that it was $3,000 for four people, that it would just be $750 for each of you. I mean, as far as I'm concerned, I mean, you could have the full $3,000. But the network ... " Harrison responded by calling NBC "chintzy," but, for an extra $250, was willing to say the show's traditional opening, "Live from New York, it's Saturday Night!"
Because Lennon and McCartney were too tired to go 22 blocks and sing a few songs, the only music the pair recorded together after the Beatles broke up was a cocaine-fueled jam session in 1974, when Lennon was producing Harry Nilsson's Pussy Cats album.
 
 
Beatles Solo Albums Ranked
See John Lennon in Rock's Craziest Conspiracy Theories
More From Ultimate Classic Rock