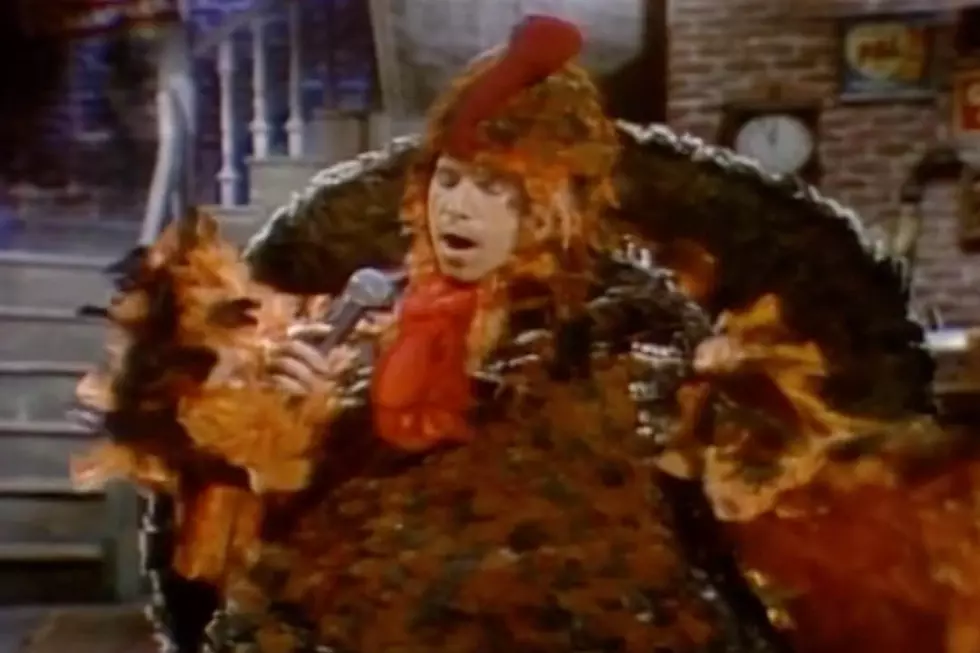 How Paul Simon Ended Up Wearing a Turkey Suit on 'Saturday Night Live'
YouTube
No one could blame a Paul Simon fan for humming the strains of his 1975 hit "Still Crazy After All These Years" every time turkey is served.
After all, on Nov. 20, 1976, Simon walked out in front of a live studio audience for a Saturday Night Live segment that featured him crooning the title track from his latest album – dressed as a certain Thanksgiving-themed flightless bird.
Of course, he only made it through a few bars of "Still Crazy After All These Years," but the image of Simon in that ridiculous turkey getup remains indelible. Partly, that's because it ran so wonderfully counter to his serious persona – something he addressed in the monologue that went along with the skit.
READ MORE: Ranking Every Paul Simon Album
"I said, when the turkey concept was first brought up, I said there's a very good chance I'm gonna end up looking stupid if I come out wearing it. I mean, everyone said, 'Oh, it's Thanksgiving, go ahead,'" Simon told the audience.
Watch Paul Simon's 'SNL' Monologue
'I Didn't Want to Be Mr. Alienation'
"You know, I felt it was not in any way in keeping with my image, the lyrics, 'The Boxer,' any of these songs," Simon added. "They said, 'Hey, you know, you take yourself soooo seriously. Why don't you stop taking yourself soooo seriously for a while and loosen up a little bit, and maybe people will laugh. You want to be Mr. Alienation, you can be Mr. Alienation.' Well, I didn't want to be Mr. Alienation. I want to be a regular guy, but I feel this has just been a disaster. I'm sorry. I'm just gonna go and change."
Simon then left the stage, only to be stopped by Saturday Night Live producer Lorne Michaels, who thought the performance was "wonderful." He was willing to let Simon be done with the whole thing and go change – if only Simon could get himself through the door frame in his turkey suit.
Classic Rock's 20 Worst Mistakes
Counting down the worst things that ever happened in classic rock.
Gallery Credit: Nick DeRiso
Rock Feuds: Simon vs. Garfunkel
More From Ultimate Classic Rock