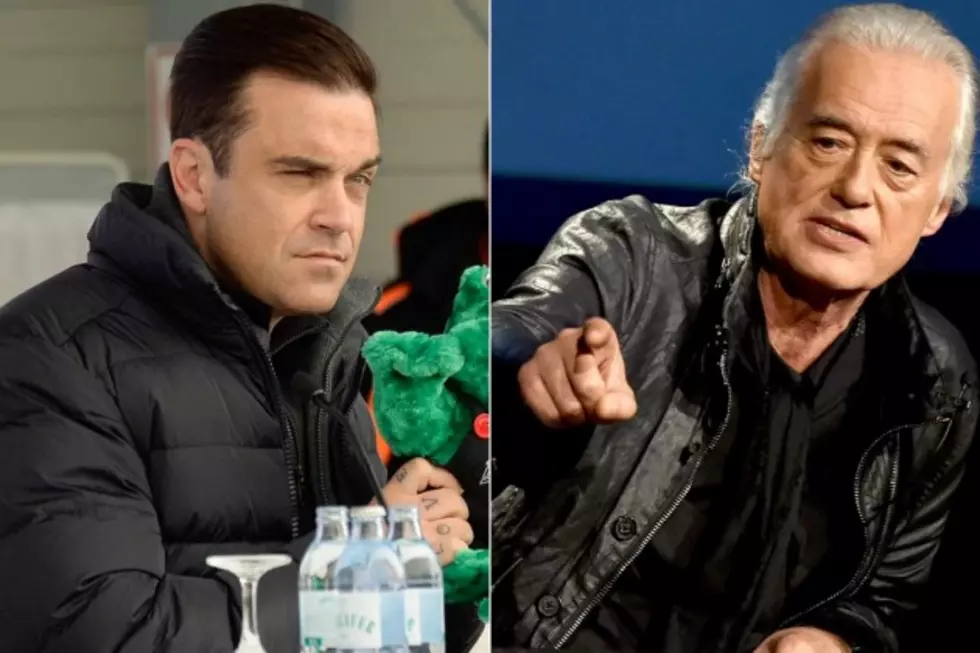 Jimmy Page Reignites Neighborhood Feud With Robbie Williams
Daniel Liebl / Kevin Winter, Getty Images
Just when it seemed like Jimmy Page and Robbie Williams might be able to shoot the breeze over a couple of brews at the next neighborhood barbecue, their feud has reportedly started anew.
According to the Daily Mail, Williams hasn't given up on his dream of modernizing his home; rather than abandoning his thwarted plans, he's readjusted them, submitting a new set of plans to the local council in an effort to create a living space suitable for "contemporary family living that will ensure the long term occupation and appropriate use of the place into the future."
This doesn't sit well with Page, who's reportedly taken his complaints to the council for the third time in his ongoing battle to preserve the integrity of his estate, built in the 1870s by famed architect William Bruges. Warning that the "special characteristics" of the home, including "extremely delicate and, of course, irreplaceable" finishings, could be damaged by nearby construction, and he's hired teams of architects and engineers to help argue his case.
Aiding Page in his efforts is the fact that his house has Grade 1 listing status, which means it's under heritage protection as a building of exceptional historical interest. The Mail's report also notes that Page is fighting his other next-door neighbors, who are currently embroiled in a battle with the former Led Zeppelin guitarist (as well as a coalition that includes the Victorian Society) while trying to "renovate their home and build a subterranean 'iceberg' extension."
See Led Zeppelin and Other Rockers in the Top 100 Albums of the '70s
You Think You Know Led Zeppelin?
More From Ultimate Classic Rock