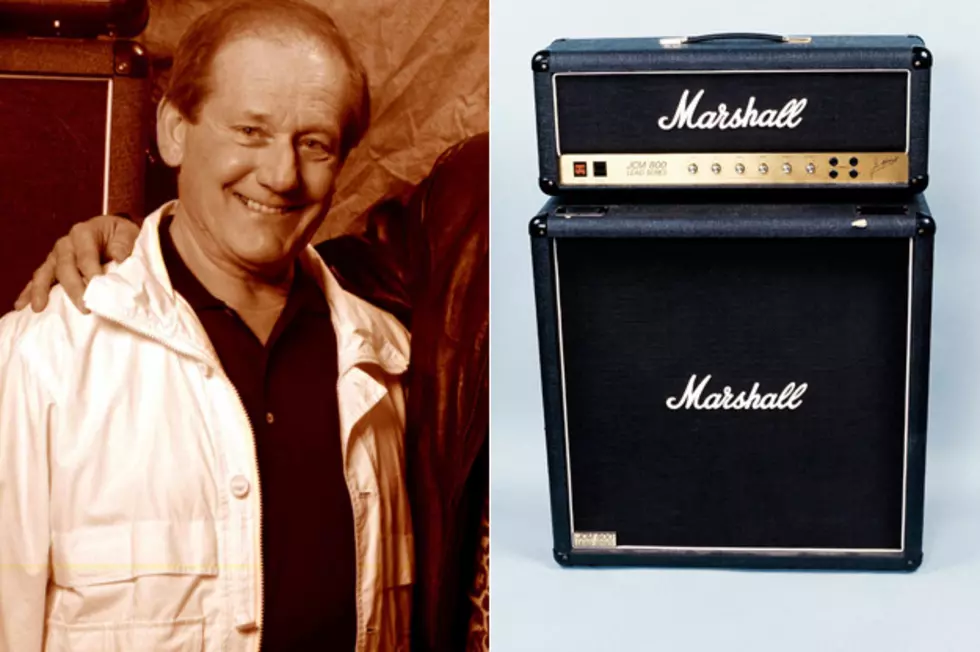 Jim Marshall, 'Father of Loud' and Founder of Marshall Amps, Dead at 88
Jim Marshall, the founder of Marshall Amplification, has died at the age of 88. Marshall, a drummer and drum shop owner, established his British company in 1962 and since then has been known as the creator of the most recognized line of amplifiers in the rock world.
According to the Washington Post, Marshall died this morning (April 5) after suffering several severe strokes and battling cancer. Marshall was known as the 'Father Of Loud' and will be remembered as one of the forefathers responsible for creating the tools that allowed rock guitar to be born. Marshall was also known as an incredibly humble and generous man, donating many millions of pounds to worthy causes.
In the mid-'60s, the Who's Pete Townshend and John Entwistle were early disciples and helped spread the gospel of Marshall Amps. The story goes that Entwistle started using Marshalls so that he could hear himself over Keith Moon's drums and in turn, Townshend had to use them to hear himself over Entwistle.
In a perpetual search for more volume and distortion, in the mid-'70s Marshall introduced the "master volume" (MV) series. This progression helped guitarists achieve both the sound and the volume they desired. This was followed by the dual volume control, which allowed a new breed of guitarists, such as Randy Rhoads, Zakk Wylde and Slash, to pursue and perfect a more cutting and edgy tone.
The very first 100 watt Marshall Amps were created for the Who and the Small Faces, doubling the size and power of the previous equipment. However, the bands soon discovered the horizontally-aligned doubles were too heavy and awkward to transport.
So Marshall modified the design by instead stacking the cabinets on top of each other. This new vertical look soon became the norm and was adopted by many rock stars including Cream, the Jimi Hendrix Experience and Led Zeppelin. The classic Marshall stack is now an image that is symbolic with loud music; see T-Rex's 'Electric Warrior' album cover for one fine example.
Our deepest sympathies goes out to the entire Marshall family as we remember a man who's contributed so much to the music that we love. An online condolences site is in progress and will be up shortly for fans who wish to post their messages.
One Minute of Feedback in Tribute to Jim Marshall
More From Ultimate Classic Rock