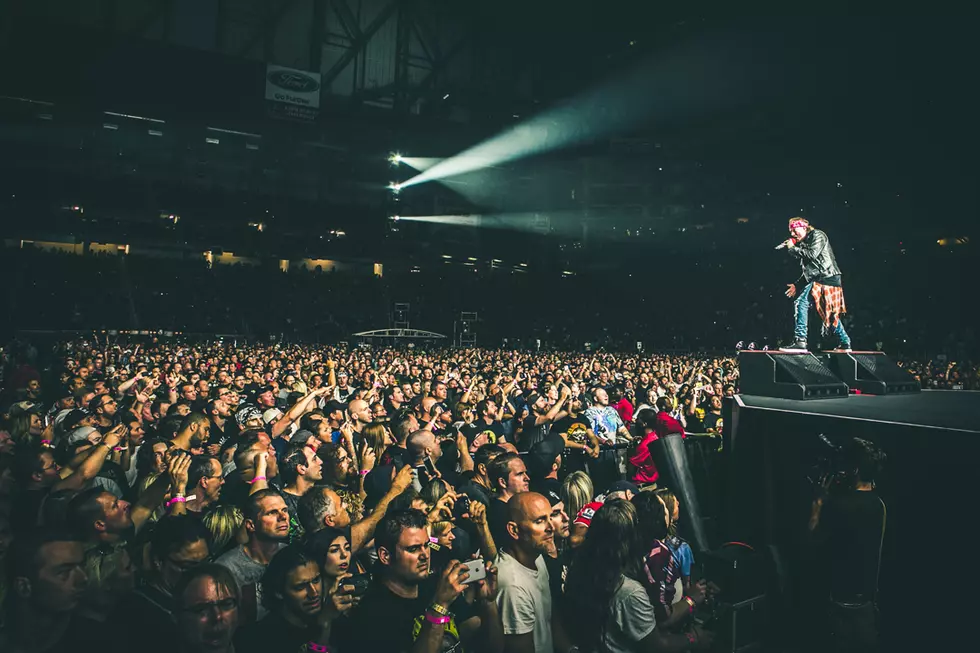 Guns N' Roses Kick Off Summer Tour in Detroit: Photos, Set List, Video
Katarina Benzova
With drummer Frank Ferrer, bassist Duff McKagan and (briefly) singer Axl Rose all wearing Detroit T-shirts (the latter two both featuring the slogan "Where the weak are killed and eaten"), the band hit the ground running – and right on time, haters! – with great versions of "It's So Easy" and "Mr. Brownstone." From there, they followed a set list similar to their April shows, with McKagan delivering a nod to local hero Iggy Pop by performing the Stooges' "Raw Power" during his moment in the spotlight.
But the biggest news here is that Rose's broken foot seems to be mostly healed. The throne he borrowed from Dave Grohl was nowhere to be seen; neither was the walking boot he was using during his recent stint with AC/DC. Rose's voice remained strong throughout, even with him back to his old tricks of prowling all over the stage.
It's hard to imagine another classic rock artist filling stadiums of this size at the moment (Bruce Springsteen, maybe? The Rolling Stones did it recently. AC/DC. A reunited Pink Floyd or Led Zeppelin, for sure), and it was interesting to note how well GNR carried the flag by representing so much of the genre last night. In addition to their own material, they performed or referenced songs by Bob Dylan, Paul McCartney and Wings, the Who, Jimi Hendrix, the Stooges and Pink Floyd. We all know 2016 has been a rough year for classic rock; it's nice to be reminded that the music will live on no matter what.
Guns N' Roses are scheduled to tour through late August, and you can get all of their tour dates at their official site. You should go if they come anywhere near your town. "Top priority of the summer," to quote Randall "Pink" Floyd.
Guns N' Roses Perform 'It's So Easy' in Detroit
Guns N' Roses Set List, June 23, 2016, Detroit
"It's So Easy"
"Mr. Brownstone"
"Chinese Democracy"
"Welcome to the Jungle"
"Double Talkin' Jive"
"Estranged"
"Live and Let Die" (Wings)
"Rocket Queen"
"You Could Be Mine"
"You Can't Put Your Arms Around a Memory" (Johnny Thunders) /
"Raw Power"  (Iggy and The Stooges)
"This I Love"
"Civil War" (w/ "Voodoo Child Slight Return" riff) (Jimi Hendrix)
"Coma"
Slash solo - "Speak Softly Love" (Love Theme From The Godfather) (Andy Williams)
"Sweet Child O' Mine"
"Better"
"Out Ta Get Me"
"Wish You Were Here" (Pink Floyd)
"November Rain"
Knockin' on Heaven's Door  (Bob Dylan)
"Nightrain"
Encore:
"Don't Cry"
"The Seeker"  (The Who)
"Paradise City"
More From Ultimate Classic Rock