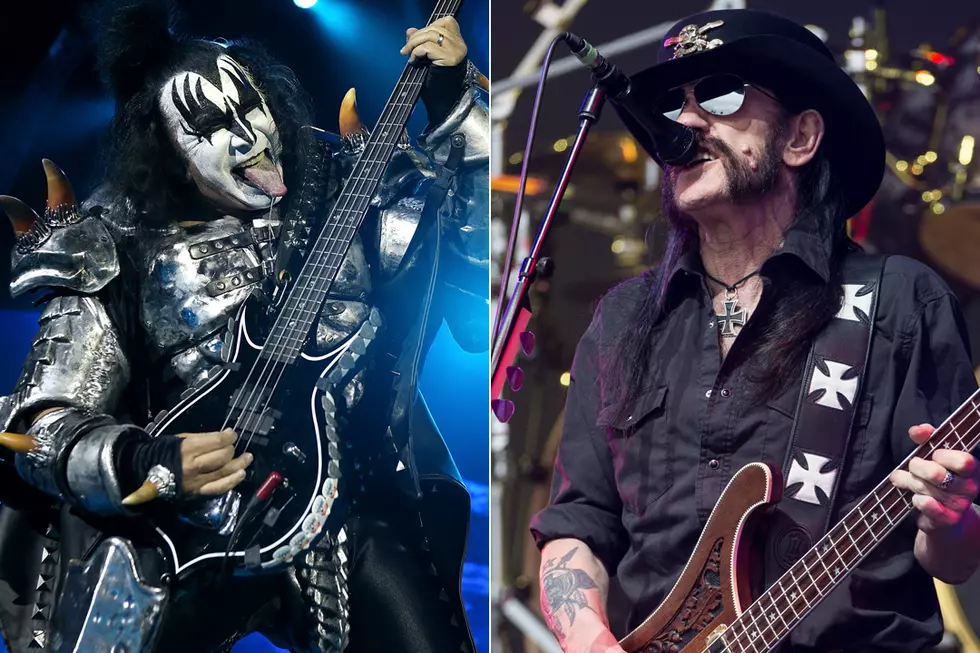 Gene Simmons Remembers Lemmy's 'Heart of Gold'
Paul Kane / Ian Gavan, Getty Images
After attending the memorial service for Lemmy Kilmister, Gene Simmons wrote about his friend, who died last month at the age of 70. Simmons recalled how he met his brother-in-bass, and shared a story that showed Lemmy's "unassuming" and "non-judgemental" nature.
On Kiss' Facebook page, Simmons wrote that their paths first crossed when Hawkwind opened for Kiss at an unrecalled location in the mid-'70s. But after that, they'd occasionally "run into each other backstage at shows, or at big festivals, when Motorhead would be on the bill ... always with a big 'How are you.' And a welcoming hug."
Simmons then described his work on a British reality show called Rock School, which involved him "teaching young 14 year olds to put down the booze and the hooch, and pick up an instrument and learn to care about something else in life, like putting together a rock band, and writing your own song for the first time." Looking for a way to end the season by getting the new band in front of an audience, Simmons asked Lemmy if they could open for Motorhead at the Hammersmith Odeon in London.
And while trying to convince kids to live a clean lifestyle by having them support one of the most notoriously hard-living rock bands ever might not have been the best idea, Lemmy not only agreed, but also took it one step further. Over Simmons' objections, Lemmy "walked into the new band's room, and what I saw, were young, wide eyed kids getting the schooling of their life, from someone who'd been there and done that. And more importantly, he reminded the kids that once upon a time, he was them. And that anything is possible. And that night, these young rockers went out there with fire in their veins, and rocked the house."
"That was Lemmy," Simmons concluded. "Unassuming. Non-judgmental. With a heart of gold. I never heard anyone, fan or other bands ever say anything bad about Lem. I've certainly heard 'A--hole' thrown my way, once or twice. But never at Lemmy. A great man. Lemmy was mostly, comfortable in his own skin. And perhaps that's something we can all learn from."
30 Historic Moments from Lemmy's Life
Motorhead's Lemmy Kilmister Dies
More From Ultimate Classic Rock